Jabra Elite Active 75t vs. Elite Active 65t: Should you upgrade?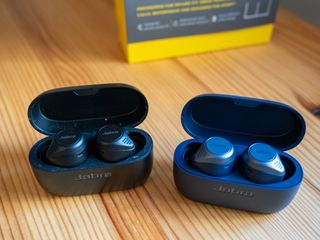 (Image credit: Daniel Bader / Android Central)
Jabra Elite Active 75t
Jabra followed up the solid Elite Active 65t by addressing some key details with this model. It offers the same level of sweat and dust-resistance, making it just as ideal for active users, but the smaller form factor makes them more comfortable to wear. Plus, battery life is longer, and the charging case has a USB-C port. The sound quality is a little better, and a noise-canceling microphone helps improve call quality by drowning out background noise.
Jabra Elite Active 75t
MySound and MyControls
More comfortable fit
Longer battery life
Smaller charging case with USB-C
Noise-canceling microphone
Not as big an audio upgrade
No wireless charging
Still no active noise-cancelation
Jabra Elite Active 65t
The Jabra Elite Active 65t took Jabra's previous true wireless earbud efforts and put together one of the industry's best options. Whether you're a runner or fitness enthusiast, the sweat resistance and step tracking can help with staying active while listening to music at higher quality. They've since been surpassed by the newer Elite Active 75t in a few key respects, but Jabra still sells these because they're competitive and great value at a lower price.
Jabra Elite Active 65t
Cheaper price
Great sound quality
Sweat and dust-resistant
Comfortable non-slip fit
Still better than the AirPods
Lower battery life than Elite Active 75t
Case can be finicky
Micro-USB charging
Jabra has become an industry stalwart when it comes to true wireless earbuds, and it's the Elite Active line that has helped lead the way. It's models like these two that have made the Danish brand a serious contender, so it's not like there's a poor choice between them. While there are particular differences between them that should help you make a choice, it just comes down to what you're looking for.
Who's more 'Elite' here?
Jabra prioritized the form factor when designing the Elite Active 75t, which explains why engineers shaved off 22 percent of the body when compared to the previous Elite Active 65t. The slimmer frame also means lighter weight, adding to the comfort level when wearing them for longer periods. The extra battery life is icing on the cake. Not to mention a smaller case with a USB-C port. Let's see how both models line up.
Swipe to scroll horizontally
| Header Cell - Column 0 | Jabra Elite Active 65t | Jabra Elite Active 75t |
| --- | --- | --- |
| Durability | IP56 | IP57 |
| Bud battery life | 5 hours | 7.5 hours |
| Charging case battery life | 10 hours | 20.5 hours |
| Connectivity | Bluetooth 5.0 | Bluetooth 5.0 |
| Digital assistant support | Alexa, Google Assistant, Siri | Alexa, Google Assistant, Siri |
| Supported audio codecs | SBC, AAC | SBC, AAC |
| Speaker size | 6mm drivers | 6mm drivers |
| HearThrough Setting | Yes | Yes |
It's always good to have a solid foundation to improve upon, which is precisely the case here. The Elite Active 65t are excellent true wireless earbuds that still hold up well, despite launching in 2018. They are ruggedized, offer great sound and can work with any Android smartphone. They were among the best available when they launched, and now stand out as a solid budget buy.
With the Elite Active 75t, Jabra focused less on tuning the audio output, and more on carving out a more ergonomic design to complement the sound. By trimming down each earpiece, it made these easier to physically fit a greater range of ears. This was one of the downsides of previous models, where the thicker bodies could prove problematic for smaller ears. That's far less of an issue now.
The next issue was battery life. Jabra did what it could, but the Elite Active 65t weren't groundbreaking on how long they lasted per charge. Anytime you can expand the battery by around 50 per cent, you're making a difference in both functionality and user experience. While rated numbers are always based on default volume (usually 50 per cent), the Elite Active 75t will routinely play music for up to two hours more than their predecessor could.
A degree of durability
Jabra's primary focus in differentiating the "Active" model from its regular sibling was to raise the IP rating. For the Elite Active 65t. it went up to IP56, meaning they're protected against both dust ingression and significant water exposure. Wear them outside in the rain, and you won't run into any problems while out for a run.
The Elite Active 75t hold an IP57 rating, meaning they can be submerged down to one meter of water (no saltwater) for up to 30 minutes. So, officially, these are more waterproof than water-resistant. Technically, you could swim in them, but I wouldn't advise that. It's more that you can wear them by the pool or hot tub and not have to worry if they get soaked. The dust ingression is no different with this pair.
Their respective charging cases are made of similar materials, but Jabra trimmed some important fat with the Elite Active 75t. A consistent issue with the Elite Active 65t's case was that it didn't close as easily when using the largest ear tips. This mattered because the magnetic connectors inside the case didn't always make great contact. Jabra fixed this with the newer model, where the earbuds fit in neatly into the recesses of their case, regardless of which tips you use.
Despite those differences, both work perfectly well in the gym or out on a run, though it is wise to wipe them down and clean them if they get drenched with water or sweat. Dust, debris and salt can find their way in the few nooks and crannies available on either unit. The key is that the Elite Active 75t are more comfortable to more ears, which is a big reason why they have an edge.
Jabra offers the same standard one-year manufacturer warranty, plus an extra two-year limited warranty for both models when registered through the Jabra Sound+ app. The terms haven't changed between them, either. You get coverage for damage from repeated exposure to dust and water, but the fine print shows some ambiguity in that it covering damage from dust and perspiration, but not water, liquids, food, and physical damage. The limits apply to both models, even though the newer one is waterproof out of the box.
Jabra did deviate a little on how it offers colors. The Elite Active 65t come in copper blue, copper black, copper red and black, whereas the Elite Active 75t come in navy, copper black, titanium black, mint, and sienna
New features
Jabra added new features to the Elite Active 75t in June 2020 via the Sound+ app. MySound creates a personalized hearing profile by listening to a series of beeps that tune a user's ears to any audio playback. It's a feature carried over from comes from GN Hearing, Jabra's sister organization, who has worked on hearing aid technology for years.
MyControls lets you alter the default controls for play/pause, next and previous tracks, and calling up your phone's voice assistant. Unfortunately, there's still no way to use one earbud indepedently of the other. Both MySound and MyControls aren't available to the Elite Active 65t.
Which one should you move with?
You won't get a dramatically different audio profile by going with the Elite Active 75t, but you will get newer features, a slimmer fit and more time to listen before needing to recharge. The differences are indeed functional, but also logistical, which is why Jabra's newer version is more convenient than its predecessor is. However, the Elite Active 65t come in at a great price and are excellent value for what you get.
It truly comes down to what you're willing to spend and what you're willing to give up. You can work out or run with either model, and you will get similar sound, unless you find one fits better than the other. If you care to have the latest features and want extra battery life, go with the newer one.
Newer school
Looking for more out of the box
The Elite Active 75t have more than just ruggedness in mind, though do go an extra mile in both durability and battery life. Newer features also put more control at your fingertips to listen the way you want.
Older school
Happy with what's available
The Elite Active 65t are now Jabra's budget option for rugged true wireless earbuds, and they still sound great compared to today's competition, making them a good deal. They just don't have all the latest features.
Sign up for Black Friday email alerts!
Get the hottest deals available in your inbox plus news, reviews, opinion, analysis and more from the Android Central team.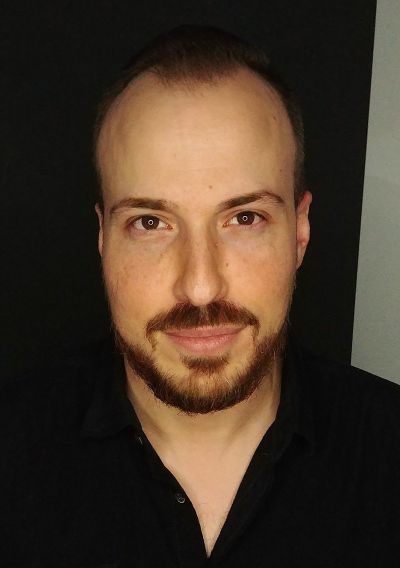 Contributor, Audio Reviewer
Ted Kritsonis loves taking photos when the opportunity arises, be it on a camera or smartphone. Beyond sports and world history, you can find him tinkering with gadgets or enjoying a cigar. Often times, that will be with a pair of headphones or earbuds playing tunes. When he's not testing something, he's working on the next episode of his podcast, Tednologic.