Jabra Elite 75t updates the popular true wireless earbuds with USB-C, smaller size, better battery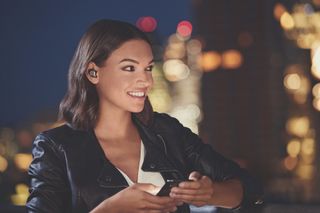 What you need to know
Jabra Elite 75t updates Elite 65t with smaller, more comfortable design.
Case is now magnetic and boasts USB-C charging.
Coming in October for $199.
I've tested a lot of true wireless earbuds over the past year, and the Jabra Elite 65t's continue to be the ones I choose most often — even as competitors like the Jaybird Vista, Sony WF-1000XM3, Sennheiser Momentum True Wireless, Samsung Galaxy Buds and others give them a run for their money.
For me, it's always been about the balance of comfort, sound quality and Bluetooth reliability, of which the 65t's score high in each category. Now, Jabra is updating the top-rated true wireless earbud for 2019, featuring a smaller, more comfortable design, an improved case with USB-C charging, and better battery life.
The Elite 75t's, which will be available in October for $199 USD, are 20% smaller than their predecessors. The company's senior vice president of marketing, Calum MacDougall, told me that the headphone team worked closely with Jabra's medical-grade audio products engineers to optimize the design of each earbud to fit in more ears comfortably. A 20% reduction in size would result in more people being able to wear them comfortably for longer periods, so design changes were made to achieve that target.
The Bluetooth antennas were miniaturized and made to use less energy; battery capacity was reduced; and there's now proprietary tech taken from the aforementioned medical-grade audio division to ensure the earbuds maintain a connection to the host device.
Impressively, though, Jabra managed to increase battery life on the Elite 75t's, jumping to 7.5 hours per charge versus 5.5 hours on the Elite 65t's. They use the same drivers, microphones and sensors as before, too, so good sound quality is guaranteed — though MacDougall says most people will find sound quality improved thanks to a better in-ear fit. Unfortunately, the earbuds also carry over the same disappointing codec specs: SBC and AAC only.
That increased comfort comes from a reduction in "nose" size, which allows each earbud to rest more comfortably in the ear — they're lighter, too, and protrude less, so they're unlikely to fall out, even during vigorous exercise.
Jabra also says care was taken to improve the case design, one of my least favorite aspects of the 65t. Now smaller and magnetic, the case holds three charges for a total uptime of 28 hours — better than most of the competition out there except for earbuds with massive cases like the Sony WF-1000XM3s — and fast charge via USB-C. The 75t's still have an IP55 rating for moderate water and dust resistance, along with physical buttons on each earbud for play/pause and volume control. And like the 65t's, there's support for Google Assistant, Alexa, and Siri.
The Elite 75t's will be available in mid-October for around $199/199 EUR.
Jabra Elite 75t
The Jabra Elite 75t are an impressive-looking follow-up to one of the best-sounding true wireless earbuds on the market today.
Daniel Bader was a former Android Central Editor-in-Chief and Executive Editor for iMore and Windows Central.
Same tech means same crappy voice quality, same problems all over again.

Crappy voice quality? I'd be interested to hear more. My pair seem perfectly fine, but I'm not really an audiofile. I use my 65t everyday and don't seem to be having any issues.

They mean the quality of their voice for the other person when in a phone call, i believe. It's annoying, but something I give a pass to because it's basically impassable to get great quality without a stupid design like apple's airpods, and they're marketed as earphones rather than a headset. Also an audiophile is someone who loves sound. An audio file is an mp3 et al lol.

When he says voice quality he means hearing and speaking into the mic on calls. Audio is fine on the 65t. Voice quality is not great at all.

I've been walking around in the city on windy days, and never has anyone complained about the audio quality on the other end of the call. That was after me asking directly repeatedly, because I figured there was no way for it to be ok, given how much wind was blowing. I have no idea what the other posters are talking about.

When I use my Jabra 65 t noise cancellation buds and talking to my clients when out in the field they all tell me the background noise is really bad and picks up everything including wind. Can you give me any suggestions on how to fix this issue so I can get the same quality out of my Jabras that you are receiving. I have went on the app to try and adjust the sound but nothing helped. Any suggestions would be great

The ones I bought had crappy audio quality for calls for the receiving end. 4 mics picked up every little sound and the volume of my voice was reduced, resulting in the person not hearing me in busy / noisy areas. Then the right one started to have lower volume when compared with the left, I mean very low volume, almost nothing, complained on warranty on Feb this year, received another pair. Voice quality, same crap and now, as of this month I'm having the lower volume on the right side again. So my experience has been crap with these.

These look very nice, but IRA too little too late to get my money. I bought the Galaxy Buds and can't see a reason to switch.

Seem promising but I don't get why they couldn't keep the same price point as the previous model. these are a small upgrade and don't include anything that advanced. The case should have included wireless charging for 200 bucks. At 200 I'd probably spend a little more and get the sonys
Android Central Newsletter
Get the best of Android Central in in your inbox, every day!
Thank you for signing up to Android Central. You will receive a verification email shortly.
There was a problem. Please refresh the page and try again.