Jabra Elite 75t ANC upgrade: Is it as good as the real thing?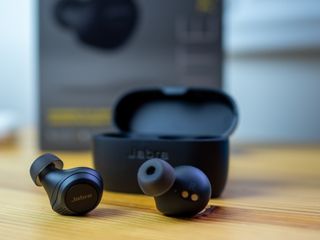 (Image credit: Daniel Bader / Android Central)
Best answer: Yes, because it won't cost you a thing. The Jabra Elite 75t already earn their namesake among the best true wireless earbuds available, and now they have active noise cancelation (ANC) through a firmware update. It's an impressive feat, but also best to measure your expectations because some hardware is missing to make it even better.
Getting the new ANC firmware
Finding the firmware isn't hard. Jabra's Sound+ app notes there's a new upgrade available when connecting the Elite 75t or Elite Active 75t. Since both models use the same internal components, the upgrade applies to both the exact same way.
It's actually more of an intricate process than you might think, coming in two parts that are easy to follow on the app. The first ends when the LED on the back of the earbuds' case flashes purple to show it's loading the update, and then eventually turns off. The second is calibrating the ANC to your own preferences. To do that, you will need to position yourself with some noise in the background. It's great if you're outside, but turning on a fan or TV is fine, too.
Whatever level of noise reduction you choose isn't necessarily permanent. You can always adjust it later in the app by going to Settings > Personalize your headset > Active Noise Cancelation. It even lets you favor one ear a little more than another if balance is something you need. It's a unique take on personalizing a feature that often has no methodology for doing so, and it works really well.
What the Jabra Elite 75t sound like with ANC
What Jabra pulled off here is a first for any pair of true wireless earbuds. At no other time has a company added ANC to a set of earbuds, especially so long after they first launched. It may turn out to be a cool precedent for others to follow, but until then, the Elite 75t and Elite Active 75t are the guinea pigs.
Now, these earbuds are missing a key element that makes ANC what it is out of the box on other pairs. Those use a hybrid ANC setup that combines internal and external microphones to cancel out ambient sounds. Jabra's two pairs here don't have internal mics, so cutting the noise down only works one way.
That's why the effect won't match a hybrid ANC system. It simply can't, but there's no question; it's an improvement when faced with low-frequency sounds. Think of a plane, car, bus, running fan — stuff like that. It struggles more with higher pitches, and mixed sounds will also see some of the background poke through. For instance, while riding my bike with ANC on, cars and nearby voices were muffled, whereas wind and the chirps of kids playing were more audible.
By default, Jabra maps ANC to the left earbud, so when you press it, you cycle through the three options of ANC, HearThrough, and Off. This way, you can switch back to any of the modes with a simple press, and being a button rather than a touch-sensitive surface, you won't be fiddling with it.
How it compares to the Jabra Elite 85t hybrid ANC
On paper, the contrast with the Elite 85t is immediately obvious. Jabra put an ANC chip inside, including three microphones on either bud to deliver the hybrid ANC effect. The 12mm drivers inside are also worth pointing out because it means the earbuds can pump out louder sound with less effort. That matters when ANC is on because audio isn't as stunted by the noise-canceling mics.
Jabra also makes ANC adjustable through a slider in the app, enabling good flexibility in how much of the effect you want to kick in. However, you can't tailor it by balancing how it applies to individual ears the way you could with both Elite 75t models. Whether Jabra adds that later remains to seen, but for now, the tech inside is supposed to put the Elite 85t on a different level.
And it does. The ANC on Jabra's newest earbuds isn't as subtle at its highest setting and does a better job muffling sounds at different pitches. I noticed it right away when walking outside to traffic. They won't block out 100% of all sounds, but no true wireless earbuds really do, so that's fine. The app's slider is a good measuring stick for what level works in any given situation.
The Elite 75t have a tougher time for very simple reasons. They don't have the actual hardware to help amplify the digital noise cancelation. Admittedly, it's not a true apples-to-apples comparison, so we can cut them some slack, especially when it's uncommon for earbuds to get this kind of firmware update. If Jabra can improve upon it with future updates, that would really extend their viability further.
It's there, so enjoy it
There's no doubt the Elite 85t are an upgrade from their predecessors, and that goes for the ANC as well, but you don't need to drop the Elite 75t because of that. They were already at the top among the best wireless earbuds, and the other features continue to be excellent, so it's not a bad thing. What Jabra pulled off here is pretty impressive.
It's still not clear how much battery life you sacrifice for the new ANC feature, though shaving off an hour is probably a good bet. I'll know more as I keep testing them out in that mode. In the meantime, this is one of the coolest things to happen to a pair of true wireless earbuds 18 months after launch and is well worth the upgrade.
Great sound, now with ANC
Keep the noise down
The Jabra Elite 75t were already great earbuds, and now with ANC included via an update, they're still among the best of the best.
Sign up for Black Friday email alerts!
Get the hottest deals available in your inbox plus news, reviews, opinion, analysis and more from the Android Central team.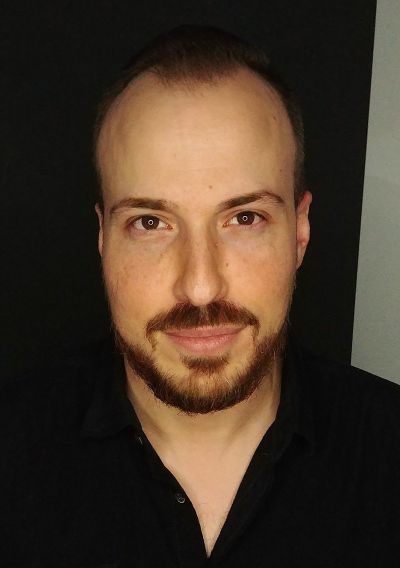 Contributor, Audio Reviewer
Ted Kritsonis loves taking photos when the opportunity arises, be it on a camera or smartphone. Beyond sports and world history, you can find him tinkering with gadgets or enjoying a cigar. Often times, that will be with a pair of headphones or earbuds playing tunes. When he's not testing something, he's working on the next episode of his podcast, Tednologic.