It's back: Pick up a 32GB Nexus 5X for just $269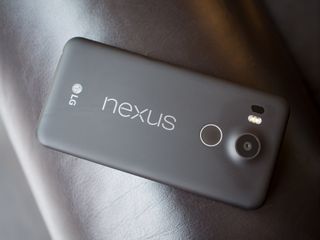 Last week popular deals site Daily Steals had a great deal on a 32GB Nexus 5X for just $269, and it's made a triumphant return to the site (opens in new tab) this week. You only have a choice of the black color, but chances are you're alright going with the one color option when you save this much.
If you're considering a Nexus 5X, this is basically the cheapest you're going to get one new right now — and this is the price that you should expect to pay for this level of phone. Your only other option currently would be to buy through Project Fi, which would set you back just $249 — and give you an option to finance it at that.
But if you're going to be picking a different carrier, and want a Nexus 5X, now's the time to pick one up when a deal is on.
See at Daily Steals (opens in new tab)
Andrew was an Executive Editor, U.S. at Android Central between 2012 and 2020.
You're missing out. It's a really nice phone. Posted from one of my various Nexus devices.

Maybe he has one of the vastly superior phones available. AT&T Galaxy S7 Onyx Black with Unlimited Data

See if you're still getting updates in 3 years time before you talk too fast... Posted from one of my various Nexus devices.

Who keeps their phone beyond 2? Yuck. 1 year is the limit for me. luvin my s7 edge

Wait until you're an adult, you simply won't care as much. And if you are an adult, wait until you're more mature. Posted via Techmology

No kidding. I shoot for 6-9 months between phones. I just get too tempted by the new stuff.

I and many others do, only phone geeks BURN their money every six months/year. Posted via the Android Central App

Everyone is different so perfectly valid to keep a phone longer. Posted via the Android Central App

I had my iPhone 4 for 4 years!

Vastly..? Lol.. Sure.. There's better phones, yes. But not by much to pay more than double for them. It's pretty much just as good as an iPhone 6S. IPhone records video better, that's it. Can't beat the value of the Nexus Posted via Techmology

Exactly. This is a great deal for anyone who doesn't need the absolute newest phone available. I like having the latest and greatest, but my wife doesn't care. She has a Note 3 on its last legs, so this deal is a no brainer for her.

Got one for my wife and mother in law. Both are very happy Posted via Techmology

My buddy (an Apple employee) has a Nexus 5X, and really likes it. I've tinkered with it, and it's fine. I'm just not seeing how it's a big enough upgrade from my 2014 Moto X PE to justify the cash. Posted via the Android Central App

I have a 2014 Moto X Pure as well and I'm trying to decide if I want to get the 5X. The only reason I want it is because of how long it gets support for updates. And I really want to try out the Android N beta (even though I have the N-ify xposed module installed currently, but it's not the same) Posted via the Moto X Pure (2nd Gen.) running CM13 w/ Nova Prime & Xposed

I have the note 5 and im switching to this. Don't pay for shipping. I did and it took 7 days. I demanded a refund on the shipping. Posted via the Android Central App

Moto X pure is a better deal and better phone Posted via Galaxy S7

No fingerprint sensor no thanks. Posted via the Android Central App

I have both and prefer the size/weight//Low light photos/updates/Project Fi/battery on the 5X. Like the hand feel, smoothness, screen on the Pure by a mile. If it was made available to use on Fi I would make it my daily again. Gave it to my wife when I switched to Fi. Both cameras could really use OIS. Posted via the Android Central App

If the Nexus 5x had micro SD it would be the perfect phone for me, but...that will never happen Posted via the Android Central App

I will consider it as a spare phone when it drops down to $199. Purely for the latest Android updates. Posted via Samsung's beast S7

I was thinking about doing that too Posted via Galaxy S7 or Moto X Pure

https://fi.google.com/about/phones/

Not available in Alaska yet Posted via Galaxy S7 or Moto X Pure

One of the vastly Superior phones ? Always the samsung users hating on nexus phones claiming yhey dont care about speedy updates and how superior there samsung is. For 270 dollars, the 5X destroys the S7 and i have the S7E. The S7 is in no way 4-600 dollars better. Posted via the Android Central App

Yes the 5X is very good value. It doesn't destroy the S7 in any department though, and it wasn't meant to. The 6P is the flagship device. Posted via the Android Central App

Hahahhahahha luvin my s7 edge

S7 had a better camera and runs games better. But if you don't play games and want a fast phone that's gonna last you a while, can't beat the Nexus. I agree with you, S7 isn't much better in any department except above. I don't play games Posted via Techmology

Not all samsung users are like this, most of the ones I've met have been nice, but I agree that some are reaching a level of fanboyism comparable to apple. Posted via the Android Central App

It's 199 when you buy it from project Fi, you just need to keep the service for at least 1 month then cancel if you want to use another carrier. I feel 199.99 is a great price point and Fi is only 20 bucks a month.

That's for the 16 gig model. Posted via the Android Central App

16GB only no-SD slot expansion versions of any phone should not even be sold in the USA anymore, unless the price is under $100.
You don't see 4GB or 8GB versions of new phones in the States anymore and it's time for manufacturers to dump 16GB versions and start with 32GB.

Really debating this. My moto x pe 2014 is showing its age... Moto voice doesn't always work, not that good a camera, smaller battery, no finger print reader... What do u all think? Posted via the Android Central App

I think it's a upgrade from 2014 model. Better camera, fingerprint sensor, plus updates for the next two years if that is your thing. Only downside Moto display is better than ambient display. Posted from Nexus 6

I like moto display and all of course. The big thing always use though is moto voice and it looks like all others are not doing it as well and require some form of button pushing to get it to work rather than "always listening". I've looked into the S7 as well. I had the S3 years ago and didn't mind it. But the S7 is 500 bones used on swappa. This thing is way cheaper but is still a pretty dang good phone from what I've seen. It also would keep the size profile of the 2014 Moto X. The 2015 Moto X is just too big for me and doesn't have the finger print scanner. If I'm gonna go that big - I'm gonna get a Note 5. I dunno. There are plenty of options out there for people coming from the 2014 Moto X, but I don't know which one...decisions - decisions...

Since Nexus 6, Nexus devices when you pick them up the display will light up so no need for button pushing. OK Google hot word also works with screen off. Basically the same thing as Moto display but not as consistent. Posted from Nexus 6

I think wait until the new Nexus. The Moto X is a great phone and will last you a few more months. Unless price is the driving factor, just wait. Posted via Techmology

I'm a little late here, but I wound up doing a factory reset on my 2014 Moto X PE about two weeks ago, because I never did it after the Marshmallow update, and Moto Voice was getting inconsistent too, as well as general lag. The reset has seemed to work. The phone is definitely more responsive. You may want to give it a try. I've had to reset my Nexus 4 and Nexus 10 several times for the same reasons. Sometimes, you just gotta wipe these things and start again. Posted via the Android Central App

I have this phone in the 32 gig variant and bought it after owning a Nexus 6p for a few months. Going from a 6p to the 5x will make you mental. I don't know what the hell is going on inside this phone, but other than the camera (if you can get it to open, especially during important times like my son's prom) this think is almost unusable at times. The Nexus 5 and 5x fanboys may disagree, but they know. I've had my Nexus 5x on Craigslist for 3 months now (a month after I bought it) and the only bites I've had are people from Nigeria offering $600 for it for his son who blah blah blah blah. I do not recommend this phone even at $269. If you want one just to see new updates then whatever, but if you want a daily driver... save some money for a wig after a month of using it. Btw.. I ended up buying another Nexus 6p 128 gig from the Google Store with Nexus Protect because I do plan on keeping this phone for quite a while. Posted via the Android Central App

People like you make me crazy.... Using a phone camera for an important life event. Get a real camera! I bet you were holding the phone vertically also..... Ugh! Posted via the Android Central App

I don't want a real camera dummy. I want a phone that can take a picture without freezing from portrait to landscape. And wtf do you care what kind of camera I use for real life events? I use a high end cell phone for weddings, my kids etc. You can carry a phone and a camera with you to **** Mr Photographer 5x fanboy. #EAD Posted via the Android Central App

Just what I want to see.... Wedding pictures taken with a freaking cell phone! I'm sure the bride and groom are very appreciative. Get a real camera you cheapskate Posted via the Android Central App

No lol. Look around a wedding the next time you're at one camera snob. Count how many "real" cera you see compared to "fake" cell phone cameras. A PIA camera snob like you probably isn't invited to many weddings because you're so consumed with sending them quality pictures like a creep. Posted via the Android Central App

Exactly.... You said it! "quality pictures". Thanks for proving my point Posted via the Android Central App

You're creepy. Posted via the Android Central App

You'll have only yourself to blame when you look back at those pic 20yr from now. Shoulda listened to that guy.... You'll say Posted via the Android Central App

I'm not sure how old you are, but a lot of us older folks used the old Polaroid instant cameras 20-40 years ago. Not once when I pull them out do I think, man, they look like crap. It's about the memories more than the quality in most cases. Cell phone cameras are miles better than the old Polaroids. Hey, to each their own. Posted from Nexus 6

Dude exactly. Rodeo time, time to get er on down the road.

Remember those? They had the square flashbulbs which you had to buy. Ah, the good old days. Lol Posted from Nexus 6

You missed my point entirely. Posted via the Android Central App

Your point is giving people grief for doing something that doesn't meet your standards. Don't worry about it. Posted from Nexus 6

I've seen people at weddings using their ipads as cameras.

How atrocious Posted via the Android Central App

I think if your going to get an unlocked phone spend a little more and get something good. Got the Nexus 6p for $420. Awesome phone..only thing I didn't like was the 5.7 screen. 5.5 is perfect for me. The axon 7 that's coming out this month looks amazing. A $700 phone for $450

You're correct, we do disagree because you're wrong. I've taken countless, excellent quality pics in all sorts of conditions, for all types of events. I agree with not carrying a separate camera, that's idiotic. But Nexus 5 or 5X takes excellent pics. Especially in outdoor lighting. You may have a defective phone or needed a factory reset..or simply user error. Posted via Techmology

My wife loves her 5X and I also think it's a great device. She went for the frost color. With a clear case. I'm pretty impressed by the camera too. It's speedy and takes great shots especially in low light. She's running N on hers. Posted via the Android Central App

Okay does the 5x lag or not? I hear at first it was a lag-fest but after some updates it is super smooth. What's the real story people? Rodeo time, time to get er on down the road.

0 lag on my wife's & mother in law's. Also, you can really make it fly by going into developer options and reduce animation speeds to .5.. Then use Nova Launcher and further reduce animation & transition speeds.. It's as fast as your thumb can go Posted via Techmology

No scroll lag except when scrolling through websites with way too many ads. Might take an extra second to open apps compared to a flagship but at that price I doubt you could do much better.

You heard correctly I think it was the update on March that finally got all the kinks ironed out. It is smooth as butter as you would expect with any recent nexus now. Posted via the Android Central App

Has anyone had a problem with returns on this site? I'm buying this for my wife and trying to convince her to save some money and not get the overpriced S7. If she doesn't like it, then I will use it when my upgrade is available in July. I'm just wondering in case both of us don't like it.

Sold out. Posted via the Android Central App

Still on eBay I believe.. Was $275, I think up to $300 now. New Posted via Techmology

I just bought a barely used on swappa for 290. Posted via the Android Central App

It's being sold on B&h photo for 269 with the father's day promo "dadsday16". Purchased mine 2 days ago in black. (no mint option available in the promo). The sale ends on the 18th I think Here's the link. The promotional price applies after you select the phone and head to check out after you type in the code
http://www.bhphotovideo.com/c/product/1194573-REG/lg_lgh790_a3uswh_nexus...? Posted via the Android Central App

It does have a fingerprint sensor Posted via the Android Central App

Any body knows how the camera is on here . This is a great deal and wanted a backup phone. Posted via the Android Central App

I had the Nexus 5X and it wasn't too bad but compared to my Note5 it wasn't as feature packed, the build quality was that of a cheap Windows Phone and the LCD screen along with the lack of cases turned me off from it. It seems like the Nexus 5X didn't get that much love compared to the Nexus 5. I do like the Nexus line. I would have to wait and see what Google will announce. Posted via the Android Central App
Android Central Newsletter
Get the best of Android Central in in your inbox, every day!
Thank you for signing up to Android Central. You will receive a verification email shortly.
There was a problem. Please refresh the page and try again.