The Galaxy S22 Ultra will always be the Note 22 to me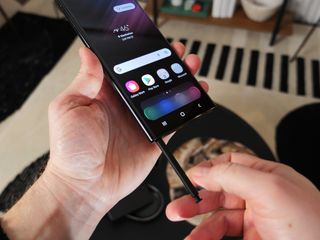 (Image credit: Nick Sutrich / Android Central)
For the past ten years, the Galaxy Note brand has been synonymous with the very best smartphone hardware from Samsung. And, as the company has previously boasted, Note fans are among its most loyal customers. Case in point: in 2016, the Note brand survived one of the most disastrous product launches in history. The damage likely would've been terminal for a less prestigious product line.
Before Samsung complicated things by also releasing a plus-sized Galaxy S in the spring, the fall launch of the Note was an annual highlight for enthusiasts. It was the original "big screen" phone, back when people joked about big phones looking like "talking into a piece of toast." While the S-series sold in larger numbers, the Note would boast quicker performance, bigger batteries, superior cameras, expansive displays, and that all-important S Pen. Fans would often argue that the only device capable of replacing a Note was another Note.
This year, it's not a new Note replacing older stylus-toting handsets in Samsung's lineup; it's the Galaxy S22 Ultra. It's a phone which, for all intents and purposes, is a Galaxy Note. With its boxy proportions and sharp, angular borders, it has all the design cues of the Note line. It looks more like a successor to the Note 20 than the S21 Ultra and is visually distinct from the other two S22 models. It's unique in terms of technical hardware too, being the only S22 with a curved screen, Samsung's very best 108-megapixel camera, and dual telephoto system.
Besides, in a year of relatively dull upgrades for the Ultra, the main hardware update from S21 to S22 Ultra is the S Pen. This phone wouldn't have looked out of place in late 2021 as a hypothetical Galaxy Note 21.
So why, strictly speaking, isn't this phone just a Galaxy Note? In a recent interview with Digital Trends, Samsung UK product management VP Nick Porter pointed to the "Note" becoming a feature set more than a specific product line.
He's not wrong. It seems inevitable that the Galaxy Z Fold line will eventually evolve an S Pen silo, especially after it added external stylus support with the Z Fold 3. And Samsung's tablet range has long offered S Pen support. What's more, as much as the S22 Ultra looks and acts like a Note, it's launching at the same time as the other S22s with a similar platform of features.
Nevertheless, it feels like Samsung is, somewhat needlessly, ditching a highly valuable brand name. If you know smartphones, you know exactly what a Galaxy Note is all about: the very best specs, a big screen, and an S Pen. The more generic "Ultra" monicker somehow doesn't do justice to this product.
Could Samsung eventually bring the Note back officially, name and all, with some future iteration of the S Ultra? Stranger things have happened. The company excluded the Note 5 from Europe entirely before returning with the Note 7 the following year. And after that phone's catastrophic failure, many predicted the series's demise.
So while the Note brand itself may be dead — for now — the S22 Ultra will always be a Galaxy Note 22 to me.
Android Central Newsletter
Get instant access to breaking news, the hottest reviews, great deals and helpful tips
Alex was with Android Central for over a decade, producing written and video content for the site, and served as global Executive Editor from 2016 to 2022.
Spot on, Alex. For me, the S22 Ultra does not justify giving up my 16gb ram in my S21 Ultra, even though the boost in processing in the S22U may obviate this somewhat. Regardless, besides the S pen it feels like a compromise. Maybe next year, and I'm waiting for a siloed S pen in the Fold 4 and screen crease improvement. We are close.

The S22 Ultra has 16GB RAM too, so you won't.

My S21 Ultra is only using 6.7 GB of RAM currently, not even half. 12 GB should be ok, especially with effective memory management.

Without expandable storage it is not a NOTE to me. I have had several phones fail and thanks to the expandable storage it has not been a complete disaster. My note 20 Ultra had the black screen error and I had to replace it, but thanks to the expandable storage i did not losea lot of backups files and photos. I still travel a bit and when out of the country have limited bandwidth at times so cloud back up is not for me. Hopefully my Note 20 will get me to 2023 or someone else will step up the plate.

Sony? They're the only ones still including a memory card. "My note 20 Ultra had the black screen error and I had to replace it, but thanks to the expandable storage i did not losea lot of backups files and photos." You don't backup photos and videos to the cloud? That would post a problem though because you need to allow the connection to a PC every time.

Some folks just create their own problems where there shouldn't be any. Redundant, regular backups are not that hard and time consuming. I have seen more terminal errors on sd cards than crashed phone memory without a way to recover the data. No need for SD cards in cell phones!

I agree with you about the expandable storage. The S22 Ultra is not the new Note. The S22 Ultra is a S22 Ultra with Note features cannibalized from the Note line. The SD card is an important part of the makeup of the Note line to many. More important than the S Pen. I will hold on to my Note 20 Ultra 5G for now. My next phone will be a Sony phone.

You're in a minority for SD card slots, most users don't care about SD card slots, I certainly don't care about them.

S-series outsold Note series. So when they decided to merge SOME of the note to some of the s-series it made marketing sense to use the name of the more popular item. Many S-series owners (which is a lot more than Note) don't give a darn about a Note, but wanted an update to the S-series phones. So the merged the two, minus the SD card which has some people in the crying room with tear in their eyes. However, personally, I don't care what the writer feels and wants to call the phone. I'm sure there is a place for their binky and them in the crying room.

This. To waste our times by crying about the Note naturally getting merged with the S is, weird. There won't be a slab flagship launch in the summer any more, that window is now for the foldables. That is a very good thing as the same whiners won't be able to try troll about "the Note will launch in a couple months, so wait!"
This merger is probably something Samsung should have done already when the original Ultra model launched.

"Samsung sees the Note as a feature, not a product." And this makes sense now the Note's been out for many years.

I'm "new" to the Note line: My current device is my 2+-year-old Note10+, and I absolutely still love it! 256/12 storage/RAM? What's not to love! AND, with *expandable storage* (I've got a 256 card too), it's a fantastic device. But, what's in a name? I had, and still have and use, a fine, beautiful gold S7 edge. But before upgrading that to my Note10+, I always wondered WHY Samsung would release two so-closely related phones annually just SIX months apart. I think this is the right move: Making an "S" series phone – with an in-body pen – and the same design footprint as the Note series. And perhaps the "Ultra" moniker may be the best possible for this "combination" phone. I've always said that Samsung releases a "phone per week", i.e., just too damn many! This is a good move – and one I hope is here to stay.

I hope they keep the boxy shape of the Note as I can't stand the look of a screen with rounded corners. I'm really worried that the next Ultra will progress more towards the s21 ultra shape, and over time, just be an s series with a stylus.

Hopefully they drop the absolutely useless curved displays off top tier flagships too.

Yeah the S22 Ultra is definitely the Galaxy Note in all but name and that's probably a good thing for Samsung as the Note series was not differentiating from the regular Galaxy S series anymore so Samsung killed off the Note series for a year using the chip shortage as an excuse so while the Note series is pretty much dead now, it lives on in the S22 Ultra, I wish Google would have a Note series competitor, maybe it could be called the Pixel Note. 😂
Android Central Newsletter
Get instant access to breaking news, the hottest reviews, great deals and helpful tips
Thank you for signing up to Android Central. You will receive a verification email shortly.
There was a problem. Please refresh the page and try again.