Is it safe to use third-party charging accessories with your phone?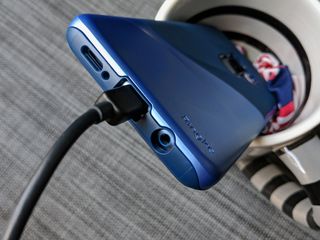 As a general rule of thumb, we recommend charging your phone with the cable and power brick that come included with it out of the box. These accessories were designed specifically for your phone, and as such, will generally offer the best experience possible.
However, if you happen to lose them or just want a second charging setup without spending an arm and a leg, there are a number of third-party companies that create charging accessories and sell them at a fraction of the cost compared to what you'll pay for Google or Samsung-branded ones.
However, just because third-party charging solutions exist, are they ok/safe to use? Here's what the AC forum community has to say.
Like our users said above, you're fine to use charging cables and adapters from other companies as long as you're buying from a well-known, trusted source. With that said, we'd love to hear from you! What third-party charging accessories do you use?
Android Central Newsletter
Get instant access to breaking news, the hottest reviews, great deals and helpful tips
Joe Maring was a Senior Editor for Android Central between 2017 and 2021. You can reach him on Twitter at @JoeMaring1.
I have never damage my phone nor have I heard of a friend suffering that fate. However, my sister has had a 3rd party charger get stuck in the wall. She then bought the same one and history repeated itself. It's an easy fix , but still an inconvenience. And yes, it's a cheap something, something. No comments.

After my Windows phone days I have a bunch of Nokia and Microsoft chargers. They seem to make good general purpose chargers for other phones and bt speakers. None are usb c but I've never had a device with that yet.

Never had a problem with 3rd party. Read the reviews and look at the specs. iClever QC 3.0 chargers for the home and office
Baseus USB 3 braided Type-C Charging Data Cable - BLACK + RED
iRAG 36W Dual USB Quick Charge 3.0 for the car Never had a hiccup, slow charge warning, etc from any of them. Each charges as fast as the OEM charger

Generally, as long as the charger meets or exceeds the wattage specification for your device you will be OK. While you can use an underpowered charger, you don't want to make it habit, because it causes unnecessary stress on the charging components. Some phones are smart enough to tell you the charger isn't quite up to the task, but will go ahead and charge at a much slower rate than normal.

That's kinda bad advice... There's a lot more to it than wattage. For example, a OnePlus 6 charges at 20 Watts, but connecting it to a charger that outputs 12V/1.6A (19.2 watts) or 12V/1.8A (21.6 Watts) would be a very bad idea. And charging from a lower amperage charger won't hurt your phone. Your phone actually scales amperage back itself as the battery charges.

At home I use the original charger and cable. But when I travel, I've been using Aukey charger, RAVPower and Kmashi power banks without any issue. I also use Aukey and Anker cables for traveling. I guess as long as you stick with reputable brands, you should be safe. They might cost a bit more than the cheapest no-name brands, but still way less than the OEM ones.

I use Choetech accessories and haven't had a problem with them. I make sure that they are USB-IF certified and support USB Power Delivery. A scan of the user reviews also helps.
Android Central Newsletter
Get instant access to breaking news, the hottest reviews, great deals and helpful tips
Thank you for signing up to Android Central. You will receive a verification email shortly.
There was a problem. Please refresh the page and try again.