IP Cameras vs. Nest, Arlo, and other integrated systems: Which security ecosystem should you invest in?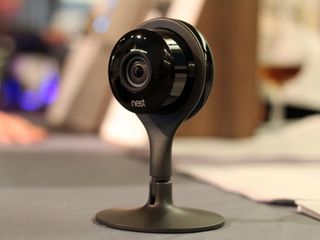 Home surveillance cameras are more popular than ever before. Whether you want cameras as part of a larger home security system, to use as a baby monitor or even to keep an eye on the pets while you're at work, there are plenty of options available at just about every price point.
But before you buy, you need to think about things like placement, power needs and, most importantly, what type of system to start with: a simple integrated system like a Nest Cam (opens in new tab), or a standard IP camera. There are pros and cons to both types and a bit of time spent deciding which is best for you will save frustration and money.
Integrated camera systems
Camera packages from companies like Nest or Netgear's Arlo are available as a complete turnkey system in one box. You'll have everything you need to get a camera in place and monitoring the things you want to monitor without any headaches or difficult installation instructions.
Once installed, you'll have a system that can stream HD video with advanced features like motion detection triggers and zone fencing that works with your smartphone to do things like sending push notifications for motion alerts. The cameras use your home internet connection to stream video to the company's servers where you can monitor things in real time or download clips to save them for later. The companies making these consumer IP camera kits have thought of nearly everything, and it only takes a few minutes to get it all up and running. Additional features can integrate your system with Amazon's Alexa service, Google's Assistant service or Apple's HomeKit without any headaches.
What makes installation and setup of these types of cameras so easy are their proprietary nature. They are designed to work very well in limited ways, with little to no flexibility in how you set them up and use them.
There are some really great options in this space. Nest and Arlo have already been mentioned, but other companies like Logitech and their Circle 2 system (opens in new tab) or Canary (opens in new tab), or Ring's Spotlight cameras (opens in new tab) work really well and are simple to set up. More importantly, they are simple to keep running month after month, year after year. We love them both because they can give us a clear picture of our home, both inside and out, and because they are so simple to use.
After connecting a camera or a base station to your home network, they are attached to a user account through the company that manufacturers them. You'll notice during the setup process that all you need to do through the app on your phone or a PC is enter your network name and password; the cameras themselves do the rest. Your only options for viewing and storage are the ones approved by the manufacturer, and depending on your needs the hosting plans for camera storage can be pretty pricey. Workarounds from other companies who offer cloud-based camera FTP services exist, but can be complicated to set up and limit the features supported.
Fully integrated camera systems and the ecosystem that drives them are great for families who need something that can be easily set up and requires little to no maintenance. The initial high price of the equipment as well as long-term expense for hosting services are mitigated by the ease of use and well thought out feature set.
Standard IP cameras
Standard IP cameras are usually a very different experience than an all-in-one-box setup. Instead of a simple camera or cameras designed to work with a specific service from the manufacturer, a standard IP camera is just a camera. It transmits video, both wired and wireless options exist, and it's up to you how to capture and preserve the streams. A typical IP camera setup will have several inexpensive cameras connected to an NVR (Network Video Recorder) on a standalone storage device or a computer system.
These systems can be more complicated to setup than an integrated system. But part of the reason is the number of options you have for just about every piece of the system itself. IP cameras come in many different styles with different mounting options, can use PoE (Power over Ethernet) for a single-wire FHD installation, often come with zoom lenses and true night vision, and can work when you have special needs like a tamper-proof design or a stealthy setup. Countless hardware and installation options make a standard IP camera an excellent part of a larger automation system and "regular" IP address based stream access means you won't have any trouble seeing what the camera sees with an on-site monitor or through a web server over the internet.
The biggest difference between these cameras and an integrated camera kit is the video storage. A basic system like this one from Zmodo (opens in new tab) comes with four indoor/outdoor autofocus cameras (with IR cut filters for basic "night" vision), a stand-alone NVR storage device and the software to set everything up through a computer on your existing home network. Others, like this Samsung 16 channel FHD DVR system (opens in new tab) come with everything needed to cover your home inside and out in one box. The cost of these systems is about the same as a basic integrated multi-camera system with no additional costs for cloud services or storage.
Most IP camera systems also have the benefit of not having video from your cameras in the cloud. Popular use cases for security cameras include children's rooms, bedrooms and other places where privacy is paramount. With proper installation and setup, only you will be able to access your camera recordings, and they are stored on media in your home. If you want the convenience of cloud storage, you'll usually find that option available, too. But it's an option — you still have all the footage on site where you can secure it or dispose of it as you see fit.
You can also build your own NVR storage devices, and capture and administrative software is available for everyone from the hobbyist to the enterprise. If you have particular needs or just want to set everything up yourself, a standard IP camera system is the way to go.
See IP cameras and systems at Amazon (opens in new tab)
Which is best?
One type of security camera system isn't inherently better than the other. The easy setup and use of products like a Nest Cam are worth the extra cost and storage service plans for many. Others will be more comfortable keeping their recordings local or have needs better served by a standard IP camera system.
If you found your way here because you're an enthusiast and enjoy the setup process or will have no problem going through all the options and troubleshooting things, you will want an IP camera system. They are more felxible, cost less, and have no monthly or yearly storage fees attached. This also applies if you have any special needs like needing to disguise your cameras so they aren't stolen or need a real zoom feature. Hobbyiests and tinkerers can also buy into an IP camera system on the cheap and if you find it something you want to expand you'll be able to move from a single inexpensive Yi Camera (opens in new tab) to a bigger multi-camera NVR system with no loss of your initial investment.
Some of us would rather spend a little more money for a system that's more plug-and-play, then let someone else worry about storing the feed and monitoring the connection. It's hard to put a price on ease of use, but if we could we'd probably feel that products like Netgear's Arlo system or a Nest Camera system are a bargian. The higher starting costs are offset by the time you'll save installing things, and the yearly fees are worth it if you would rather not have to worry about local storage or feel that you aren't yet ready to take care of it yourself. That's exactly why these types of products came to market — people want the simplicity and are willing to pay a little more for it.
Decide what your needs are, and if you want to work through a more complex setup or want a system that just works. Luckily, both are readily available options. If you are using security cameras and have a particular brand you like or any feedback, feel free to talk about it in the comments!
Updated January 2018: New products are awesome and we added some thoughts about them to this post.
Android Central Newsletter
Get instant access to breaking news, the hottest reviews, great deals and helpful tips
Senior Editor — Google Ecosystem
Jerry is an amateur woodworker and struggling shade tree mechanic. There's nothing he can't take apart, but many things he can't reassemble. You'll find him writing and speaking his loud opinion on Android Central and occasionally on Twitter.
Went with Arlo because cloud is free. Well every 8 days the oldest files will be deleted but once you pay for device, you don't need to pay for anything else after.

been thinking about arlo also. even better is if you already have a newer netgear router you dont need a base station. it works as one

I've got the Pro w/ the base station. I read lots of reviews of the newer and older Arlo systems and it seems like the Netgear router setup is very, very hit and miss. The base station is silly easy. Love the system and the app. My wife loves it too, which is the most important thing.

My pro was delivered last night from Amazon and had it set up and running in 15 minutes. Love it. With that said, we bought a zmodo nvr 4 cam system before the Arlo that i could never get working. Sent it back to Amazon for another and then had the same problem. Their tech support sucks balls and deemed it.... non functioning.

Bought an Arlo Pro 2 pack myself when it was on sale not too long ago. The free week's worth of recorded events was a big selling point, possibly *the* selling point. The Pro model will also do local video storage to a card as backup (handy if your internet goes down), and features SmartThings integration (which I may or may not end up using). Frankly I don't think I gave up much of anything vs a standard IP system, and gained a whole lot of convenience... It IS much pricier tho, specially if you need more than 2-3 cameras. If your needs are real basic and/or indoors only the AC powered Arlo Q is worth a hard look. I might actually add one of those to my wireless 2-pack, and/or a third wireless Pro.

I'm pretty sure that Zmodo Standard IP camera system requires you to go through the Zmodo servers to reach back into the NVR. The only way to get local access to the NVR is to plug it into a TV/monitor. If you use the app then you're going through their servers.

Got a deal on Amazon last fall for a 3 pack of D-Link Day/Night cameras that I have set up to a 2GB stand-alone NVR. Not the best in the world, but it serves my needs on a budget. . . And with the My D-Link app, I have access to the stream any time with motion and audio sensors, I am notified of activity immediately and can handle situations from anywhere I have Internet access. The night mode is very good and clear, and you can even zoom in on the frame without massive quality loss, some, but not so much that the image is useless.
Granted this has a rather complicated initial setup process, but once it was set up and running, it has been a great setup for the total investment.

I have 3 different kinds, and Nest is the best for me by a fair margin. The cloud storage, clip sharing, ease of use of the Nest app (plus motion zones, alert options, timeline viewing etc) , make it the best for me.

I am preferring z-wave camera but there are not any good ones. I am hesitating to go with specific brand and non-standard ones.

I'm running with a Blink 3 camera setup, integrates well with Smartthings from Rboy.

I've been debating on buying a RPi Zero W and a camera to test it out as a solution. Currently I have two Nest Cams. I love the cams, I love the features. I don't love paying $200 per cam only to pay $100 a year to monitor the first cam and $50 for each additional, and that only gives you a 10 day video history.

I pay $100 for 30-day backups from Arlo for a year. I'm pretty sure that includes up to 10 cameras. It's not ideal, but remote access and sharing and saving is ridiculously easy. I think the free account still gives you access for 7 days and 3 (?) cameras. I may be wrong on that part.

I was also thinking of Arlo. Wish I had seen all of this before I pulled the trigger and bought the Nest cams over a year ago. I had both the Arlo and the Nest in my hands. Sadly I put the Arlo down. I have a feeling I'd be having a different conversation now.

The Arlo Pro is a great system. My batteries last a month or longer. The originals weren't nearly as good from what I have seen. Some people were going through batteries once or twice a week. One of my cameras that doesn't get activated more than a few times per day (side gate to backyard) is on the original charge from the first week of January when I installed them.

Changing batteries every month?... What an inconvenience...

I have an Arlo mounted to a tree, fully exposed to the elements, in my back yard looking down at the back of my house where it has been since last June. I put a silicone skin on it after about 3 months of use. My last set of batteries were installed September 10th and it pays to use high quality batteries. It shows 48% battery life, but the last set went from the high 40's, after several months, to nearly dead in a few days so I don't have much confidence in the accuracy of the battery gauge. I keep it on Best Video and motion on 80%. The only thing I don't like is you only get 10 seconds of recording at a time unless you pay for cloud service which is $149 per year. I also have a couple of Yi Home Cameras that are my favorite, but can't be used outdoors and have to be plugged in.

You can change the setting for how long the camera records. I do the 7 day free service and have mine to record 45 seconds.

GetPiper : 30 days free cloud if you get the bundle like I got. Alarm, humidity, heat, night vision etc etc... Probably the best of all of them so far.

I bought a single Arlo Q and set it up a few days ago. The 7 days of free recording is awesome. The app gives you a surprising amount of control over the camera's options. I especially like the fact that you get free 7 days worth of cloud recording which can be configured to start on motion detection and record for a set period of up to 2 minutes or until there's no more detected motion (up to 5 minutes). There's no chance of an intruder finding a NVR and rendering the camera useless. Most importantly, the quality of the capture is top notch and pretty smooth even in low light conditions where cameras usually struggle to maintain a decent fps. Yes they are expensive and they take away the opportunity for you to use your own capture solution but Netgear has crafted a well rounded solution.

For anyone wondering, these work with any access point/router, not necessarily only Netgear branded devices.

Yeah, whether looking at the Q or the wireless & Pro models, one of the biggest things going for All is the free week of recorded events, far more than any of the competition offers for free. Hadn't it been for that I might've gone for a DIY IP solution...

I have both the Arlo Q and the Next cam. The Next is more less a dust catcher because I don't like monthly recording fees. It would be perfect as a video feed for a baby's room or a pet monitor.
The Arlo works flawlessly perfect for me with the free 7 days cloud storage.
I'm thinking about ordering two add on Arlos. I just read if you have a newer Netgear router you don't need the base. I'm game to try it with my Netgear router purchased last year.

If you're not willing to say "yes" on one of these, Try "we examine X so you can decide". If you don't want to offend advertisers, then you'r not serving AC subscribers. Jerry, I know you try to balance it. But please make my clicks make me happier than another article that basically ends up "YMMV".

I considered this decision and went with IP cams as the image quality is much better, as well as the infrared performance, if you get the right cameras. They also offer much more precise facial recognition, motion tracking (with definable zones, sensitivity levels per zones, etc.). They are POE and feed into a small SAS in my home as well as have microSD in each cam. Most of mine are Hikvision cameras, but I also have one of the new Dahua Starlight series cams and am happy with it so far. If you're a geek, the setup on this stuff is easy, I have zero monthly costs, I get email with stills and links to video footage whenever my motion alarm zones are activated, I can access live footage or auto-recorded motion triggered footage from anywhere I have a net connection, two-way audio built in. The ecosystems are nice if you just want plug and play, but you give up a lot for the same or more than you'd spend going with decent iP cams these days. The IP Cam Talk forums are good place to check out if interested.

I have three fairly old IP webcams set up in my home and use Tinycam Monitor Pro. Recently, I saw a post about someone using a Shield TV (which Tinycam runs on) used as a NVR. When I get up to adding some new, POE outdoor cams to the system, I think I'm going to get a dedicated Shield TV always-on, no additional cost, local storage.

I work for one of the companies you mentioned as a tech engineer. I also use both the Canary (Canary is getting greedy) and my companies system. Home Security companies like Canary are getting greedy with cloud storage and can cost more the a commercial security system because of the cost of the cloud storage. You are right if you are a geek that knows a bit of networking and can get through menus with a learning curve then brands like hikvision and dahua are great. This will be a better option for that type of person. Not to mention like you how much far better image quality you will get at different focal lengths, optical zoom, more storage flexibility and options etc. Working for my company I learned these are can be too complex for the average end user and frustrating for them to set up. Using a home security system like Canary is great for the average end user. It virtually headache free and effortless to set up. but these guys are starting to take advantage of consumers with minimal upgrades and rip off cloud storage. Look at Canary current plans. You are limited to a 4 camera system and for cloud it is now $200.00 a year for all 4 cameras plus $200.00 each camera I think it's 30days worth of playback. Without a storage plan you get 12 hours of playback for the first 2 camera, 8 for the 3rd and not sure if you add a 4th. There is now no other tier and storage options like before. Not saying all are like this but your still stuck with mediocre specs, features and virtually only one option of storage that is very costly. If you have the know how definitely go with a dahua or hikvision. It can be cheaper and for sure more cost-effective. Do some homework and research . There is YouTube guys! LOL!

I bought into Arlo recently because A) I wanted something simpler to maintain once I'm no longer living with my parents (the system would stay with them) and just as importantly B) Netgear's Arlo system includes a free tier of cloud storage that goes back thru a full week of motion-detected events (most others give you a day at best for free). Not only that, but the Pro/wireless models have an option for local storage to micro SD AND the whole thing is also compatible with SmartThings. Just seems very well thought out, and the wireless flexibility is hard to overlook too.

I've been thinking of going with something wireless since I want to mount a couple cameras outside on my front/back porch and maybe the side of my house since we're on a corner lot. Been leaning towards that Arlo wireless since a lot of people are happy with them/ease of install/etc, but the only thing that's keeping me back is the whole battery changing every X months. I want to mount the Arlos high enough so people can't possibly steal/rip them down. So, I just don't want to keep getting up on my 20ft ladder every X months changing these suckers out :(( If not Arlo, what other wireless outdoor cameras are out there that you all recommend and don't need to keep changing batteries? :) Thanks!

If it is wireless, you will have to change the batteries eventually on any of them unless there is some way to solar charge the battery (sort of like the Ring Cam).

Running Arlo. Love I can arm/disarm by using my Echo and IFTTT.

Went with a Q-See (the Dahua version) pretty decent. Get it from Costco, they will take it back if it ever fails. The first one I had, died after 2 years. The fan died and it ran hot, then failed. Took it back to Costco, and returned it. Took that money and bought a newer, better one from Costco. Will continue that until they say you can't. (it says you can in their TOS/Warranty info) Has already helped us 3 times this year. Sadly, one time it did not. Pro Tip: if you put up cameras, check them regularly. One of my cameras, the set screw somehow came loose. The camera pointed down a tiny bit, but it was enough to make it useless.

Replying back to this 10 months later.
Still works fine. the nice part is I have added more storage space (from 3tb to 9tb of storage) by simply adding drives to the NVR. I have also added 3 cameras from Amazon. All in the $30 (on sale) to $70 range. 2 are PTZ. (yes, they are cheap & indoor only). As long as they do ONVIF and have POE, they seem to work fine.

Love my Arlo Pro. Video sample for those interested.
https://youtu.be/YC2F8LT1QKM

Nothing about the Logitech Circle? Here's a first look at it: https://www.youtube.com/watch?v=D-4a361nWqI&t=67s

Important article! Thanks. I had the original Arlo and was then considering upgrading to the Pro when it came out, but I ended up abandoning that ecosystem and going with several Foscam C2s instead... I guess the Foscams would technically fall under the "IP cameras" of the two categories outlined above?... but it was just as easy to set up as the Arlo IMO. The C2 is not rechargeable nor waterproof (neither feature did i really need), but the video quality was much better (true HD @ 1080p), was much quicker to start playback and to switch from portrait to landscape view, and the price was MUCH less per device (less than half the cost!), with NO hub required. I even bought their cloud storage for a year because even with that added on, it's still much less per camera than the Arlos. Just wanted to throw that out option/name out there, since i went through all this already...in case it can save anyone some time etc :-)
But again, it depends on your needs. And admittedly, the Foscams do require a bit of work to view from a PC from anywhere over the internet (i still haven't gotten it to work), in my experience. But there are also a LOT of options to customize it once you crack into the settings via IP.

I got the Arlo Pro for three reasons. The cameras are wireless so were really easy to install. It has free cloud storage (it keeps the past week worth of footage) and it has local recording over USB which you can keep as long as you want or use as big of an external drive as you want. I did not consider the Nest due to the fact you cannot record at all without a monthly subscription and I wanted local recording in case I needed to go back and get footage and not need to rely on the cloud. The two negatives about the Arlo to me are that it is battery powered and that it is wireless (this was also a positive thing). You do have to charge the battery once in awhile. It does last a very long time between charges though (a couple months). However, this also means the cameras will not function when the temperature is below -4 degrees. A couple days this winter have been colder than that and the cameras just say they need to warm up before they will work. This is due to the battery. Finally, because the cameras are wireless they could be easily stolen. However, the thief will most likely be captured on camera in that case.

Just a note you can hook up a permanent power source to the arlo...

The Nest is better than Arlo hands down. You get full 24/7 recording which is why you pay for the cloud storage. You can't compare short video clip free recording to what Nest gives you for $100/year. You get WAY more...better camera, better app, better user experience, 24/7 recording, etc. If you want to do a true comparison, compare Nest with Arlo's paid subscription service. Oh wait. That's right. It's around the same price as Nest.

I'll be the first to give credit where credit is due. Nest makes quality hardware and has a great app. However Nest being better than Arlo is all relative. Arlo gives you 7 free days of those so-called short video clips while Nest gives you 3 hours of snapshots. I'm not sure about you but I'd take a video clip over a snapshot any day. Also without the Nest Aware subscription, your camera has the best features disabled which means you're forced to subscribe. Now let's compare apples to apples. You're absolutely correct that Nest and Arlo's continuous recording plans are the same price but that's where it ends. Arlo also gives you the following extras: -local backup storage
-100+ decibel security siren
-ability to be plugged in or wire free If you love Nest products, that's great for you. However many people have been very happy with the basic free Arlo plan which probably explains why they're the leader with 50% market share.

Do any of these support an alarm horn or dial-out to 911?

Arlo pro for almost a year now. If the pro 2's ever go on sale I'll spring for 2 more.

Using Wyze cam, great cam for $25 bucks.

The big difference with Arlo versus the others is that the base station uses its down wireless which had very good range and wall penetration. You can also attach and external hard drive to get around the subscription requirement. The others require Wi-Fi and can easily require a pricy setup to get proper performance unless you have an idea house.

I have 3 Nest cams and they are well worth the extra spending imho. 2 x IQ indoor and 1 x indoor

Casting Nest feeds to chromecast devices using Google Assistant is a killer feature for me. "show camera 1 on bedroom tv"... awesome

Don't most of the "IP cameras" require ports to be forwarded and for you to run an outward facing webserver on your internal network?

Looking forward to Ring's new security system. Combined with their awesome cameras, all for $100/year (unlimited cameras), kinda no brainier (assuming it works the way they say it does).

Hello to all. Not sure if I'm still in the loop or not, But I'll give it a try. As I am a Novice to this, I'd like to set up a home camera security system for my home. This is what I'd like to have. 4 to 6 Cameras, 1080P or 2K or higher, pending cost. Wired or Wireless. NO Fee's, Subscriptions or Clouds!!! I'd get myself my own External Hard Drive, 2TB or Higher. Be able to monitor via Tablet, Computer or Smartphone when I am away. I'd go for a system under $1,000.00, Probably around $500 to $800. I've read about LOREX and that seems like a Crap shoot. 50/50. I like the Arlo system, especially the Wireless. Only thing is, Changing the Re-chargable batteries! Not a big deal. I just am unsure if any of the systems/Cameras out there can be turned off if I do not want to record via Motion. I don't need to see the dog every few minutes. Or if my Father comes over and does work. Like, Can I turn off or turn on the system, or the Cameras if I left the home via a smartphone?
Again, This is most all new, I've read up on some, But do not know enough. Systems I have looked at are, Arlo, Swann, LOREX, Ring, and Nest.
By the way. I do live in Ontario Canada, So there might be some systems I've never really heard of or not available up here. We do have a Best Buy, Staples, Costco, But I find that sometimes buying online can be cheaper, Pending.
Any input would be truly awesome and welcome. Whether it's Negative or Positive, I'll for sure listen.
Thx...
Android Central Newsletter
Get instant access to breaking news, the hottest reviews, great deals and helpful tips
Thank you for signing up to Android Central. You will receive a verification email shortly.
There was a problem. Please refresh the page and try again.