Instagram introduces ability to upload images through its mobile web app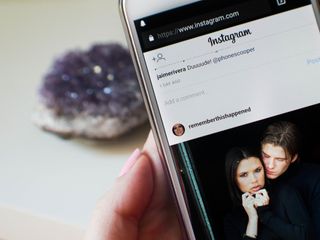 In its neverending quest for global takeover, Facebook's other social network, Instagram, has finally enabled the ability to upload images for anyone accessing it through a mobile browser.
Previously, you could only access a few limited functions through the browser page, including the ability to fully peruse your feed. But now, when you navigate to Instagram.com from your mobile browser, it takes you to an app-like layout, complete with the ability to upload a photo or video stored locally on your device. Bear in mind that this is only accessible on mobile browsers at present—those of you clicking through on your desktop browser will not have the upload ability.
TechCrunch asked Instagram about the changes. The company responded that this new web experience is optimized for mobile phones, particularly in an effort to "help people have a fuller experience on Instagram no matter what device or network they are on." TechCrunch adds:
The Instagram track seems to run directly parallel to Facebook's in the sense that it also appears to be heavily focusing its developing on its mobile web app for emerging markets. Many users in the developing world don't necessarily have a fast enough connection or the ability to download Instagram's full mobile app, and this offering should help bridge that gap.
Perhaps this is also a great method for posting to two Instagram accounts at once —save one account for the app and the other for the mobile browser — especially since the current way of switching between accounts is still sort of agonizing.
Florence Ion was formerly an editor and columnist at Android Central. She writes about Android-powered devices of all types and explores their usefulness in her everyday life. You can follow her on Twitter or watch her Tuesday nights on All About Android.
And for no good reason, there's still no official way to upload from desktop...

Particularly strange when other desktop apps, such as InstaPic, do allow it.

Why is this even needed? Clearly FB put IG squarely in the mobile space. Adding desktop interopability only blurs the lines between IG and FB proper

IG and FB overlap to some extent already, and they both exist as websites and desktop apps, but to many people these are two different audiences. To many younger people, FB is their parents' and grandparents' social network. My guess is that this extension of upload ability for mobile browsers is about accessibility - that phones which struggle with the app (which is oddly demanding of cache resources, and prone to failures) but can cope with it in broswer form will be able to use it that way. As the article says, users in some parts of the world simply can't download the app.

Good, and now I don't need the app installed. I just miss notifications and messages on there.
Android Central Newsletter
Get the best of Android Central in in your inbox, every day!
Thank you for signing up to Android Central. You will receive a verification email shortly.
There was a problem. Please refresh the page and try again.