Images of super thin Huawei P6-U06 device leak out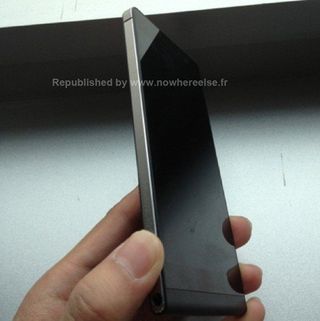 Just 6.2mm thick but still packing many of the latest specs of any high-end device
Huawei's latest ultra thin high-end device -- known as the P6-U06 for the moment -- may have just leaked out, and this time it is posing for the camera instead of just a few device renders. While it is hard to confirm that this is the exact device Huawei have teased in the past because the back is not shown, all signs point to this being the same 6.2mm thick phone packing a 1.5GHz quad-core processor, 2GB of RAM and a 4.7-inch 720P display. That's a solid set of specs considering the limited space they have to work with.
The design feature of having a metal band around the perimeter also adds a little bit of evidence to this being a new P series device from Huawei, as it has used the same technique on other recent phones such as the Ascend D2. It also seems to pull some design from the Ascend P2. The radio specs suggest a Chinese-only launch for this device, and we wouldn't be surprised if it never launched beyond that market either. Hit the break for a couple more pictures.
Source: Engadget
Andrew was an Executive Editor, U.S. at Android Central between 2012 and 2020.
I hate to say this but isn't it iPhone 4's design? Anyways I love the design.

Yep. I was thinking the same thing. The biggest difference is the bottom bezel looks uglier.

That is a beautiful device.

That dangerous iphone corner .. smells like lawsuit.

It doesn't smell like lawsuit. It stinks like lawsuit.

Oh well the Commies will protect Huwei anyway.

Why this pointless rush to thin devices, which always is at the expense of battery capacity? When was the last time you heard anybody say, "oh that phone is just too thick"?
You can't hold these thin phones against your shoulder, they are more subject to bending damage if you sit on them wrong.

I know what you mean but then if you put a case on it it'll be close to a good thickness. As long as the battery is removable then the battery argument isn't that strong.

Looks like an iphone from the side but from the front it looks like a Sony device.

Considering the only place you seem to be able to get an Ascend P1 (which was finally released late sept 2012) is still ebay, let alone the no-show of the ascend P2 since it was announced, I don't think this will make it into anyone's hands until 2015.

Am I the only one that thinks this looks like an Iphone 5?

Ohh nice, a home-button-less super slim iphone 4 (:

I hope it gets virtual buttons like the Nexus 4 :D
Android Central Newsletter
Get the best of Android Central in in your inbox, every day!
Thank you for signing up to Android Central. You will receive a verification email shortly.
There was a problem. Please refresh the page and try again.