ICQ changes gears to focus on mobile, releases new ICQ Messenger for Android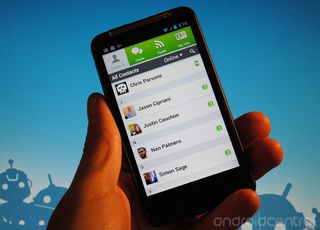 Back in 1996 when Motorola was still building the Motorola StarTac, a PC based instant messaging program called ICQ was released. It eventually grew to over 100 million registered users but after a while, many other instant messaging programs showed up and ICQ sort of fell off. Now though, the company is making another strike at the mobile business having released a new ICQ for Android and a whole new set of features to go along with it:
Send and receive FREE unlimited messages.
Send photos to all your friends including ICQ, Facebook and Google Talk contacts. You can also share your location with all your friends.
Chat with Facebook, Google Talk, studiVZ, Mail.ru and AIM friends directly from your mobile phone using one single app.
Sign in with your mobile number – the ICQ app automatically finds phone contacts already in the network.
Get social feeds from ICQ, Facebook, Twitter, YouTube and Flickr.
Stay connected to ICQ simultaneously from any platform, whether it's mobile, PC, web or even tablets.
Enjoy offline mode - read received messages on ICQ and review chats even when there is no connection.
Get the new privacy and safety capabilities to help you avoid unwanted messages.
I'm not entirely sure if ICQ will ever reach the masses the way it did in the 1990's but the new messaging app does have a lot to offer, you'll find their full press release and download past the break.
Munich, April 10, 2012 – ICQ, the pioneer instant messaging provider, announces the release of the latest version of its mobile app today, advancing a new strategic focus on mobile platforms. The app has gained two million active users in just four months since it was released for major smartphone platforms.
ICQ has placed a renewed focus on mobile, selecting modern smartphone platforms such as Android and iPhone as priority targets for development. While ICQ currently supports all mobile platforms, the new Mobile Messenger app was created specifically for the advanced touch-based mobile OSs that have revolutionized mobile communications.
Mobile messaging has emerged as a primary use for mobile devices and is increasingly displacing traditional SMS. The cross-platform availability of ICQ and the ability of ICQ users to stay in touch with all their friends, no matter what network they are on, have helped propel its rapid growth on mobile platforms.
The new version expands on ICQ's Mobile Messenger and provides critical new functionality for users. The new ICQ app now enables users to send photos to their contacts, including friends on ICQ, Facebook, Google Talk, studiVZ, Mail.ru and AIM. Additionally, the new version lets ICQ users share their location with friends and provide them with their exact whereabouts. With this new feature, users can share their location with their address book contacts who use one of the messaging platforms ICQ supports. The iOS version also supports a few advanced features such as the option to navigate to location, street view display of the sent address, and sharing locations from nearby Google places.
The new version brings compatibility with the iPad, with the app designed to take advantage of the larger screen on the tablet. This comes in addition to support for Android tablets which was already available.
The new version of the ICQ Messenger is available as a free download on both Google Play (Android Market) and Apple App Store. The new version comes on the heels of the recent release of ICQ Mobile Messenger for Windows Phone and Bada.
"We have equipped the Mobile Messenger with many new features such as sharing photos and location. In this regard ICQ offers its users not just a better mobile communication experience, but also a richer and a more tailored one," said Moshe Kigler, ICQ VP of Product. "Following the recent releases of ICQ Messenger for Windows Phone 7 and for Samsung Bada, completing the vast ICQ mobile offering, our future plans now include the continued development of the ICQ app for smartphones and tablets as well as striving to maintain our cross-platform capabilities with even more free communication options."
The new version also includes new privacy and safety improvements, designed to reduce unwanted messages. These new improvements minimize interference to the users without interrupting their ability to add new friends and chat for free with everybody, everywhere.
Additional features include:
Review chats even when there is no connection (Android version)
Send messages to Facebook friends, including pictures and location details, even if they are offline
Redesigned "quick reply" function, that lets users answer messages directly from the home screen
About ICQ:
ICQ is a leading instant messaging service provider with a global online communications community. ICQ offers a full range of free communication tools for Mobile devices, tablets, PC, Mac and web. ICQ, created in 1996 by the Israel-based company, Mirabilis, is now wholly owned by Mail.ru.
I'm amazed I can still remember my ICQ number (since it was your username). Also surprised ICQ is still around.

At this point, I'm pretty sure I'll remember my ICQ number forever. Even though I haven't used it in 10 years now. :)

I was on ICQ many moons ago, but deleted any trace of it when the porno spam and requests to join groups that I had absolutely no reason to be interested in overtook messages from friends. Pardon my chauvanism, but I have my doubts about a service from Mail.ru. Homegrown stuff is slippery enough.

Wow... between this and Winamp, everything old is new again.

"I'm not entirely sure if ICQ will ever reach the masses the way it did in the 1990's" You're not entirely sure? That's a rather milquetoast phrasing; it's more accurate to say "What with Facebook, Twitter, MSN, SMS/MMS, iMessage and/or BBM there's a snowball's chance in hell of ICQ getting any traction whatsoever"

So it doesn't replace a SMS Messaging app?

Man.. i never got into ICQ lol

Perhaps I remember incorrectly... but didn't ICQ and AIM merge? I thought ICQ and AIM were pretty much the same entity now. Good lord it's been so long since I've used ICQ.

Had it years ago, number 1971367 I think. AOL bought and soon my password no longer worked, and I wasn't able to find a solution to retrieve it. So today I tried again, to find the lost password link, and the support link, not working. Still. After 4 years, minimum. Tried making a new account in which they gave me everything but my new number. Really, if you aren't going to have your shit together, don't bother telling people you still exist as it will only annoy them.

1893212 here, definitely will never forget. Buuuuuut I won't be trying this. Talk about unnecessary. Sorry ICQ, you've gone the way of everyone else who failed to adapt and grow. Or, you know, pretty much everyone in the tech world. People move on to what's new and hot. 5 years from now, Facebook will be ICQ. /Kevin

yuck, you can't actually quit the app, it just hangs forever in the status tray if your logged out *uninstall*

7880271 I remember it well, not a number that will be forgotten. I tried logging in a few months ago through the IM+ program, NOBODY has ever replied to my hello. I think its a dead item, but I am more then open to try it

I remember when ICQ was voted worst designed website of the year for a few years. Man was that homepage confusing and jammed with stuff. App it's self was cool with the uh-oh sounds, etc. Wouldn't trillion be a more valid option?

Wow, next they'll be saying myspace is coming back.
Android Central Newsletter
Thank you for signing up to Android Central. You will receive a verification email shortly.
There was a problem. Please refresh the page and try again.