Ice Cream Sandwich for the Motorola Xoom appears to be rolling out now to everyone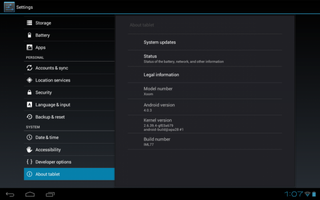 A treat for the night owls from Motorola -- the Ice Cream Sandwich update for the Wifi only Motorola Xoom looks to be rolling out right about now. Reports say it's Android 4.0.3, and everything is the same as the recent "project" that started last week. It's an OTA, and like all OTA's will roll out in stages of some sort or another and nobody is sure how it's calculated. Keep an eye on the forums if you're looking for the manual download link should you be the impatient type.
More in the Motorola Xoom forums
Thanks everyone who sent this in!
Get the Android Central Newsletter
Instant access to breaking news, the hottest reviews, great deals and helpful tips.
Senior Editor — Google Ecosystem
Jerry is an amateur woodworker and struggling shade tree mechanic. There's nothing he can't take apart, but many things he can't reassemble. You'll find him writing and speaking his loud opinion on Android Central and occasionally on Twitter.
I knew this would happen I left my Xoom at my girlfriends house and noww I have to wait ugh lol

Yes... but at least she gets to play with it. I'm sure she can fill you in on how amazing it is. I brought mine to work just in case. I have it tethered to my Bionic in order to make sure the Moto server sees my baby child in order to push it's sweet treats to it. Mmmmm MM!

I just received it this morning (I'm french), i own a wifi only coming from US.

Thats the best thing motorola did when it comes to updates , if an update is own for a certain region (i.e. US) & you have a US phone in anther country you can still receive the update with them & not wait for the update to be available in your place Back in the day , with my OG MILESTONE (Retail-UK) I had to wait for Eclair 2.1 & ForYo 2.2.1 to become available in Saudi Arabia (a Month after the European update) via MSU But with my ATRIX (also Retail-UK) I got GingerBread 2.3.4 the next day it became available via OTA I hope next time , Motorola does it like apple , Global update at the same time

"Ice Cream Sandwich for the Motorola Xoom appears to be rolling out now to everyone". Does that include the LTE version or are we not everyone or do we not own Motorola Xooms? I am confused?!?

Did you read the first sentence at all?

Read the post and you would know
" Ice Cream Sandwich update for the Wifi only Motorola Xoom looks to be rolling out right about now"

Just updated mine and is runs better than the ICS on my transformer prime.I am glad I kept my Xoom.No more typing lag, boots alot faster.Wish ICS tablets will implement the face unlock.

Yea mine came in around 330am east coast time here in Columbia, MD. I have wifi xoom only.

Yet another device before the NS4G. WTF!

I was just talking with my brother and saying how I was surprised my wife's ns4g didn't get updated yet. The only thing I can surmise is that they maybe having a hard time with wimax and ics? Stretching it, I know, but that's the only thing I can think of.

theory is all galaxy nexus and ns4g will get it after all euro gn get 4.0.2

Don't fret, GN is stuck on 4.0.1 as well. Not bad but not the latest version either.

The last generation of the nexus hasn't gotten an update since the GSM version was rolling out then pulled. I am running doodlebutt on my ns4g and love it!

Folks tend to forget the wifi usa xoom is google expierence device so it'll get updates faster. As for lte u have to wait for vzw to finish there testing no different then a phone.

Nothing for me yet, in the UK but with a US wifi Xoom.

Hmm my NS4G just muttered silently to itself...

Xoom 3G MZ601 Europe / Austria / Vienna not bundled with a provider nothing yet ..

You don't have the usa version wifi. Only the flagship google experience usa xooms will get this currently.

i guess the rest of the world outside the US doesn't count as 'everyone'

Anyone know if the Moto Xoom FE version getting ICS?

nothing yet for me. i got the wifi version :(

The build number seem to suggest it's even the newer version than the one on the ASUS Eee Pad Transformer Prime and the Google Nexus S. The ones in these devices are running build IML74K. However, it seems like both tablets have older Linux kernels than the one on the Nexus S which is at 3.0.8. Both tablets seem to be running 2.6.39.

Is the xoom f.e. getting ics in this update? any f.e. user got it yet?

No update so far. I"m in Illinois. I also took mine took work and I'm using my EVO so I can check throughout the day. I"ll keep you guys posted

Woke up this morning and got the update notification. Awesome. Seems much faster and smoother loving it so far. And no disconnects from my wifi! Florida

No updates yet in Virginia

nothing here in Texas (wifi only) but i did observe the notification light blinking but i had no incoming messages. restarted to turn off the notification light but still no update.

Why doesn't the zoom companion get ICS .........Moto ATRIX I thought they had the same insides

Nothing in Illinois. Even have it tethered at work so I can keep checking.

My Xoom is my everything. I learned a valuable lesson this past weekend as I attempted to update it manually with a 3rd party bootloader. Suffice it to say that after a few hours I managed to brick it! Thanks to Motorola and their Motodev team, they gave me the most awesome opportunity to bring it back from the dead! I think I will be patient this time, although, I'm still on the edge of my seat and STILL hitting the "Check for Update" button every few minutes!

Had the update waiting for me when I woke up this morning. I'm digging it so far. I'm glad I can finally clear the recent apps list! -Pflugerville, TX-

I have a Galaxy Tab 10.1. Which as we all know, means The Touchwiz UX. And I must make clear, I don't mind one bit, other than the fact that that traditionally means a longer upgrade path. My question is does the Xoom run a "skinned" version of Android? Or are we talking vanilla ICS???? Either way, good on you Moto...

Xoom's always had a vanilla OS. both a good and bad thing I guess.

The WiFi Xoom is the Nexus Tablet. It has absolutely no "skin". It is a nearly 100% pure Android device.

Got it this afternoon. Dramatic improvement in performance. Browser is stable...so far.

Just got an update on my LTE Xoom. Not ICS though. Thought it might be so I didn't catch all the previous build info. This is where it's at after the small update. Pretty sure it was a prep patch. ver: 3.2.4
ker: 2.6.36.3-g6963abe
build: hlk75f

Can't launch Google Music, crashes every time, even after reboot. I got the ICS update last night and had never launched Music before the update. Crashes after selecting "next" on the intro page.

still no one getting ics on a f.e.?