Why I switched from a Pixel to a Galaxy S21 after years of rejecting Samsung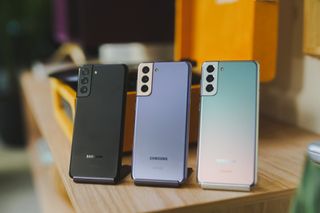 (Image credit: Android Central)
I just couldn't deal with the Pixel 4's poor battery life any longer. That's something you've probably heard before, either in real-space or written on the internet because the phone really does have the worst battery life of any product since the battery was invented in 250 BC. Seriously, though, it is bad. Really bad.
I hated to do it because I thought everything else about the phone was marvelous and that it was still one of the best Android phones I've used. Of course, it was only marvelous when it had enough juice to stay powered on. I first moved to the OnePlus 8 and was really digging it but was having problems with Google Fi and activation. I did what any tech writer would do in this situation, and just got another phone instead of trying to figure it out with Fi tech support.
And now, for the first time since the Galaxy S7, I'm using a Samsung phone. I don't hate it. I don't quite love everything about it, but it's a damn great little phone and I'm actually glad I switched. 🤯
Here's what I love about it
The "regular" Galaxy S21 is the perfect size for me. I hate tall skinny phones and while the Galaxy S21 is tall and skinny compared to phones built before silly 2-ish by one aspect ratios became a thing, it's not ungodly tall and huge like so many other phones made today. It fits in my pocket, and I can use it with one hand. These are must-have features for me.
The screen is to die for. Samsung makes great displays that almost every great phone uses, but it holds back the very best for itself. The S21 leaves nothing to be desired when it comes to the 120Hz HDR10+ Dynamic AMOLED display. I thought the screen on the Pixel 4 was good. This is amazing.
I love the way it's built. The back is plastic, but it's extruded in some way that makes it feel silky and textured without any give if you push on it. I really don't care if the back of my phone is glass or aluminum or ceramic or plastic as long as it feels really good while I'm holding it.
Finally, that camera bump/housing/wrap-around thingy looks pretty damn cool and I dig it.
What I don't like about it
If you're expecting me to say the software you're going to be disappointed. Samsung has done a fine job taking what Google provides and turning it into a real operating system and it works. As a whole, anyway, because there are some parts of it I'm just not in love with.
I hate the calendar notification screen. In fact, I hate it so much I installed Google Calendar on it and did everything I could to stop it from ever notifying me ever again. I'm sure Samsung has data that some folks like it and that's cool, but for me, naw. Go away.
I also had to switch out a few other apps like the messages client and phone dialer because Samsung was letting spam through that Google doesn't. I hate spam as much as I hate giant full-screen calendar notifications. But for the most part, I'm using the phone with the software it shipped with and I'm OK with it. That's something I couldn't have said before Samsung fixed things up.
I don't like the fingerprint sensor. It's far better than any other in-screen fingerprint sensor I've used, but it still struggles when your fingers are scarred and calloused. Mine are and no matter how many times I set it up, I can't get it to work more than 50% of the time with my right thumb, which is the digit I want to use. This isn't that big of a deal because I'm only using the fingerprint unlock to check it out and will switch back to using a PIN because I really don't care for biometrics.
And then there are the ads. Stop showing me ads unless I'm playing a game or using the web browser, Samsung. Cut that shit out and realize it's a bad look for the biggest phone maker on the planet to force ads on its users.
Believe it or not, that's the end of my gripe list. Everything not mentioned as something I love or something I hate is something that's just fine. The camera isn't as good as the Pixel 4's, but it's more than good enough and if you're not being picky you'll love it. Bixby isn't nearly the pain in the ass the internet told me it was and it took all of two minutes to make sure I never see it unless I want to see it. All my apps run great on the beefy guts inside the phone and even phone calls sound great.
Don't be like me. I stayed far away from Samsung phones for the past several years because of how they were ages ago. You need to remember that every phone was pretty bad back then and things have improved so much since. I can't speak for any Pluses or Ultras or anything else, but I like the Galaxy S21. I like it a lot.
Affordable and powerful
(opens in new tab)
The mainstream Galaxy flagship
Samsung's Galaxy S21 is an incredible Android phone — especially when you disable all of the ads it comes with. Between its 120Hz display, great cameras, and gorgeous new design, this is a flagship through-and-through without the $1000+ flagship price.
Android Central Newsletter
Get instant access to breaking news, the hottest reviews, great deals and helpful tips
Senior Editor — Google Ecosystem
Jerry is an amateur woodworker and struggling shade tree mechanic. There's nothing he can't take apart, but many things he can't reassemble. You'll find him writing and speaking his loud opinion on Android Central and occasionally on Twitter.
After the Galaxy S4, S7 Edge and S10 (which is still a great phone), I'm strongly considering he OnePlus 9 Pro this year. Samsung's dumbing down of the S21 and 21+ grates. The Ultra is just to expensive and hefty. Also, I like OneUI but as I get old I've realised less really is more. When I moved to my Surface Pro X (one hell of a PC) I leant more into Web Apps and offers such a better/cleaner experience. App overload is a real thing.

I agree, Samsung cut this ad ******** out. It's a real pain in the butt. That's my only gripe on the S21+. Besides with these great trade-in deals I got mine for 384.00 buck-a-roos. That folks for me is a no-brainer. Gave up my weak 🔋pixel4, no regrets!

Well, getting it for $384 is probably part of why you get ads on your phone.

What the hell could've been something simple with Google FI. Would be nice if Google actually realised Google FI and Google Talk outside of the USA though.

Leaving nothing to be desired means it's bad 🤣

I've never an a Samsung advert on my S10. I do only use Samsung Messages and Gallery though I suppose. I also routinely go into app settings to set them how I want to I suppose. No ads in the Samsung Weather app for me. I don't believe I ever saw one in Samsung Pay or Bixby either.

I have on my S10+ and have researched online how to remove them, I still get some. I not paying premium money for a dumbed down flagship with ads!

Jerry would you mind explaining what you mean by ads? How are they integrated into the S21? Is it the carrier models? Is it easy to turn off?

The ads are baked into the Samsung software. https://www.androidcentral.com/how-turn-ads-your-samsung-phone?fbclid=Iw...

I've never seen them, even array from my pi-hole... Maybe it's because I'm in the UK? Or because I never mindlessly agree to everything while setting things up, but I doubt Jerry did that either.

Thank you for the help on that

I fall squarely into the camp of never having bought a Samsung since the Galaxy S6 and it's the Android software updates that have kept me away. I am also looking for a change of scenery and I plan to do the unspeakable, but first I may consider a Samsung test. I'm not over how many months it took me to get Marshmallow but I'd like to experience Samsung hardware again.

My S10E has gotten consistent up since I have owned it for a year or so.

The updates are quicker than ever before and better than most OEM's. However most of the Pixel immediate updates are features Samsung and other OEM's have had for a couple of years. So, to me updates are not an issue as I already have most of the features pure google is updating to.

Updates are one of the reasons I gave the s21 a chance. Samsung was not that quick with updates when I had the s7. They have improved greatly on that front, they are among the best now (except for Google).

I have had two Samsung phones and a Samsung tablet. I am a fan, but my next phone won't be a Samsung. I won't tolerate paying gigantic prices and not getting top of the line specs. Here in Canada the S21 is $1129.00, the S21 Plus is $1399.99 and the S21 Ultra is $1649.99. All prices are in Cdn. dollars and are a lot higher than if you convert the American Samsung retail prices to Cdn. dollars. So many other manufacturers offer the same (or better specs) at cheaper prices there is no reason to buy Samsung any longer. For now I am using my S10+ (came with a charger, has Quad HD resolution and a headphone jack and a SD card option). My next phone could be a Pixel or a Xiaomi or a OnePlusOne. For me, it's all about the cameras and Samsung is far from leading the charge in that department as well.

You don't need Quad HD for most things. I am telling you, just try the s21. It has an amazing screen even though it is only Full HD+. I thought the same as you, but I was wrong. just check itout. Jerry even was amazed!

I run my phone at 1440 x 3040 pixels (550 ppi density). I can see the difference at 1080, because I can run my S10+ at 1080p. The S21+ is 1080 x 2400 pixels (394 ppi density), a substantial reduction in pixel density. The S21 and S21 Plus are not flagship phones in the true sense because of this (they are in my opinion): mid range phones with some flagship specs, missing many features of prior Samsung flagships with a minor price reduction that doesn't justify purchase at a still overinflated price point. I never considered the S21 series from the first time I read the specs.

I understand what you are saying, but a Quad HD display scaling down to 1080p will not look as crisp as a native 1080p display. To me that's just a fact. I'm a Note 10+ user, btw.

wow, Jerry. I am surprised, but like you said things have improved since back in the day. Nice to have you onboard the galaxy train!

Samsung makes good phones and I like them but I've had a grudge against Samsung for a while because of their price gouging. Oh sure one can get a great deal with a paid for late model Samsung or Apple trade in. Most other deals are not that good.
Consider that Samsung can make highly speced phones cheaper than anyone else in the world because of their vast size. They pay less for inputs. If Samsung calls up Qualcomm and says we are gonna need 100 million of your Sd 888 chips this year if we can agree on a price. You can bet Qualcomm is going to put pencil to paper to come up with best price to get that huge order. It's that way for all their inputs but Samsung makes the most expensive phones around. Gouging.

the S21 has bad battery life. the S20 FE both has a bigger screen and a larger battery (that goes beyond the need for the larger screen size) it's still pretty fast with a SD865. I had the opportunity to switch to the S21 for only $250 if i traded my S20 FE and decided against it.

The ads are the worst. I recently ditched the iPhone 12 Pro Max for the S21 Ultra, but now I miss the iPhone since it never displayed any ads unless I was in Safari, and even then the ads weren't that frequent. When I spend $1200 on a phone, I shouldn't have to deal with ads, especially in apps. It's ridiculous Samsung displays ads in apps. Otherwise, if there weren't ads, I'd love the phone. The second generation ultrasonic fingerprint sensor is far superior to FaceID, especially since I have to wear a mask everywhere. I love the customization of the phone too.

The Samsung Pay ads are the worst. Always nagging me to open a Samsung Money account with So Fi. Even when I launch other apps like Uber, Samsung Pay slides out a banner telling me to get cashback by using it to buy a gift card. Click on said banner and it tells you the offer is expired. Sigh...

So you weren't taken by the 4a, 4a 5G or the 5? Google made long battery life a focus after the Pixel 4 woes. and they have the cool Pixel software features not found elsewhere. Been loving my 4a 5G on Fi. I admit the S21 looks like a great series tho but you lost me with the ads. That's unforgivable, esp for a huge vendor like Samsung. Do they need the extra $ that bad? Sticking w Pixel.

Agree. Haven't had a Google device since the Nexus 5, mostly because of the terrible battery life in the Pixels, but left OnePlus for the 4a 5G and haven't looked back. It's a great value for the price.

My naked eyes can't tell the difference between 1080p or 1440p? Besides I prefer the 1080p. With my S21+ I'm getting 8hrs SOT after 10days of heavy use. But further testing is required. Anyway I'll take 🤪the 1080p for 🔋power anywho!

My phone has QHD but I run it on 1080p because I see little if any difference. My battery life is definitely better though on the lower setting.

I have a Samsung Galaxy Note 21 Ultra... What ads are you talking about? Samsung does not bake ads into its OS. The ads on this forum are terrible.

You mean an S21 ultra. It's true that it is a bit rich hearing AC writers complain about ads when the AC app is one of the worst there is when it comes to ads lol.

The difference though is that you are not paying to read AC...but you are paying to use the phone.
I don't like ads but I can understand them when I am not shelling anything out for something.
But when I am shelling out multiple Benjamins for any piece of tech...I will not tolerate any ads!

Uh, there's ads in literally every single Samsung-branded app, including the Samsung Pay app and the Galaxy Store app.

There's ads in weather, pay, and store. That's far from "every single Samsung-branded app".

Ok. Still doesn't negate my point to the post.

there's a fix for that, don't use them. Samsung pay is no better than Google pay now that they took MST out. What incentive is there to use the samsung app store over the google play store?

Literally the dumbest reply anyone could make. "Don't use them". Seriously? Good god.

Use Galaxy Store for updates on Samsung made apps. It is the only way to update them. For the rest ... go Gplay, go!

The S21 and S21+ don't offer a significant advantage over the S20 and S20+. The S21 ULTRA (although a very large and heavy phone) is the best non-Chinese Android phone on the market right now. S21/+ list price went down but they got rid of Micro SD slot and there's a couple other minor trade offs. No need to upgrade from S20 unless you go S21 Ultra. Your article would be more compelling if you were talking about going from Apple to Samsung.

The article was about why the user is using a Samsung device for the 1st time in years, not a comparison between the previous models. There are pleanty of comparison articles on the web comparing to the previous generation and just about every other device currently made. I've had a similar experience with Samsung and abandoned them for like 5 years. reports like this are why I gave Samsung another chance with the s21 +. Also, It doesn't sound like the author went from Apple to Samsung.

Is it weird that I feel even more happier with my purchase knowing that even Jerry made the leap? But yes these ads are awful.

I've turned off notifications from Samsung apps entirely, on a Note 5g ultra. I couldn't believe all the sub-categories of ad delivery in Samsung Pay and Samsung Push. Best to turn the whole mess off entirely.

Pixel 3XL to S20FE user here. I agree with the writer here and it's hard to go back now. Google needs to do something better with its phones.

I'm no one's fan boy and go with the manufacturer who offers a device with the features I want at a price I'm willing to pay. Over the past several years that's been Samsung and LG. My first Samsung product in a while was the Nite 8 which I later traded in for a nice discount on the Note 9, which to me was the last no holds barred, everything but the kitchen sink, no compromise s, Note. With the launch of the Pie update the ability to video I pro mode was taken away, a feature I used frequently as a mobile photographer. More than dissatisfied with thewith hits unique 5 camera set up loss of this feature, I added the LG V40 to my line up with Its unique 5 camera/video/audio set up. When upgrade fever hit again the Samsung Galaxy Note 20 Ultra was on my radar with that versatile camera/video set up with the powerful zoom lens that gave Huawei a run for their money. I do a lot of mobile photography and the Note 20 Ultra elevates my mobile photography game to the next level. From nature pics to work productivity, this device does so many things and does them well.

You could have got the Pixel 5 and also S21. Best of both worlds ☺️ It's not like you are common man and have to carry or have only one phone. Why were you with Pixel 4 for so long especially when Pixel 5 was released. Pixel 5 battery is amazing and lot better than the regular S21. S21 series is great and Samsung phones have been great for quite sometime now. For smaller size and battery life, Pixel 5 is still better than S21. Just my opinion like yours 😀

Samsung has always made really good phones with a lot of bloatware and heavy UI. They have trimmed down the bloat and really trimmed down the heavy UI for the most part. What I don't understand is why they still have bixby installed and not able to fully disable or uninstall. As well as messaging and a whole list of other competing apps. Three only model worth considering at least for me is the S21 Ultra. But I am still rocking my OP7 pro and it still feels faster than the new ultra. So I will not be getting it and get the OP 9 pro which if the leaks are correct will easily be the phone to beat this year.

my first Samsung phone in 3-4 years and the S21 is the best Android phone I have used.
One UI looks good. the screen is beautiful. It's crazy fast. Love the way the back feels. Lots of the pro glass only people stick that glass back in a plastic case and never touch the glass. I go caseless. the S21 feels like Quality to me.
Love it. Best Galaxy ever made. Can't wait to see what happens with the Note line this year

Thanks for the article...you just convinced me that I really do NOT want a Samsung phone! I had my doubts about the ultra sonic fingerprint reader and you confirmed my doubts...it's junk. However you ay it's the best one you ever used???? The optical reader on OnePLus phones is nearly flawless. And then you say that ads are showing up? I will not ever stand for such a thing on a phone that I own. So now I don't even have to do any more reviewing of Sam-DUNG phones! Moving on.

I don't see them as an "over the top mess," I just don't see the point in picking them up. My last upgrade was in 2019, and I got an LG G8. At launch, it was a little under $600, while a Galaxy S10 was going to be about $800. What was I going to get for that money? And extra camera I would never use, a punchhole instead of a notch (who cares?), and I would be giving up my headphone jack. There isn't much of a differentiation within Android phones anymore, at least not something of significance for daily use. I prefer to go away from Samsung because there doesn't seem to be a meaningful advantage. They're very much the Apple of Android--things are good, but they're also a premium that doesn't feel like it's worth it. I'd rather support competition and buy from LG or Sony, especially when Samsung follows Apple with removing the headphone jack and in-box charger, on top of dropping microSD support (admittedly, I am the exception of a person who makes use of my 256 GB microSD card). For now, I'm fine with my G8. I'd like to see a proper Surface Duo successor that isn't running dated internals and missing a bunch of features. That would be my preferred upgrade path. If that doesn't come, I think the Xperia line is my next place to look. LG's really backed off with their devices, so something like a Velvet doesn't seem to be a legitimate upgrade from the G8.

I got the Galaxy S20 FE as the price was right and it's a darn good phone and I was like Jerry because I thought Samsung's software was a bloated mess, it's not and I'm loving the customisation and how smart it is, I wish I'd switched to Samsung sooner and I got the Android 11 (One Ui 3.0) update shortly after set up although I'm on a contract, there is a lot to love more than I dislike that's for sure and the only grip I have is that it's only 6GB RAM rather than 8GB and the pre installed apps but that is it. I will be sticking with Samsung from now on. Will only keep my 11 Pro Max because of family members and my twin who use iPhones because having just got my 11 Pro Max last year, she doesn't want me to ditch it even though I want to. That's how much Samsung has made an impression on me.

Glad you've realised how much Samsung have moved on Beno from the old bloatware days, One UI isn't perfect but it's feature rich! and as great as Vanilla android on Pixels etc is most of the features are already on One UI.

I'm already seeing how great One Ui is and only have 2 complaints about Samsung's software, 1 Samsung should give us the choice to uninstall their apps or at least disable them and 2 Samsung should allow PVNs, other than those complaints, I'm really happy with One UI.

Going to sound naive here, but I wasn't aware that Samsung pushed ads through their version of Android 😯. I moved to Android from Microsoft/Windows 10 Mobile back in late 2017. I spent a couple of months researching different phones, and the only two phones that branded themselves as "pure android" was OnePlus and Pixel. In the end, I went with OnePlus 5T. Side note...what a great phone. Over three years later, with thousands of calling, gaming, streaming, browsing, music listening, texting, tweeting, stock tracking, photo taking, video watching, fitness tracking hours thrown at it, and it's as fast and responsive as the day I unboxed it. Anyway, the reason I was guided to "pure android" was that long time android users had written a lot of negative commentary about how companies like HTC and Samsung overlaid their own idea of what Android should be on top of the stock OS. That sounded bad enough, but I really didn't think that included advertisements popping up in the OS....that sounds like a nightmare. Surely if you've bought the device outright, adverts should be removed? I've never owned a Samsung, and this article feels like a cautionary tale to avoid them altogether. Adverts in the OS? No thanks

They don't or at least if they do its just a Marketing toggle. I've never seen any. Could be because I just tapped No when I was asked if I wanted this. But it's not a problem.

The Samsung Calendar app has three notification options: 1. Minimal
2. Medium
3. Full Surely it's the responsibility of an Android tech reporter to know about the products you're writing about?
Android Central Newsletter
Get instant access to breaking news, the hottest reviews, great deals and helpful tips
Thank you for signing up to Android Central. You will receive a verification email shortly.
There was a problem. Please refresh the page and try again.