Huawei Watch 3 is coming, but it'll be a while before we get it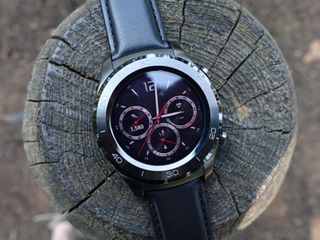 The Huawei Watch series has been a mixed bag so far. The original Huawei Watch from 2015 is still considered to be one of the best Android Wear watches ever made, but the Huawei Watch 2 was met with a very lukewarm reception. There hasn't been much talk from Huawei in regards to its wearable business as of late, but during MWC 2018, the company's CEO finally broke the silence.
In an interview with TechRadar, Huawei CEO Richard Yu confirmed that a Huawei Watch 3 is officially in the works. However, don't expect to get your hands on it anytime soon.
According to Yu:
Yu didn't offer any insight as to what we can expect with the company's third smartwatch, but whatever we get, I certainly hope it goes back to what made the original Huawei Watch so great. The Watch 2 isn't necessarily a bad product, but its bland design and lack of any compelling features (such as a rotating bezel or crown) ended up making it a tough recommendation.
Whenever Huawei decides to kick out its next smartwatch, what are you hoping to see the most?
Android Central Newsletter
Get instant access to breaking news, the hottest reviews, great deals and helpful tips
Joe Maring was a Senior Editor for Android Central between 2017 and 2021. You can reach him on Twitter at @JoeMaring1.
I'm still rocking the original. It's that good and I see no compelling reason to buy a new smartwatch if they can't outdo themselves on the original.

Yeah, I was about to post the same comment. I don't need to upgrade my watch as often as my smartphone. A couple bands or something on the original maybe having just gotten my first replacement one; and were they a snap to take off and put on. If I want a different style of watch at some I'll consider it. The only down I have about this one is the connection to the charger.

And you don't want that ugly Chrome in the Huawei Watch 2. OG 1 looks great.

Same here, still rocking the original, had to get it replaced under warranty, one of the charging pins at the bottom of the watch was corroded and you have to take a few attempts to align the charger to get it to charge.
Didn't bother me at the start but as the months gone by it got worse and lucky I had a few weeks left of warranty, they replaced watch instead. Now almost a year on with this replacement, I can see one of the pins is started to get corroded and eating away again, not as bad as the previous watch but its getting there, I don't swim/wash/shower/etc.. anything water related and often clean the back when I'm sweating on hot days, anyone else having the same issues? or is that my sweat is acidic? When #2 came out, meh, it just didn't do it for more, too sporty.

Which watch is in the photo? Looks very nice.

Looks like the Watch 2 Classic, which is what I have on my wrist. I really like the design myself.

A wait from Huawei? No...

Don't buy one then? Your loss

I should really learn to read properly when I wake up and comment.

I will upgrade when they upgrade the processor from the 2+yo Snapdragon 2100. That upgrade will guarantee me an upgrade.

Seriously, Android Wear is going to (if not already) in trouble if we don't get a new SoC. Granted my LG Watch Sport performs well, espcially with the Oreo update but I doubt we will see any real innovations until we get new hardware.

Yep, spot on. The lack of progress in two years (and some could argue regression) have me looking elsewhere. I gave up on Android Wear after three Gens (Moto360, 360 Sport, and LG Style) and bought a Swiss timepiece. I'll still replace my 360 Sport for running, but will no longer use a daily driver AW watch.

Something more stable, and more reliably updated than Android Wear. By far the buggiest, poorest supported operating system I've ever used. My experience with AW since 2015 brings back memories of the old Radio Hack TRS-80 computers we had in high school.

HW2Sport here and it is pretty great. Best battery life so far for me. That and the LG Style.
Android Central Newsletter
Get instant access to breaking news, the hottest reviews, great deals and helpful tips
Thank you for signing up to Android Central. You will receive a verification email shortly.
There was a problem. Please refresh the page and try again.