Huawei loses another U.S. partner as Best Buy plans to stop selling its products (Update)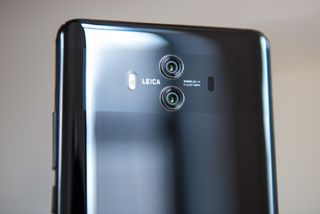 Update, March 22: According to a Bloomberg report, Best Buy won't just stop selling Huawei phones but its laptops, tablets, smartwatches, and all Honor products, too.
According to CNET, Huawei is set to lose another U.S. sales outlet as Best Buy plans to stop selling unlocked Huawei phones. While neither the retailer nor the manufacturer is commenting at this time, Best Buy has reportedly failed to renew its inventory for devices like the Mate 10 Pro, which went on sale in February. Along with Best Buy, the phone is sold at Amazon (opens in new tab), Microsoft Stores, Newegg (opens in new tab), and B&H Photo Video (opens in new tab).
The move comes after both AT&T and Verizon were convinced by the Trump administration, and by public pleas from leaders of the U.S. intelligence agencies, not to sell the phone. Huawei is the number three smartphone vendor in the world, but it has close ties to China's Communist Party, and there is persistent fear among U.S. law enforcement that there may be unforseen backdoors to allow access to U.S. data. Carriers have been implicitly forbidden from using Huawei network equipment since 2012.
Android Central Newsletter
Get instant access to breaking news, the hottest reviews, great deals and helpful tips
Daniel Bader was a former Android Central Editor-in-Chief and Executive Editor for iMore and Windows Central.
Oh please... First off, the majority of things are manufactured in China and other Asian countries. Second, as if the U.S. government doesn't spy on other countries and influence elections, based on what they can get out of one administration or another. The only thing keeping me from buying another Huawei phone to replace my still working Nexus 6P is Huawei's not-so-intuitive and lacking software.

Completely agree. 6p still going strong today.

You obviously don't understand how stuxnet worked. The point isn't just that the Chinese government might use their tech to spy directly (which would conform to their geopolitical imperatives against the West, and the US in particular) but that the real-time specs of hardware and software could be used to develop stuxnet level (or higher now) viruses to be deployed in the event of a cyber war. They may already have viruses waiting for that very possibility.

And who do you think developed the Stuxnet virus to begin with? It was developed by America and Israel to sabotage Iran's nuclear centrifuges and systems. Wasn't the Chinese who did. They and others may have released modified versions later to attack Industrial Control Systems around the world, but they didn't build the original version. You can be sure that America is not an innocent bystander when trying to influence other countries' elections and such. The original Shah of Iran was an American plant for example. Just saying...

You just proved my point. The US intelligence services know better than anyone else in the world how China could weaponize their consumer tech.

Considering they are already #3 in the world, don't you think they could achieve a lot of this ANYWHERE else?
Though they haven't...
Not saying ANY scenerio couldn't happen, it's just that there's no evidence that they are doing that. Where there has been evidence of our own government spying on us and our allies.

It happens ALL the time. It's called intel gathering. To start with, look a the SR71. Without intel, we're dead in the water.

The Chinese use everything others invent for profit and nefariously.. they didn't invent computers or the internet, but look at all the spying and hacking terrorism they do with them.. A Chinese free thinker can't even participate in this conversation without their government arresting them

I don't think you understand how espionage works. You can keep your conspiracy theories though

And you wouldn't have an army of developers figure out every single "spy software" installed on these phones? In like a day or two? Please....

Yeah, because "girl_interrupted" knows more about cyber security than US intelligence. Y'all watchin too much Mr. Robot.

Next will be every other phone that isn't Galaxy and iPhone..

It's hilarious. The current Dope-in-Chief has a "Donald Trump Collection" of menswear manufactured in China. His daughter has a line manufactured there. Hell, the stupid MAGA hat says , "Made in China" on the label. Why? Cheap Chinese labor. Simple. So every time he says, "Buy American, hire American", he"s full of sh*t. Yet his base believes whatever comes out that anus hole of a mouth.

You keep on ranting incoherently. It's very entertaining. Obama's stooges went after Huawei too. But only now you're offended? Whatever, dude. 🤣

That made no sense...how did Obama get into this? His point was that Trump is a hypocrite that makes his stuff in China. How the hell did Obama come up? Does Obama blame China for everything while making products in China? You Trump supporters are a strange bunch.

They're stupid. That's all

When Trump was given the third degree about the origins of his hats, he switched to domestic manufacturing.

Get ready to place your foot in your mouth. https://uk.reuters.com/article/uk-usa-china-trade-wto/china-partially-wi... . This was a basic Google search

I agree with what you are saying because he is the biggest fool. But where is 45 getting his Intel from? Surely not the intelligence agencies he publicly bashes on the daily.

What is your metric for comparing foolishness? Because I guarantee your middleclass ass brags or humble brags about every little morsel the big dogs push off the adult table for you to buy/clamor over. Your favorite toy is made by a company that people like Trump could purchase wholesale and shut down, destroying an entire chapter of who you are. You do NOT have that power over them. Fool.

"...people like Trump could purchase wholesale and shut down..." Citation needed.

I'm with you 100%. I will never trust anything the Orange Administration says. They're less trustworthy than any company out there. F*ck Trump.

MAGA!!! F*ck yeah!!!!!!
It's a shame the first black president was such a failure. At least we are on the right track now.

Why is that, because Trump is white? You should really think about how your comment looks...

Looks smart to me.. these people are always running around touting Obama "first black president", so it's hilarious to keep the phrase going facetiously

No. That's how you snowflakes take it. Obama said it first so......

EVERY time someone disses Trump one of his mindless programmed minions bring up Obama LOL. It's so easy. Barrack wasn't perfect but he was good and better than Trump. With that said, he's over and done with and completely irrelevant to my comment. Trump is horrible, very unprofessional and not deserving of anyone's trust.

Not a fan of Trump, and would never vote for him, but Democrats brought up Bush every time Obama slipped for a long while. Obama also said words to the effect of 'I won you lost get over it and get in line.' It is hilarious watching this blame game go back and forth between the parties. Or, at least it would be if it weren't so detrimental to the country. Someday people may wake up to the fact that Democrats and Republicans are both worthless and are out to screw them, simply in different ways. I'm not super hopeful though. Reading tech stories is typically a good escape from the mindless partisanship coming from both sides, but it even makes its way in here sometimes unfortunately. I guess that is what we get when we have a political duopoly.

Are you sure you aren't talking about Clinton? The first president to be blown in the OO by an intern.

Huawei has been investigated long before Trump was president..
http://www.matthewaid.com/post/100150466701/chinese-telecom-company-huaw...

Why? Because the Dems have promised and come through?? What a joke!!

And this has what to do with national security?

So? That's why he's there. You can't get High end American made items. Besides, Trump didn't say this first. Your Demigod Obama did,

You sound like the typical fish. Next you are going to tell me he is a racists just like the rest of your idiot coubter-parts, with absolutely nothing to back it. Go hug a tree.

There's plenty of proof that Trump and his family are racist. All it takes is a simple search.

Markseven. He only got called racist when he announced he was running for president. You communists can *p*h*u*CK off

Your delusions aren't proof of anything, mate.
And you're victimisation tactics have long stopped working. Trump is as racist as Obama. You now pick how "racist" you want that to be.

Girl.....lol. you communists can ***** off

I want to write something, but I really don't know what to say. Very disappointed.

Same here - I believe in National Security - and the Pres is surely advised to take the appropriate action. These aren't his actions alone in making these types of decisions. And to take these types of steps (there has to be some sort of credibility in these decisions), makes my imagination roll like thunder... And that's not good.

Who cares? Yes most things are made in China but you don't see Apple or Google working to actively hand all of their data over to the Chinese Government.

No, Google just spies on you themselves...

And are they reporting to China? No. So therefore I don't care.

Lol Everything sold in China has to have a backdoor for Chinese government or it can't be sold there. Ask Microsoft about their special version of Windows for China.

What's more of a threat to YOU as an average citizen, our government spying on us, or the Chinese?
Personally, I'm more concerned with our government.

You feel that way because the media has packaged up and crammed your ideology down your throat and you gargled with joy the entire time. It' easier than critical analysis because it alleviates you of the burden of thought. "China has my best interest in mind, le epin Trump meme." China is hungry son and they will steam roll your ass in a heartbeat for absolute power, because their culture hasn't demonized the masculine side of life.

And you willingly lap up everything your government overlords throw at you. Wake up! They don't give a damn about you or your family. Republican or Democrat, most of them are in it for themselves.

Agree with you completely.
It's not done simply for no good reason.
All these liberal cry babies of course disagree!

It has nothing to do with liberal or conservative... 🙄 Everyone in government is sh*t and out for themselves, whether Republican or Democrat. The point is all these companies are in on it too. If you don't think so, you're a blind shill.

You are a fool. An utter, misinformed, malignant fool. Please, delete your account.

Everyone in life is out for themselves. Its how social hierarchies work.

I also agree. China can't be trusted when it comes to stuff like this. My problem is that America has no phones anymore and I don't like Samsung or Apple. Where does that leave me? Motorola is now Chinese.

You have no idea my friend.....

Really sad, actually. It's a great phone, and a viable alternative to the Samsungs and Apples of the world. It's increasingly looking like a 2-3 company race in the US, and that's just not good. I actually bought the phone at Best Buy yesterday as a temporary replacement for my S8, which has been sent to Samsung for servicing. I was going to return it once I get it back, but now I'm not so sure. Really liking this phone.

Better dead than red!! Lol!

https://youtu.be/ly8_wwGuU2Q?t=1m53s

Go Trump! I love this guy

You're too late for that mate, Trump's in love with Vlad... you'll have to put up with sloppy seconds. Anyway there are no secrets for the Chinese to steal, your boy has sold em all to Vlad in return for his silence.

Trump probably owns stock in Samsung and didn't want them tho loose market share to Huawei. Probably the only reason he did this.

Yeah and everyone in the US intelligence community too!! 😶

You can back that up? Not even your leftist media can do that!

You can have him, but his wig is all mine! That wig is gonna be my future wife!

Along with your hand I bet

I really like Hauwei's phones. I don't mine the software, the cameras excellent, and the hardware is beautiful. So I don't get what the problem is. What's to stop all of those other phone manufactured in China from having some kind of backdoor.

Absolutely nothing. Would only take the government telling them to do it.

No. I don't think you understand the distinction of a Chines phone and a phone manufactured in China.

No I don't. Please explain.

Huawei is a Chinese company. Apple is an American company. There's the difference. You wouldn't call a Dell laptop Chinese would you?

Too bad, as the Mate 10 Pro is pretty cool, and I was looking forward to their 40 MP shooter. The real problem is Huawei telecommunications equipment, which was actually banned from being used by US government agencies in 2012. Huawei is the largest telcomm equipment manufacturer in the world, and is 100% employee owned, but I think the pressure against the phone division is just a means to slow their growth.

The only intelligent comment I've seen on this thread

Too bad they don't stop selling all phones that won't guarantee security updates for 3 years.

For what its worth, the effort to keep Huawei hardware out of the US began long before Trump was elected

And China had always been a threat!

IMHO, one would have to be a fool to buy a Huawei phone! The Chinese government has demonstrated time and time again that they can't be trusted. And none of the specs of Huawei's hardware come even close to making them worth the risk.

The Yanks are scared of their own shadows, that's why they've all got to carry AR15s around. Led by a draft dodging cowardly bully. MAGA ...pffft!

LOL, funny, but oh so true.

NO. Because we are FREE to carry we aren't scared of our own shadows and defend snowflakes like you

Does not matter to me anyway. I have not been to a BestBuy in forever.

Lol thought is not getting enough run

Clothing made in China vs all your information is a completely different argument please grow the f*ck up.

Yeah.... I'm sure the Chinese govt. really wants all your highly important info!

They're prob after me for illegally downloading all those cat videos 😭 I can't go to jail, they won't let me watch cat videos there

It's not a bout YOU. Not everything is about you and your snowflake generation

I've yet to see one comment on here state the obvious that Huawei wouldn't be targeted if they weren't in bed with a Communist dictatorship. That's very telling. Seems the mindless commenting stooges on AC love their little gadgets more than their country. Maybe you ought to direct your false outrage at China, and demand they become a true capitalist, free market country... Nah, it's too easy to blame Trump.

I know one thing if the rumors of a 40mp snesor in such a thin form factor turn out to be true and done right, I might be getting that P20 Plus though. Huawei is the only OEM implementing huge batteries consistently in their flagships meanwhile Samsung gives us the same battery capacities of last year with worse battery endurance compared to last year.

Good point about battery size. If they had wireless charging, then I would already have one. Incidently, I wonder how Samsung managed a worse battery score.

Where did you see that they managed a worse battery score? I've watched several YouTube videos and read several articles that all show the S9+ battery life beating the S8+, and the Pixel XL 2 (not including standby time) in endurance. So far that's been my experience too. I've owned all the phones mentioned. I do agree though that Huawei certainly does well in the battery department.

Why the paranoia with Huawei and not with Xiaomi or Motorola for that matter? Seriously, can someone give me an informed and educated answer, and not a rant?

Because Trump said so. It's all we need to know

And Obama. Continue on now...

I don't know the answer to the first, but I can pretty confidetly say the answer to the second is a resounding no lol.

Because only Huawei is making top-notch phones in every market segment. They use their own chipsets, and have the scale of a Samsung or Apple. The other Chinese competitors don't. Expect the same if Xiaomi comes here.

Xiaomi seems to be pretty nice phones to be honest, a mate have one, he had to have it imported as they are not available in the UK, but for the price it is a very good phone.

Probably because Huawei sells too many phones around the world and is *gasp* popular.

Omfg this is ******* bullshit

Murica is becoming a real dictatorship these days huh? Land of the free? Yeah right! Sent from my awesome Huawei Mate 10 Pro and soon to be P20 Pro.

How so? You mean high employment and a President that does what he got elected for vs a pen and phone president with no transparency and lies through his teeth?

Meaning you better do what ever BS he feeds you and judging by much of the opinions you guys are doing just that

He's done maybe 5% of what he ran on, like most presidents. Thank God for small mercies.

Yes, wlonsdale, The current "pen and phone" or more like "golf club and iPhone" president who tweets all the time and hires the most idiotic of the idiotic is surely doing what he got elected for. making white people's butts feel better after 8 years of a guy who doesn't look like them sitting in the office.

The only reason Huawei is being targeted, and targeted NOW, is because they've become a more than viable competitor to Apple and Samsung. The government doesn't want the public to make Huawei the world's leading smartphone vendor. AFAIK, that speaks to how highly they actually view the company's handsets. If they were making crap nobody would care about them. Notice that there have been security issues with BLU and OnePlus, but the US government has been silent on them because their products don't matter in the scheme of things. Huawei, with their full slate of phones like the Mate 10 Pro, Honor 7x, and Honor View 10, are extremely competitive in every market segment, and Trump has shown he's more than willing to resort to unfair trade tactics in the name of protectionism.

Source? Oh, it's your opinion since you don't get to sit in briefings

His source is his head, so joke's on u🙊 sorry

Bingo. Thanks for answering the question. Other countries have been caught, but have been allowed to sell in the USA. This is straight up squeezing out the competition, possibly because anything less than an oligopoly is a non-starter in MURRICA.

I assumed it was the US government wasn't able to crack their encryption and so couldn't spy on the people using them.....

Most of our telecommunication equipment in the Uk are made Huawei, in the exchange and the cabinets. i must admit I was a bit worried about Huawei, but i think if there was something in their equipment, it would have been found by now. I do have a Huawei p10 lite phone. As for spying, most of the world uses windows that comes from the U.S, how do we know that this OS do not have backdoors? TBH, I bet it does have some. Our processors are designed by companies in the US. Why should we trust the united states any more than China or Russia?

YOu guys are irrelevant on the world scene. You'll soon be mostly Muslim and then you'll want us Americans to defend you again

Defend us again? You sold us some weapons and food that was about it. The Russians did most of the fighting anyway. And I'm pretty sure we've been fighting Americas wars ever since if you want to talk about defending

Hey!! They are relevant, they have cool accents

Because I live there, that's why 😭

You've also got to question the timing of this too with just a few days before Huawei announce their next big flagship. Seems too coordinated to me

It's been this way for years!

The amount of computing power in the palm of our hands is tremendous. Add to that the connection it has to the world wide web and you have to admit it is scary to think that you could unwittingly be aiding a cyber attack in the future. I'm not afraid of wearing clothes made in China but I am of using a device the US government has warned about ties to a nefarious government. With the number of choices out there I rather just go with one that isn't that close to a perilous situation.

Hope so u know your left sock isn't spying on u? Yeah I said it

If you really want a Huawei phone simply purchase on Amazon. End of story!

Would be actually nice to test one out at a physical store you know.

Oh, do they support all USA bands? Band 71 for example. How is support?

If we get through the next 3 years without the nukes flying it will prove that anybody can do the job of President. Anybody at all. We could just choose any night shift manager from McDonald's or a car salesman. Maybe a supermodel ( male or female) so we wouldnt have to look at such an ugly face. If we are going to lower our standards this much there really is no bottom.

Funny. I said the same thing about Obama. So glad those days are over.

It is still hard to believe that the U.S voted in Trump, a person that treats women like dirt and is also racist. The problem with Obama was that he tried to poke his nose in the U.K affairs, but it seems America seems to like poking their noses in too often. Saying that our own government is not much better in that way.

We don't judge a President by what may have happened many years ago. We judge him by what he does now. We have a choice. For example, Bill Clinton was highly liked but cheated on his wife while in the WH. Not a word muttered by you two-faced lefties.

Wait, are you saying that Trump only behaved badly in the past? Regardless of whether you agree with what he's doing politically or not, surely you are not so blind that you don't see he today is acting like a complete buffoon that internationally is an embarrassment to this country? While in office he's insulted pretty much every race other than white Christian men, he's been disrespectful to his own military, his own defense agencies, has set a terrible example for kids, that has completely degraded the tone of conversation at schools and work alike. This isn't about things he did in the past. Its about things he does every day. Insulting citizens on Twitter, fighting with other politicians about his penis size. Come on now. This guy is a complete embarrassment now, not just in the past.

Trump might be a horrible person, but he has funny hair, that's enough to make him president

And you were a fool for saying it. This guy is a million times worse than anyone who has held the office before. And that was almost impossible to imagine after Bush 2, Nixon, and the worst of the pre-FDR lot.

As opposed to the Obama apology tour that created this mess? Blame Clinton, Carter and Obama. They created this mess and we have someone in office that will clean it up. You lost, we won.....

The fact is the US needs Huawei more than Huawei needs the US. No Huawei phones or Nokia flagships in the US already and how long until other Chinese OEM's are outlawed over there further reducing consumer choice? Huawei would LIKE to market in the US for sure but they certainly don't need to. They're already doing just fine without it and will continue to grow outside of it. Only the American consumers will lose out here with BS excuses of "threats to national security". Most Huawei phone's build quality put the likes of Google Pixels etc to shame.

We don't need them at all

Pretty sure you don't speak for your whole country or economy

If wlondale says we don't need them then we don't. You don't question his decisions

There's been no hard evidence of Huawei phones spying for the Chinese government found despite multiple investigations. Why are Americans so gullible?

For the same reason there has been a "collusion" investigation going on for 15 months, with absolutely nothing to show for it. Why are Americans so gullible?

Ha ha...stoopid is as stoopid does there scotty!

1. I'm not American (I'm Australian).
2. I have no comment on the Trump/Russia investigation.

Because in MURRICA, manufacturing the gullible is an industry unto itself, not to mention a critical state apparatus. I mean, look in this thread. You have someone in here still thinking a recently-retired President was some sort of "foreigner". And also that China is some kind of "Communist" Party hell-bent on spying on people who buy their electronics (never mind that a huge deal of them are built in China anyway. Like iPhones). Also, China is as capitalist as they come. MURRICA is full of a lot of uneducated people who can't think past their own lower intestine, which is why they chose a reality show joke as their highest elected official.

The biggest threat to National Security is Putin's lap dog, your Coward in Chief.

Nah. That was your lord and savior Barry Soetero (aka Barack Obama, aka The Big Fraud), and his red line in the sand drawing ways. There has never been a more hopelessly outclassed loser on the world stage than him.

Whereas your idol the piss drinking purveyor of cheap Chinese goods masquerading under the MAGA moniker,and his cadre of ghoulish yes men and women who're the ones really intent on destroying any pretence of democracy that you cling to .. well they all have so much class don't they? MAGA! and while you're at it grab some *****!

You could describe EVERY Democrat president that way.

The use of "Barry Soetoro" here is evidence enough that anything you say about politics should be taken as seriously as Apple's "courage" reasoning for deleting the headphone jack.

Still trying to go with that? Good luck, your trainers in the media can't even make anything of it!

What a lovely person you are. Nice to see Xenophobia is alive and well in 2018

Haha exactly, now we can sleep peacefully

This really sucks. I like Hauwei phones, design wise anyway. I haven't used one since the 6p and I still have my 6p in the closet somewhere and it still boots up.

This has got to be one of the ugliest comments thread I've seen in a while. Do we all really hate each other that much? Let's not let temporary politicians divide us this far...

It starts with people who just can't deal with reality. Trump is the President. Nothing will change that. When that low life clown Obama won, people didn't take to the streets and burn down cities. They chalked it up to the stupidity of the average American voter, and worked to win the next time, the way it's supposed to work. So, Trump wins, and now the sky is falling? Whatever. I have zero respect or sympathy for petulant little d-bags who can't accept an electoral loss. You don't have to like Trump. Heck, I thought Obama was the biggest dumbass, who happened to be the most arrogant **** imaginable. He was a fraud at every level. But, he was the President for a time. So, I sucked it up, and w waited for the nightmare to be over. Thank God, it is.

Statements like "low life clown" are part of the problem buddy. You can have your opinions, but keep degrading and unproductive comments like that to yourself. I'm all for substantive political discourse based on policy and fact, but there is literally no place for personal insults. You're right, Trump is the president. While I have my personal opinions about it, I'll keep those to myself. People like you that are inflammatory are the reason for this toxic environment. You calling Obama a low life clown is no different than someone calling a Trump an orange whatever, so it's a two way street.

Hey, I'm willing to let all this go. I really am. But from day one of Trump's presidency (even before), the war has been on. I'm not going to sit quietly while unhinged people attack people like me just because I didn't vote for a corrupt old hag for President. I am no racist, misogynist, or any of that. Married for over 25 years, and I happily voted for Trump. Let the guy be President, and do his job. You'll get no issue from me. But it's obvious that that is asking for the impossible. So, I will continue to forcefully push back against deranged people who just can't accept that Trump won, and insist they grow up.

Funny that you claim you aren't racist or misogynistic, yet every comment you've made on this thread speaks to the contrary. No surprise though, as most people of your ilk are in a state of denial about their own prejudices. Hint: if you have to claim you aren't then you in all likelihood are. MTCW.

Now you have bigger nightmare

A bustling economy, high fulltime employment rates, more money in my check....yeah, I hate that!!!

my opinion. https://youtu.be/3RWAuSdQWoM

@Altema22 - Agreed, thank you!

Wow, gotta love these posts! Yikes, a good education just reading! Holy Cow!

Next move: people will not be allowed to enter US soil if they have a Huawei phone

These Huawei items always end up in hate fueled political debates but I guess they still get a lot of clicks huh

It's a good thing that Huawei doesn't have to rely on the U.S.. The only thing they have to do, is keep making great phones. In time, demand may change their fortunes.

So, is it still legal for American workers to work at Huawei in silicon valley?

So many espionage experts here... Wowza!

Can you guys quote where it was "The Trump administration" that called for that? Is this assumed or actually reported somewhere?

Considering my Nexus 6P was the worst phone I ever owned, I'm perfectly fine with Huawei being tossed out of the retailers shelves. Not only do they produce crap, their support to fix my 6P was terrible.

Glad to see Best Buy step up to the plate on this issue.

Now I'll never use Chinese electronics. I loathe the Trump Admin, but I do believe the Justice Department officials that he criticizes on a daily basis.

I think you're missing the bigger picture here. This is just Trump's first victim of a trade war he's starting with China. There will be no winners either. American consumers will pay higher prices and American businesses like Boeing are already taking a financial hit as China retaliates. This is nothing to do with Huawei and security threats. This is the government stifling China making more and more money in the US

I couldn't care less. Mostly I try not to buy Chinese. As I grew up under communist rule I hate those fokkers and they should not have my hard earned cash!
Just checked to be sure: my Note8, manufactured on 09.12.2017 in Korea. Thank God! 😂

There's a lot of people in this country who are stupid. They think that Communism is great. And yet, I don't see anybody beating down the borders of any Communist country trying to get in. But these fools want to import it here.

LOL. China is the complete opposite of communist. Don't let the "Communist" label of their political party fool you. They are a mega-capitalist power with totalitarian control over their citizens/Internet. Something that your boy Dolt 45 wishes he could do here in MURRICA.

That is certainly true. I take issue with the oppressive side of it, not so much the term communist. 😁
We in America bedevil Cuba but the Chinese regime is cool to do business with. Hypocrisy pure, as so much in this country.

Keep telling yourself that, buddy.

Why does OnePlus not get more attention? They actually have a history of data gathering.

Most of people that are commenting are idiots wearing tin foil hats.

Yep, went to Best Buy this evening to pick up Jumanji and a Samsung silicone case for the S9+ and the Pro10 & the Huawei Watch 2 & Classic were already pulled from display. They still had the spaces for them and the identification placards were still there, but no product. They still had the Mate SE and the cheaper Huawei fitness watch/band on display, for now. I suppose they have more of those to move in inventory.

Anyone who really wants a Mate 10 Pro will just import the unlocked international version. No big deal.

It will not come with a warranty that I valid here and the LTE bands might not even work here. You sound ridiculous.

Or just buy it on Amazon...

The U.S doesn't want a Chinese company like Huawei to take over

The Mate 10 pro is terrible anyhow, trash software, took mine back but that's beside the point of this main issue!

And I thought republicans were supposed to be pro business.

They're pro-donor. I.E. who ever rolls up the dollars enough to shove them you-know-where.

I suspect this shoving out of Huawei is due to xenophobia, rather than actual security concerns. Have there been any incidents of security breaches where Huawei has been selling to reach the #3 slot? It makes no sense. "DURRHURR THEY'RE A CHINESE COMPANY CAN'T SELL IT IN MURRICA! MAGAMAGAMAGA" *lewd hand/wrist gesture* Wasn't it BLU or some other small-scale OEM that got caught doing the kind of things that drove a decision like this? Kind of sucks, but that's why Amazon exists, I guess. It is nice to go somewhere where you can actually buy a phone like the Mate 10 and the Honor series, rather than going to the "A of Doom" for everything.

Yes, because that's why all decisions are made... Xenophobia. Just can't trust people with slanty eyes. Good God, man. Just stop commenting already.

Lenovo is Chinese and their laptops are still sold here. So no it isn't xenophpbia.

How dare China do the exact same thing the NSA is doing! How will we cope?

Well now that the dumb ass has opened the door to trouble with China, its little surprise. Frankly I'm a big fan of the ZTE Axon 7 which is another company that supposedly has ties to the Chinese govt...NOT!

Still nobody on this board (besides me) demanding that China become a fully capitalist, market-driven economy, and lose the Communism. There would be no tariffs, no trade war, no problems. Instead, it's, "No, we gonna bwame Twump, because we don't wike Donald Twump."

If it was about Chinese tech companies and not running scared of Huawei's growth then went are OnePlus not being targeted?

Or Motorola (Lenovo). This literally makes no sense. Huawei is simply the biggest threat, because they are coming into this as the 2nd or 3rd largest phone manufacturer already.

Lenovo is the biggest PC maker and is also Chinese, but they weren't banned from the US.

The chief spies don't wanna be spied on! However i feel the Chinese are just not worthy to spy on anyone,
they've not earned that yet😹😹

Watch this, lemmings... https://youtu.be/ic17lTaRots

What makes Huawei a bigger threat than other Chinese companies like Lenovo? Lenovo was never banned from the US after their spyware scandal.
Android Central Newsletter
Get instant access to breaking news, the hottest reviews, great deals and helpful tips
Thank you for signing up to Android Central. You will receive a verification email shortly.
There was a problem. Please refresh the page and try again.