HTC's new financing program lets you grab a shiny new phone for $0 down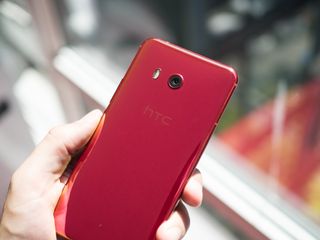 As bezels get thinner and cameras get better, prices of today's smartphones also get higher. Monthly payments when buying a phone through a carrier help to make these rising costs more manageable, but if you want to purchase a phone unlocked and directly through the manufacturer, these options sometimes aren't available. HTC is revamping its own financing program today under the new name of "HTC Financing", and it doesn't sound half-bad.
HTC is partnering with TD Bank to make the program possible, and the biggest draw here is that you can purchase a new phone for $0 down. You'll need to buy a phone that costs $599 or more in order to use HTC Financing, and at the time of publication, the only one on HTC's website that qualifies for this is the U11.
If you buy a 64GB U11 with HTC Financing, you'll pay $0 down and then $28/month for 24 months. You can pick up the 128GB model for the same $0 down, but your monthly rate will be increased to $31/month for 24 months. HTC Financing is available on the unlocked U11 and all of the carrier versions (AT&T, Sprint, T-Mobile, and Verizon), and better yet, there's a 0% APR no matter which variant you choose.
HTC Financing admittedly sounds like a great deal for those that want to pick up a U11 without handing over $649 or $729 upfront, and with the U11 Plus right around the corner, the timing for its release is just right. You could certainly pick up a U11 using HTC Financing right now if you wanted to, but seeing as how the Plus will be announced on November 2, we'd advise being patient for a few more days to see what it has to offer.
See at HTC (opens in new tab)
Joe Maring was a Senior Editor for Android Central between 2017 and 2021. You can reach him on Twitter at @JoeMaring1.
So they brought this back? I thought there were one of the first to even offer this back in the yap.

I'm fed up of the UK never having such financing options.

We already get that kind of deal with the service providers anyway in the UK, just not directly from HTC

Not really the same as you are tied to a two year airtime contract as well.

Same. If they had that option here is likely pick one up. The Plus model sounds great to me.

Now that's a deal that might make me check out the next htc that offers band 71.

Lame that it only applies to their most expensive handsets. I would've considered an HTC10.

They don't sell the 10 anymore

Yeah, just checked their website and they have the HTC 10 info pages, but no option to buy. You can get it on Amazon for $354 though. The U Ultra would have qualified if they had not dropped the price, but I don't think a lot of people would have bought it at the original price even with financing.

How is this any different than using a credit card with 0% intro offers? Main difference I can see is that you can use such a card on discounted and special offer handsets as well

No difference but I don't know if I'd wanna open a new credit card just for a phone. I can't imagine how many credit cards I'd have lol

24m 0% on a cc? Idk, definitely 12m

Because most credit card offers are 6months and not two years!

TD Bank is a Canadian bank, why can't HTC do the same for Canadians?

Need to lower the price for of the phone and make the financing incentive for $499 and up.

A flagship phone is not an essential purchase. If you cannot afford it all at once, don't buy it.

For a lot of people, yes, a flagship is essential. For my own job, my company requires me to be able to answer email and do basic work via my phone when I'm away from the office during work hours should the need present itself. They also let me BYOD on our company's cell plan, so you can bet I'm going to get the most powerful and reliable phone I can when it's my job on the line. Flagships also now cost almost as much as a paycheck, so financing makes sense. I feel like for professionals, there is an increasing expectation from employers that with now almost limitless internet access and cloud services, you be able to complete work tasks from wherever you are. Lastly, 0% financing makes perfect financial sense, as long you are not stretching yourself beyond your financial means in the first place. Paying a small chunk at a time means that the money you would have spent outright can then be invested, used to pay off interest accruing debts, or just sit in an interest bearing checking account to have on hand for a rainy day. Time is the only resource you can't make back, so any time you can find a 0% financing offer on something you could afford anyway, you should take it.

Anyone have an idea of the credit requirements? Ok after reading it looks like 0% is best case scenario. They mention a standard purchase at %29.99 APR.. ouch. I'm going to guess a majority of people are going to get hit with some kind of APR.

I'd love this deal if HTC actually had a phone I wanted: 4.7in screen with small bezels and flagship specs, fingerprint sensor, wireless charging.

I absolutely loved my HTC u11 in solar red but i had to send it in to HTC for repair only 2 weeks after I got the phone and they kept it for 3 ENTIRE MONTHS! It's just arriving back home today. Just make a mental note of that. HTC makes great phones but just pray that you don't need any warranty work done to it. I also wasn't alone as their official forums also had quite a few other stories like mine.

going through that now with my HTC10 ... week 3

Oh wow!! I can relate. This happened to me with my HTC 10. I got sent a replacement and that one was defective and the two month wait started so terrible. I'm sorry you had to endure that. I got the U11 from Amazon when it was released and my fingerprint sensor went bad and I contacted Amazon to see what I could do. They told me I had to contact HTC for repair or get this just return the phone...months after the return period ended. So I just returned it. I wasnt about to wait another 2-3 months again. Just went back to my HTC 10 and have realized how much I like this phone. Still running great
Android Central Newsletter
Get the best of Android Central in in your inbox, every day!
Thank you for signing up to Android Central. You will receive a verification email shortly.
There was a problem. Please refresh the page and try again.