HTC U11 EYEs will reportedly launch January 15 with Android Nougat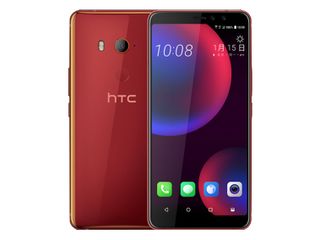 CES 2018 is finally coming to a close, and now that we're done with all the announcements coming out of the show floor, it's time to dive right back into everyone's favorite topic – smartphone leaks. Evan Blass recently took to Twitter to shed some light on HTC's latest handset, the U11 EYEs, and for the most part, it seems like a fairly solid phone.
The front of the U11 EYEs is home to a 6-inch 1080 x 2160 Super LCD3 display, and above this is where you'll find its "eyes." Two front-facing cameras are found to the right of the earpiece for phone calls, and while specifics on these two sensors haven't been announced, they'll likely offer some sort of selfie portrait mode like we've seen on other devices.
There's a single camera on the back of the phone, USB Type-C should offer fast and easy charging, and the addition of IP67 dust/water resistance is always great to see. Edge Sense makes a return for all of you that love squeezing your phones, and packed inside is a Qualcomm Snapdragon 652, 4GB RAM, 64GB of expandable storage, and a 3,930 mAh battery.
Perhaps the biggest disappointment with the U11 EYEs is that it'll ship with Android Nougat. We'd expect a fast update to Oreo from HTC shortly after the phone's release, but it just seems incredibly odd to release a phone in early 2018 that's still running Nougat.
The HTC U11 EYEs will be available in black, silver, and red on January 15 for a rumored price of around $510 USD.
Joe Maring was a Senior Editor for Android Central between 2017 and 2021. You can reach him on Twitter at @JoeMaring1.
Can't wait, $510 for a 28 nm 2016 mid-grade SOC. Way to impress HTC!

510.00 bananas for a 652 processer. Yikes, this soc is 2yrs old. Kinda kills the other nice features. Wow, HTC wake up & smell the roses! Is this why your always losing money!

Thats kinda pricey but i suppose it would be considered an upper midrange device. The red color would be my choice. A glass back i suppose although it doesnt look that way in the photos. Er ah renders.

If they release with 8 then it has to have Treble but if 7.x then it can be the same old, same old then they can just upgrade to 8.0 after the first power on.

Seems like a few manufacturers are struggling to get 8.0 onto their phones.
I'm sure Samsung, HTC, Oneplus ect updated to 7.0 faster?

$510 USD for a Snapdragon 600 series processor and Nougat? F*ck outta here, HTC.

Well Samsung has just done exactly the same with the A8, mid range Exynos, only 32gb storage, same $500 price tag and Nougat. but they don't get as much flack just because it's Samsung.

Yep good point! So the U11 EYEs and the A8 will both be $499 in US. But this has a way bigger battery than the A8, plus this has double the amount of storage (64GB). This is a much better deal than the A8. Although $449 would have been better so can compete with the new Song XA2 Ultra. The XA2 Ultra is even a better value I think.

Nougat, just to dodge Treble, GTFO.

How many version of the u11 does the company need to put out. Then they wonder why their struggles continue. Lmao.

What are you nuts or what HTC. A 652 processer for 500.00 bananas. Huh, no wonder your always in the red. Wouldn't the op5t be the more logical choice. Their CEO Cher Wanger is shooting blanks. Until you dump her & upper management the song remains the same. What good is the 1 billion dollar infusion if you don't know how to use it! Yikes!

I've really tried to like HTC over the years. I did own the 10 for a while, very good phone. Then the U Ultra was introduced. What an abomination and a very poor effort, probably their worst release ever. Then the 11 which is a very good release. But lack of carrier distribution here in the US plus no marketing whatsoever. Yikes, if any company needs an overhaul with their CEO & upper management it's HTC. The question I have is what good is the 1 billion dollar infusion if you don't know how to use it??
Android Central Newsletter
Get the best of Android Central in in your inbox, every day!
Thank you for signing up to Android Central. You will receive a verification email shortly.
There was a problem. Please refresh the page and try again.