HTC sends out April invites for 'More than One' event in Beijing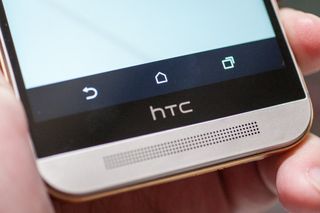 The "More than One" invitation (see the below image) suggests the Duo Camera feature is making a return. Rumors and leaked images lead us to believe this device could sport a QHD display, MediaTek MT6795T 64-bit octa-core CPU, 3GB of RAM and the same 20-MP shooter found on the HTC One M9.
That's pretty much all we know at this point in time. While everything still remains rumor and speculation, we're at least seeing official material from HTC. We'll have to wait for the April 8 "More than One" event.
Source: Sina Weibo, via: Engadget
Mediatek is more powerful than Snapdragon 810?

Yeah right. Posted via the Android Central App

Only reason i could see them moving to the Mediatek is because of the overheating issues with Snapdragon 810.

Except that there really aren't any over heating issues.

Actually there were issues. During the benchmark testings the temperature got up to 55 degrees. They were originally suppose to start selling overseas March 16, but that got delayed until this Friday. There were also some software issues along with it.

Oh god forbid I can't benchmark all damn day Posted via the Android Central App

Don't forget you'd also have to flash the pre release software too. I know most people do that when they first get their phones so that shouldn't be an issue... Posted from my Droid Turbo, Kelly and Ozone

The same article said that the temperature never got over 42 degrees when doing heavy gaming. The heat throttling was clearly turned off for the benchmark testing to get better benchmark speeds. This is a non-issue. Let it go.

Can't hold it back anymore~ Sorry. Couldn't help myself. Posted via the AC App on my Nexus 6

This temperature issue is stupid, it's over, people just keep exagerating on it Posted via Android Central App

My M8 was at 40.2778 degrees today after a moderate gaming session, so the M9 is pretty much in the same league as far as temps are concerned. People are just looking for things to pick at. The first Exynos chip overheated badly during development and was not used for that reason, but no one wants to bring that up, lol.

Yes no overheating but poor battery life you get with SD810.

£ € ¥ $ Four pretty good reasons... Wubba lubba dub dub!

So is this an "Asian market only" device, if so, then why would I care? And why is there so much fuss about it? Posted via the Android Central App

Because believe it or not....THE WORLD DOESN'T REVOLVE AROUND US.

Not really what I meant, but OK. Calm down. Posted via the Android Central App

Umm, maybe because there's more to this world than just the US and believe it or not, the world doesn't revolve around you :) Hopefully it comes to the US. I'm going to pass on the M9 but I'd pick this up.

How do you know he is from the US? Posted via the Android Central App

Truthbomb!!!!!!! Posted via the Android Central App

and why is the poster in English? And why is a company advertising a product as more powerful than its own unreleased product? This is dumber than paying Robert Downey Jr. to not care about your product.

Because it's a new device...? Posted via the Nexus 5

I think that its causing a big fuss because we don't know if this is going to fall on a M9+ or E9. I know to me personally its causing issues. I am planning on getting the M9 launch day.... but with this unannounced phone I don't know if I should hold off or not. Also coming from LTEVO, I really need to upgrade. It is actually driving me crazy a little. But I am glad they are doing April 8th so 2 days because US launch of the M9.

So, worse than not bothering to come to market this year with a worthy successor to my M8, they are building one but can't be botherd to market it in the US. Fine, I feel even less bothered by jumping ship after 10 yrs with HTC.

rabble rabble rabble camera rabble rabble
right, angry people?

I like the duo camera. If this is a bigger m9, with the finger print scanner as was speculated earlier, then I'll consider buying it. But, only if it has a snapdragon.

Or I'll go with an Intel.

One problem with that.... It's not for US release...

HTC might have finally jumped the shark with this phone. The fingerprint scanner looks thrown on and the return to duo camera is just confusing. If it is in fact the M9 Plus than the screen needs to be bigger than 5.2". The mediatek processor is even more head scratching. I love my M8 and will hold onto it for as long as I can but HTC needs to figure it out for their next One upgrade. Hoe they managed to mess up the camera is mind boggling. Posted via the Android Central App

I love the camera they had on the Amaze 4G. A great shooter. In my opinion, the camera quality declined greatly from there. My M8 is solid but seek a faster, larger format for my giant hands. Love the bokeh effects of the duo can and hope the M9+ has it

I saw the leaks. Ugh. Somehow, HTC managed to turn a wonderful looking device into a "GAH!"-looking device. It's a leak, so I'm taking it with a grain of salt, but seriously, can HTC please come up with a more interesting design?

Look at all these angry people. We have no idea what the launch plans are, nor do we know what exactly HTC will be revealing at this event, but everyone is freaking out about it anyway. Posted on my OnePlus One

what have they done since the m7 to deserve the benefit of the doubt? Posted via the Android Central App

It's most likely the M9+. I'm seeing leaked screenshots that seems to confirm a fingerprint scanner and a duo-camera, as well as that MediaTek SoC. I'm taking it with a grain of salt but from the leaks, I personally think it looks ghastly. The regular M9 looks way better.

HTC= Help This Company Posted via the Android Central App

Why not a "Less Than Zero" event instead? They already have Robert Downey Jr. on board.

I see what you did there... ;)
Android Central Newsletter
Get the best of Android Central in in your inbox, every day!
Thank you for signing up to Android Central. You will receive a verification email shortly.
There was a problem. Please refresh the page and try again.