HTC One M8 on T-Mobile getting Android 4.4.3 update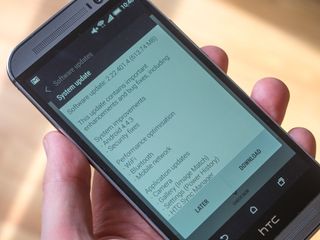 Owners of a T-Mobile flavored HTC One M8 should be see an Android 4.4.3 styled update heading their way today. We've already seen a few tips that people are waking up and seeing the 582MB update on their devices this morning.
The OTA update to version 2.22.531.5 is pretty much the same exact update that people in Europe, India and beyond have been seeing roll out in recent weeks. Besides Android 4.4.3 the update also adds security fixes from Android 4.4.4, performance optimizations for Wifi, Bluetooth and cellular networks and a bunch of updates to the stock HTC applications and Sense experience.
If you've not seen it yet, don't worry, it sometimes takes a little while to get to everyone. But if you didn't check yet, now might be a good time to go look!
Anyone have information about the update for T-Mobile M7? Posted via HTC One M7

The next update for it should be android L. Posted via Android Central App

Update making phone run much snappier. Posted via Android Central App

Updated a few hours ago. Noticing improvements connectivity wise. Posted via the Android Central App

There's also a GPS Fix update that needs to be applied. Go back to Software Updates and it'll appear. After that, restart.

That's a good catch, should be posted on this article IMO. :)

Good call, thanks! Sent from: Ask the NSA.

I wonder when they'll give us it for the M7.

So so slow whats that and Tmobile is so big company! HTC Desire S»HTC Desire HD»HTC One S»HTC M8 (Naked)

downloading now woo Posted via Android Central App

That's like a whole month after we got it on Sprint. Wonder why the other carriers take so long?

Even the unlocked international version got it after Sprint. Though, for me, GPS has lost accuracy. Seems like T-Mobile users are getting that fix, I haven't heard when that's coming for Sprint.

I like that Sprint gets their updates lightning fast, but I've found that they have no review process for their updates. They just throw them on the phones whether or not they have compatibility. I switched to T-Mobile and honestly couldn't be happier. they get updates fairly quickly as well and I'm willing to wait an extra month to get an update that's completely compatible with my phone and the network. That's why T mobile users are also seeing a gps update along with 4.4.3. They reviewed the update and tested it before they made it available to everyone. That's just good business. Sprint was the first to release the update but they didn't test it's compatibility, and that's why its users are now waiting on a fix for the gps issue.

I am yet to get 4.4.3 my for unlocked htc m8.. any one else having similar issue??

Try prompting the update when on your mobile network. It worked for me. And when it prompts you to download the new update, then just switch to WiFi. Btw, does anyone have the update log? I can't seem to find it:( Posted via Android Central App
Android Central Newsletter
Get the best of Android Central in in your inbox, every day!
Thank you for signing up to Android Central. You will receive a verification email shortly.
There was a problem. Please refresh the page and try again.