HTC One heading to T-Mobile stores nationwide today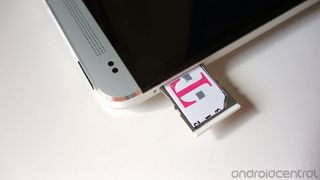 It should be a little easier to pick up the T-Mobile HTC One from today
A quick heads-up for T-Mobile U.S. customers -- the HTC One is due to launch in T-Mo stores nationwide today, following a limited roll-out in some 300 stores last month. The wider roll-out coincides with reports that HTC has overcome the early component supply issues that dogged the HTC One launch.
T-Mobile's HTC One can be yours with a $99.99 down payment on a 24-month installment plan, or alternatively it'll cost you $579.99 if you're buying outright. For more on the HTC One, check out our comprehensive review.
More: HTC One review
Android Central Newsletter
Get instant access to breaking news, the hottest reviews, great deals and helpful tips
Alex was with Android Central for over a decade, producing written and video content for the site, and served as global Executive Editor from 2016 to 2022.
Is there any way to test out this phone for a week without a restocking fee?

Its just like a used car, once you cross the threshold of the door, BAM $35 to walk back in with it. Heck maybe even applies once the receipt prints.........

go to the T-mobile store everyday and test it :)

LOL really that's the only way without Restocking Fee

I tried it out on tmobile for 11 days, I wasnt happy with it. It was very buggy so was the network, I let them know how unhappy I was they wanted me to pay the $50 restock fee which is a joke anyway. I refused and refused and said I would pay it if the phone was fine. So they finally let me slide on the fee, then I went to at&t and couldn't be happier with the HTC one. BTW if you just want to exchange it for another of the same phone they don't charge the fee.

I would just buy this one for $580 rather then the Google version for $600. Save on the shipping fees. I would just flash the rom anyway.

That would only work in your favor if you have T-Mobile service. T-Mobile won't sell the phone outright. You have to maintain a line of service for at least 40 days.

Or make a friend with T-Mobile service and have them buy it for you ;).

I love this contract free stuff T-mobile is doing. I really wish AT&T would pick up on it as well, but I doubt it.

This contract free stuff is only good if you plan on keeping the phone for more than 2 years which hardly anyone will, do the math. T-mobile ain't dumb.

Its pretty similar to a two year contract anywhere else, but I appreciate the transparency in their new approach. The other benefit is you can pay off your subsidy early and reap the benefits of a much cheaper plan than any other national carrier. I guarantee you cannot find a cheaper unlimited plan than T-Mo from one of the Big Three. Unlimited everything with 500 MB hotspot included for $70, and that's with their top data plan that is only capped at 10,000 GB.

only good if you plan on keeping it for more than two years? how so? Aren't you allowed to pay off the phone as you please? They told me in store that I could put down as much as I want per month toward the phone. Once it's payed off, your really off contract and free to get a new phone at contract price if you want or buy a new phone. I put $300 down, I now owe less than $300 towards the phone. My bill is less than when I was on Verizon and will be even lower when the phone is paid off. I've also had absolutely NO problems with T-Mobie service. In West Palm

i said do the math. ok so you pay your phone off early. 24months X $70 a month = $1680. then add $600 to that for the price of the phone, = $2280 now do that with sprint, 24 months x $80 a month = $1920. then add maybe $200 for the subsidized price, = $2120. Looks like sprint is cheaper over a 2year period. now do that with the other companies, choose the plan you would get and add the price of how much you will pay for the subsidized phone. For me i went to ATT and only paid $100 for my HTC ONE, because i traded in a worthless droidX. At ATT my monthly plan is $90 X 24months = $2160. then i add $100 for the price of the phone, = $2260. It's still $20 cheaper than at tmobile. but for me i get %15 discount where at tmobile i wasn't eligable for any discount. yes i know these plans are not the exact same, but my examples are the plans I would choose if i was at that carrier. i guess you didnt do the math like i said, now go home and do your homework. its just simple multiplication and addition.

I still find better value dealing with T-Mobile and only Sprint is the other company to offer truly unlimited data. Like I said T-Mobile also includes 500 MB hotspot, so yeah I'll gladly pay the tiny difference (~$100 at most over two years) for all the extras that comes with their service. You may get a discount and be okay with 1 GB data but for heavy users there is no better value than T-Mobile. To each their own, if I could get a discount at a certain carrier I would probably feel the same way you do. From a purely objective point of view, no other carrier comes close in terms of value for your money in my own opinion.

Your Verizon quotes are way off BTW, you cannot have a plan cost less than $100 a month, you might want to recheck your own math my friend. All the carriers are changing their prices for new customers and I've researched every one of them in the last 30 days.

Lol nvm you didn't even quote a Verizon price you quoted Sprint. My bad. I'm not arguing my point, anyone who cares to look will see the difference, I'm not fighting over nothing. :)

Lol nvm you didn't even quote a Verizon price you quoted Sprint. My bad. I'm not arguing my point, anyone who cares to look will see the difference, I'm not fighting over nothing. :)

i know they all cost around the same amount of money some a lil higher than others. but i was just trying to show the "no contract" plans of t-mobile really aren't as great as some think.
i know you said disregard the verizon comment but they actually have a hidden plan that does not show up on the website, its basically the old plan before they started up the most horrible outrageously overpriced "share everything plans". you get like 450min, unlimited text, and 2gb of data for $90 i think.
i get more than 1gb of data from ATT, i get 3gb, unlimited text, 450 minutes for $90 not including my %15 discount(unlimited to any cell phone not just att). i dont have there share all plan.
theres alot of unknown (or hard to find) features from all these carriers, like with ATT you get unlimited talk time to ANY cell phone carrier if you get there unlimited messaging. i didn't beleive them even after signing up with them. but i got my first bill and it's true. i had no idea about this until i started doing my research like calling them up or going in the stores playing 20 questions with them.

Sprint is $109.99 for unlimited everything good sir.

T-Mobile only gets the silver color model! No black or red! No sale!

Got it. Love it. Switched from Verizon. So far I love everything about the phone AND the service.. it surpasses my old GNex in every way possible.. from common tasks to network speed.. good stuff.

A lot of people who haven't used T-Mobile don't fully understand that their HSPA+ 42 data is actually in a lot of cases faster than LTE. I frequently see 25-30 MB download speeds on their HSPA+ network, the rest of my family is on ATT and Verizon and they get slower speeds than that in daily use. Less customers means less congestion folks. :) So stay away Lol keeps my speeds faster!

Exactly. I hear so many people complain that TMO didn't have LTE when in fact the HSPA+42 is just as fast or faster than LTE in most cases.

the problem is people say they are smart and they don't know anything about that HSPA+ 42 is faster than LTE the same goes for HTC ultra-pixel its alot better than any 13mp camera out there but people are not smart they just look at numbers like idiots

Yup.. I always heard HSPA+ was fast but didn't think it would be faster than LTE (in my area anyway, Northeast PA).
Android Central Newsletter
Get instant access to breaking news, the hottest reviews, great deals and helpful tips
Thank you for signing up to Android Central. You will receive a verification email shortly.
There was a problem. Please refresh the page and try again.