HTC One getting Android 4.3 + Sense 5.5 update in some European countries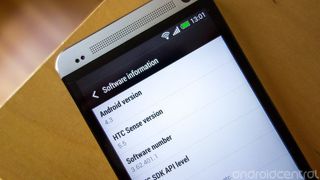 Not long after Sense 5.5 made its debut on the HTC One Max, the latest version of HTC's software is rolling out over the air to HTC Ones in parts of Europe. We've confirmed on our own device that the update is pushing out to unlocked Nordic handsets; HTC ROM-maker @LlabTooFeR tells us it's hitting Russia and Eastern Europe too. The update weighs in at a hefty 675MB and updates the HTC One to firmware version 3.62.401.1, based on Android 4.3 Jelly Bean and Sense 5.5.
As always, the update will likely take a few weeks to become available in all parts of Europe. HTC UK recently gave a three-to-five week estimate for bringing the Android 4.3 update to British HTC One handsets, so some users will be in for a longer wait than others.
The OTA upgrades international HTC Ones, previously on Android 4.2, up to the latest version of Jelly Bean, along with HTC's latest smartphone software. Sense 5.5 brings new features to BlinkFeed, including Google+, RSS and search support — and yes, the option to turn it off entirely. There's also a redesigned Gallery app with new video highlight templates and options.
All in all, this latest OTA puts international devices on par with the One Max, and slightly ahead of the U.S. and Canadian models, which have been getting Android 4.3 with Sense 5.0 in recent weeks. Check past the break for the official changelog and a handful of screenshots, and let us know in the comments if you're updating this morning.
Thanks, @LlabTooFeR! (opens in new tab)
HTC One 3.62.401.1 Changelog
System improvements
Android 4.3 and HTC Sense 5.5 update
Video Highlights improvements
Updated interface
Add soundtracks to videos
BlinkFeed improvements
Access recommended news from your social network
Additional global news sources
Save articles to read later or offline
Create custom feeds from news media, Twitter and YouTube
Music improvements
Updated interface
Embedded music channel with new scenes
Sense TV improvements
Updated interface
Add My Picks Page to improve program management
Alex was with Android Central for over a decade, producing written and video content for the site, and served as global Executive Editor from 2016 to 2022.
I'm downloading it right now Posted via Android Central App

Where are you? Posted via Android Central App

Nigeria but with Nordic cid Posted via Android Central App

i am updating now in london UK it went up to half way and it is stuck there since 2 hours ago. is this normal? if anyone knows how it goes, please send a reply. I am tempted to switch it off.

And it might take few months to reach India, and few more weeks further to come to individual handsets....maybe January next year.

Hoping to get this soon in the UK Posted via Android Central App

Delayed in the UK until end of November or even into December, according to HTC

Llabtoofer is my hero :-D Sent from my Motorola side view pager 4-5683-968

Looks good.
Except no mention of camera fix! Posted via Android Central App

No fixing that ----------------------------------------------------
My S-Pen went through hell to deliver this important message to you

tmobile has a fix for that. Its called Jump! ;) Really though, it is kinda BS that they havent fixed that. Should not have been released like this. Makes pics look very instagramy which i HATE

How do we install the OTA update link given by LLabTooFeR ? Does is just force the OTA update? Or does it install the update? Thanks

Got it in Bulgaria. Downloading now.

How do you get sense 5.5? Cuz I have 4.3 JB with sense 5.0

Ok, well i updated to 4.3 and now it seems i cant change my lockscreen wallpaper. It will always be the wall i chose for the home screen. How is this possible? A big thumbs down on this one.

Have you really checked everything? Settings > personalize > lockscreen style background picture and then tap on settings

They removed the ability to change lockscreen styles in Sense 5.5 .. They made widgets on the lockscreen more of a focus and took away any options to change the style.

Yes, this is what bugs me the most.

It was removed deal with it Posted via Android Central App

kinda crazy they removed it but really.... you have to look at teh same wallpaper as your home screen now. Its not that bad.

It's not the end of the world but it's annoying if you've gone to the trouble of using a different launcher and icon pack to avoid using the stock icons. And because it doesn't work to tick "bypass lockscreen." Can't say this update has done anything good for me that I can tell.

Nothing here yet..:( uk version HTC Posted via Android Central App

Just updated (Denmark) I love you, HTC

Got it as well today, Vodafone, Czech Republic. So far, looks pretty nice :)

If only this had a good camera tho... Posted via AC app using my S-Pen

The update doesnt include any camera improvements.

It has a good camera. Posted via Android Central App

The HTC One camera is already pretty good, what don't you like about it? Posted via Android Central App

ONLY complaint i could think of would be the purple / blue haze in low light. Ither than that the camera is fantastic

The One's pictures look weird on larger screens that's the problem. You can't really work with it's pixels. Posted via AC app using my S-Pen

Just updated to 4.3 in UK, and I keep getting 'HTC sense input error", and HTC keyboard isnt working no more! Thanks a lot, HTC! Posted via Android Central App

What network are you on ? Also was your phone SIM unlocked ? Posted via Android Central App

How do we install the OTA update link given by LLabTooFeR ?

Downloading now in Latvia!

Camera still purple ! Surely they can fix this with software ota ? Dropped my one down the toilet last week and bought a new one SIM-free with this dreaded purple hue that I didn't have before ! Also anyone ever compared any HTC ones ? This new one finished in a matt rough aluminum finish almost, compared to my old one which was almost shiney and completely smooth ! Also the new device doesn't heat up as much as the old one when being used !! Anyone know why ?? Posted via Android Central App

When i will get it in Asia... Posted via Android Central App

In 12 hours and 6 minutes.

The updates in Sense 5.5 are for the most part pretty welcome changes, further improving functionality closer to that of stock android OS Posted via Android Central App

Yes! HTC sense is the best android launcher. Hope they improve its specs in the next flagship. Posted via AC app using my S-Pen

Lol, the way HTC are going there won't be a next flagship.

WOW.. HTC has FINALLY figured out how to update phones fast! They are by far the best OEM IMO... now if they can just keep from going bankrupt.

Yeah I'm shocked at how they've been rolling out the updates recently! Making Samsung look like shit and don't even mention Sony! Still no 4.3 for the Z1! Posted via Android Central App

Say that to Thunderbolt owners. LOL

Already installed it here in Sweden.
Finally separated volume for messages and ringtone :-D *edit* had a word with HTC about the purple discoloration on pics especially night shots, first I got some weird reply about restarting phone...
Then I pointed HTC support in the direction of the XDA-developers thread about it and it didn't take long before I was asked to take it back to the store and they would replace it :-D Posted via Android Central App

seeing 5.5 ported on XDA ROMs all the time

I got the 4.3 update but it didn't update sense to 5.5. I'm still on sense 5.0. Has this happened to anyone else? Posted via Android Central App

Just updated. 4.3 + 5.5. I have a question. Now that Android 4.3 has the new built in security I am wondering whether or not this will conflict with any 3rd party antivirus installed?

I'm really annoyed about them removing the old Video Highlights themes. Why would they do that having made such improvements to the rest of the feature with the new menus, options etc? Is this an oversight that might be corrected in an update? Can't see any logic behind removing that functionality that we're all used to, and Highlights is still my favourite feature.

I got prompted to update to Android 4.3 the other day, but I'm still running Sense 5.0 so I cannot turn off blinkfeed. What a crock!! My carrier is T-mobile. What gives??

That happened to me too. I updated to 4.3 but I'm still running sense 5.0 Posted via Android Central App

I can forgive not having followed all the news, so here goes: USA/Canada HTC Ones skipped Android 4.2 and were given a faster 4.3 update, albeit with Sense 5.0. Meanwhile, HTC said that the European models would get 4.2.2 (they got it what, in September or August?) and later would get 4.3 with Sense 5.5. Then later on the North American models would get an update to Sense 5.5. So basically you guys in North America skipped 4.2, got 4.3 faster, and have to wait a little bit more to get Sense 5.5.

Does anyone like the sense ui?

I often try other 3rd party launchers, and I always come back to Sense. They finally got it right with 5 and 5.5. It's not completely bloated and the widgets are nice.

What about UK unbranded HTC ones with cid HTC_001?

It has reach Denmark: http://www.appsandroid.dk/joomla/nyheder/android-mobil-nyheder/1911-htc-...

You're one day late (see my comment further up) , hehe

I have updated yesterday in Finland. Bang! Everything went smoothly...
Got the 25GB extra for Google drive!
Sense 5.5 is much better and phone seems slightly more responsive, even-thought it was already butter smooth.
Kudos for HTC!!! That's what we expect, up to the date OS and features!
Important to mentioned, that also "trimmed some corners"...

Romania got the update as well!!! But something strange happend: I bought my phone from Orange and got it unlocked with the code and then switched to Vodafone, but when the update hit me it re installed all the bloadware from the Orange operator. Anyone with and idea?

Your HTC One's model is from Orange, therefore when it checks with the HTC servers for updates it identifies itself as an Orange-branded HTC One. That stuff is hardcoded in deep in the ROM of the system, and although it's possible to change it, it's not a process to perform lightly. XDA forums have all the instructions for that. If you want an analogy, a NON CAR Analogy woohoo! Let's say you're Romanian, and decide to move to London. You are living in the UK, but your passport still says you're Romanian. You don't become British just because you moved to London.

Thank you for the reply, I was thinking of it , but thought that once you enter the unlocked code it will become international version or something. But if you say that it's so deep coded then only root or change the kernel or the entire rom. The analogy is very good giving the press romanians have right now in Britain :).

you're welcome! I'm fact it goes deeper than rom or kernel, it's deep in the boot loader or base firmware of the phone. in actual bricking territory lol. haven't been keeping up with UK news, gonna have to see what they say about Romanians...

I have updated One yesterday to 4.3/5.5 (T-Mobile Czech, stock ROM) and now I cannot get rid of lockscreen at all - everything set well AFAIK (security-screen lock-none, reboots, SENSE/Nova). Anybody here with the same problem?? On the side note, Navigation app somehow disappeared from apps (read somewhere it is part of Maps now), but I can still launch it from Sense Home screen (the icon was there before upgrade and works normally), but it is missing from apps and Nova cannot find it too - any ideas? Thanks

Brilliante After reading some coments above from some users this New update is not fixing the low light camera performance that infected some devices... So then i ask to myself, is this software or hardware problem? After my 8th HTC device through these years i'm done with this brand. I live in Portugal but bought it in the UK and i know UK Android 4.3 OTA is not available yet but why wait more for new update if its trully not fixing the camera problem? So looks like i have to send it back and stay a few weeks with no mobile phone because of this stupid Problem when it could have been resolved by replacing it in time instead of believing HTC's nonsense that a update would fix it... So disapointed with HTC After all these years Posted via Android Central App

Nothing in albania yet. Posted via Android Central App

Beautiful update... Available in UAE as of today... Thanks HTC for timely updates... Great phone indeed.. Posted via Android Central App

I'm in middle east and finally got it tonight Oh Yaaaa Posted via Android Central App

Which part of Middle East? I still din get it :/

From 4.1.2 to 4.3
From 5 to 5 :( :( y !!?

Just hit UK SIM free HTC__001 woohooo

Downloaded and installed in UK, all good :)

There's an update to the camera, now with flash on in the dark, when u try to focus,the flash lights on for the camera to be able to focus before taking a clear shot whereas previously, the flash won't light on in the dark when u try to focus hence taking blurry photos all the time in the dark with no lights to assist.

Got my phone today & I like the quality of Camera. http://www.coupons-monitor.com

i am updating now in london UK it went up to half way and it is stuck there since 2 hours ago. is this normal? if anyone knows how it goes, please send a reply. I am tempted to switch it off.