HTC Holiday, Salsa and EVO View 4G ROMs leak out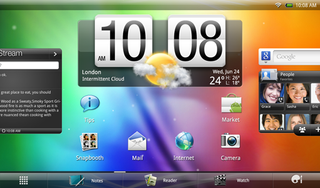 If you fancy digging around some HTC ROMs then you'll be awful busy tearing these ones apart. Three new ROMs in total have now leaked out -- one of which is for the still lacking information HTC Holiday. The two remaining are test ROMs for the HTC Salsa and the Evo View 4G.
Although most folks won't be needing these, developers I'm sure would love to rip them apart and see what goodies can be found inside. If you fit that bill, then by all means -- hit the source links below while we try and dig up some definitive info for the HTC Holiday aside from it being a Android 2.3.4 loaded, 1.2 GHz dualcore packing device with a 4.5 inch QHD display.
Source: 911Sniper, (2), (3)
That AT&T HTC Holiday is going to be a beast... Im on Sprint, excited for the Evo 3D, but damn! According to Pocketnow.com that thing is going to sport Dual 8MP cameras and the front facing cam. Oh and not to mention that qHD 4.5inch screen. Jaw.Dropped.

You misunderstood that post. It sports dual cameras w/ the back being 8MP and the front being 1.3MP, not dual 8MP cameras. This phone is gonna be a beast! It's pretty funny that now that the iPhone exclusivity deal is over all of a sudden AT&T is getting some nice phones.

I just hope HTC wises up and doesn't lock the bootloader like Motorola has. There has been some terrible backlash from the dev community (which isn't as small as it used to be). I hope they look at Sony and Samsung as an example on how to embrace the devs.
Android Central Newsletter
Get the best of Android Central in in your inbox, every day!
Thank you for signing up to Android Central. You will receive a verification email shortly.
There was a problem. Please refresh the page and try again.