HTC Evo 3D system dump available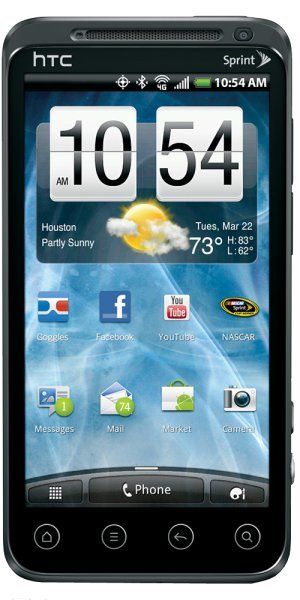 The HTC Evo 3D will be one of the hottest Android phones of the year, and to whet everyone's appetite a system dump for the beast has shown up online. Our pals at 911Sniper, who have a knack for obtaining the unobtainable, have posted up a test build of the software for everyone to have a look through. We're doing just that right now, and will get a fast mirror and any goodies we can pull out posted up in the Evo 3D forums.
In the meantime, reading the specs always makes us happy:
4.3-inch 3D qHD capacitive 960 x 540 px display
1730 mAh battery
4GB of internal memory
8GB microSD card pre-installed (expandable to 32GB)
1GB RAM
1.2GHz dual-core Snapdragon processor
Android 2.3 (Gingerbread)
Dual 5 MP rear cameras (for 3D)
1.3 MP front-facing camera
2D video recording at 1080p
3D video recording at 720p
The rumored day in June can't come soon enough.
Source: 911Sniper. Thanks everyone who sent this in!
Update: Here's that link with the fast mirror and the goodies I promised. Have at it folks!
Android Central Newsletter
Get instant access to breaking news, the hottest reviews, great deals and helpful tips
Senior Editor — Google Ecosystem
Jerry is an amateur woodworker and struggling shade tree mechanic. There's nothing he can't take apart, but many things he can't reassemble. You'll find him writing and speaking his loud opinion on Android Central and occasionally on Twitter.
Its EEEVVVVOOO time!! Can't wait to upgrade. I can't believe how many old-gen phones are getting bought up with EVO3D, SGS2, Bionic etc etc only a month away.

Like me... I CANT WAIT!!!!

You should preorder sooner than later... If you wait too long you could wind up on the second batch order and then it would have been better to just get it release day... Preorder are stacking up from the looks of it...

Jerry, can they tell by the dump if the boot loaders are locked or require signed ROM's?

I wish I was premier customer. Gotta wait till July 2012

If you were and had it taken away, you can get the upgrade for this year restored if you call and ask them nicely.

Yes, I got mine restored and also advised 3 other people to do the same and they came out successful as well.

Save the upgrade till next year anyway. It isn't a big enough boost to make a noticeable difference in everyday use unless of course you want it purely for the 3D. Sure the specs look great but browsing the net, looking at emails, playing Angry Birds...etc. is not going to be much different than any other phone out there right now. Of course, I am assuming you have an EVO already or some other high end phone. If you are sitting on a Hero or something kind of low then by all means upgrade!

I totally agree. I'm saving my upgrade for next year. Gingerbread is coming soon. My EVO will suit me fine till 2012.

Am gold premier and I get my update every year if I want.

I'm a premier customer and I pre-ordered The EVO 3D at my local Best Buy. Waaahhoooo.

The 3D is coming out in July, also the best buy preorder is just best buy jummping the gun...making you sink $100 into a giftcard for their store. As far as getting upgraded back they are only doing people that would have been able to upgrade by june 30th. This deff will be one of the coolest phones this year!

$50. Also, Sprint reps are a lot nicer than most people think.

And which mythical figure gave you the release month of July???

Yeah, I was talking with a teir 2 tech support rep and he told me it was going to launch mid-july. Also I have seen orders for case that are coming in early july

Not sure exactly what your say but the evo 3d will NOT RELEASE IN JULY trust me on that. The orginal evo was released june 4th with everyone's billing cycle being the 1st of every month. This means that they are eligible for upgrade June 1st 2011 the evo 3d will launch June 3rd that us exactly what I believe.

I will see what I can do. Shld I call when the phone comes out or call now?

Does anybody know if the Evo 3D will have continuous auto-focus during video recording like the Galaxy S II has?

I want a new evo with the same specs as the 3D but instead of 3D I want a better camera, as good or better then the iPhones camera

how do you know what the camera is like when the phone isn't even out yet? my bet is the camera will be pretty damn good considering the amount of hype they are putting on it.

My concern is with battery life out the box. The EVO 4G battery life was pathetic even with tweaks to turn the radios off,etc. I made the mistake of buying a few aftermarket covers within 30 days and now I can't use them with my extended battery pack. I am fully rooted and running a custom ROM, so I will "wait" for an upgrade later. Waiting to see wait final real use battery life is and the quality of aftermarket gear.

Will the new evo have gpu support? Something good anyway?

Dual-core will help battery life..as well as the larger stock battery.

The Adreno 220 GPU is said to be one if not the best on the market. Eitherway, it will be vastly superior to the EVO 4G's rather lack luster GPU.

How do u know it's comming out in july? Are u trying to start a riot? It better be june! I'm paying full price without hesitation! Not a big enough boost from og evo? What else do u it to do? I hope alot of u think this way so I'll be sure to have one on launch day!

for sure it july. I will be getting a few of them when they come out :!

It will launch in June 2011....June 3rd to be exact or June 10th at the latest they won't take a chance of allowing tmobile to launch the sensation on june 8th before the evo 3d. TRUST ME THIS WILL BE OUT JUNE 3RD

It sux that the Evo 3D has better specs than the Sensation: much bigger battery, ram and internal memory;(

Why does that suck? If you're on Sprint it's great!!!! YAY! Oh...wait....you arent on Sprint, are you? :( Join sprint today! www.sprint.com

Lol Wesley, tell that to Thunderbolt owners. Those poor guys with EVO LTE with the big price tag and tiny ass battery

The thunderbolt has the WORST BATTERY LIFE OUT OF ANY ANDROID DEVICE and that is a reflection of that shinny new LTE NETWORK that's so amazingly fast. Guess speed isn't that important if you can't use your battery or your phone...

hey moron do you have a thunderbolt? actually the Evo has just as bad battery life if not worse (Yes i used to own an Evo), actually that speed is important because i can stream video smoothly without problems on LTE while on 3G that be bad quality

Well, I have used LTE and it is much faster and more available (in my area) than Wimax.....

I thought this would be a cool upgrade, but believe it or not I use the silly kick-stand on my EVO 4G alot. I wish it was standard on most of these phones with 4 inch screens.

I agree, the kickstand is by far one of my fav. things on my evo

Now with Netflix on my Evo, the kickstand is worth its weight in gold.

I agree w/ others. How is this battery going to hold up? Evo 4G is utterly useless if you're not able to charge it multiple times a day. Don't get me wrong...I love my Evo and, for me, the battery is fine while I'm stationary. It is when I move around that I run into major probs. That's a shame too since it is a "mobile" phone.

I do have Evo 4G, and I'v no problem with my bettery and am working in the medical field,and I use my Evo for email txt and reviewing doc from my work.

And since the world revolves around you, that means the battery is good enough for everybody! right? -_-

I've talked to a couple now at both sprint and bb plus a friend who's a tech at sprint and it really does seem like no one has anything better than an educated guess but they make a good case for early june. Until I see something real I'm gonna defer to them. Besides, so what if it is july? I want it now but the few extra weeks won't really mean much in the long run.

Bottom line the Evo 3d will be out June 3rd or June 10th at the latest. I will stick to June 3rd...

I really want this phone, but if it has a locked bootloader, I won't get it. I will not buy an unrootable phone. I'll either get the Nexus S or wait until the Galaxy S 2 comes out on Sprint.

Too bad the EVO 3D wont have a kickstand. You are going to have to buy a case with a kickstand or get a dock
Android Central Newsletter
Get instant access to breaking news, the hottest reviews, great deals and helpful tips
Thank you for signing up to Android Central. You will receive a verification email shortly.
There was a problem. Please refresh the page and try again.