HTC Desire 601 headed to Virgin Mobile according to leak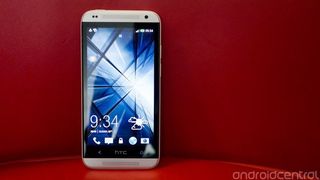 HTC's new mid-range handset, the Desire 601, is ready to be sold on Virgin Mobile in the U.S. according to a new leaked image. The handset, which we didn't necessarily expect to hit the states, packs a 1.4GHz Snapdragon 400 processor, 1GB of RAM, a 4.5-inch qHD LCD and the latest in Sense 5 features along with Android 4.2.
The Image (seen after the break) from @evleaks shows a handset that looks darn near identical to an international version of the handset we saw back in September, although we're not sure at this point which color the back plate on this model is. We know that white, red and black models exist, but there's no indication which ones will hit Virgin.
Hands-on with the HTC Desire 601
Source: @evleaks
Android Central Newsletter
Get instant access to breaking news, the hottest reviews, great deals and helpful tips
Andrew was an Executive Editor, U.S. at Android Central between 2012 and 2020.
Solid prepaid offering. Posted via Android Central App

Its a nice phone, but I wish HTC kept that phone design only for the One, One Mini, and One max. It takes away from the idea of having a nice flagship device. Posted by the man who makes things happen...

Agreed.
HTC is using that exact design for every device now.
HTC and Nokia are probably the only company doing this.

Samsung has been doing this and even extending it to their tablets. I don't see how this is different. I thought having a design language that can be associated with a brand could help with gaining b recognition. Posted via Android Central App

Exactly! HTC's design language is also classy and distinctively differentiated from the clutter and boring morass of plastic slabs,

What other designs of phones are there I think the oem`s are running out of ideas there is only so much you can do. I think the phone looks good and front facing speakers should be on all phones. Posted via Android Central App

I love that its coming to Virgin Mobile. Just because people like me prefer prepaid at a lower price doesn't mean we don't want flagship class smart phones. I only glanced over the specs but it appears that this model may be watered down some. I will still consider it if the camera is the same, the performance is roughly the same, the speakers perform the same as the One on ATT and other first tier networks.

Umm...Samsung, Apple, Nokia, and Sony all do this. This is called building a brand. This way, anyone will know as soon as they look at it that it's an HTC handset.

Yes Pls. I'm going to leave my HTC One SV to the devs, then I'm gonna move back to $35 plans.
Finally a good phone other than the Optimus V. Posted via Android Central App

Looks pretty nice with the front facing speakers. Posted via Android Central App

I had the opportunity to handle one of these at a recent HTC event. This is a VERY nice device. While the screen res may be qHD, it looks plenty sharp (which surprised me at its low pixel density) and is very bright with good viewing angles. It may have a Snapdragon 400 with half the RAM too, but the UI is very snappy. It's the same Sense 5 experience as my One too. I was surprised to see even Blinkfeed loaded and scrolled smoothly. This is a midrange device that doesn't feel like you made compromises. It feels great in the hand, and rivals (or bests) Apple and Nokia in that area. Just an all around great handset, and I'm surprised that more prepaid vendors stateside haven't picked it up yet.

Where was this HTC event and how were you able to get in? Did you try the boomsound speakers were they loud? And what about with headphones plugged in?

Looks like a small upgrade over the EVO 3D according to the comparison on Phone Areana. I would link to it but AC has the most ridiculous spam filter ever and will not let me. Same screen resolution on a larger screen. It is taller, likely to accommodate the speakers, but not as wide. Depending on the price I will have to weigh it against the Nexus 5 (or whatever it will be called). I am kind of tired of Virgin and the lack of coverage in rural areas. My wife's family lives in the 'otas (SD & MN) and I can't get a signal on Virgin in either location as Sprint does not have their own network in those areas.

Sorry about your coverage but bro this is not a small upgrade that's the second person I've read whose said that. The screen is basically the same yes but you have jellybean with sense 5 and a stronger processor.

Thanks for your site, I think its great. Check out this new offer from Virgin Mobile. You can save $25 if you use a referral link to signup . Feel free to use my link https://refer.virginmobileusa.com/z7qQXo I have used them for years. Great company. Great affordable plans.
Android Central Newsletter
Get instant access to breaking news, the hottest reviews, great deals and helpful tips
Thank you for signing up to Android Central. You will receive a verification email shortly.
There was a problem. Please refresh the page and try again.