HTC celebrates Valentine's Day by knocking 40 percent off the Nexus 9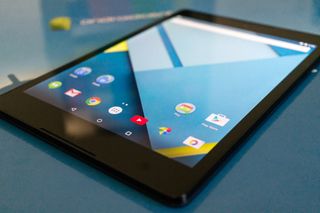 HTC is preparing to celebrate Valentine's Day by offering a massive 40 percent off the Nexus 9. Should you be looking to treat your loved one to a brand new tablet, picking up the Nexus 9 for only $239 may be an ideal option to really make the upcoming day that little bit more special.
To make this tablet deal even sweeter, the company will bundle a Logitech keyboard for free with the 32GB LTE ($349, usually $599) variant. Check out our review of the Nexus 9 for more details on the tablet itself. As well as savings applied to the Nexus 9, HTC is also subtracting 40 percent from all accessories too.
And remember, folks! You only have until Sunday to prepare those bags of love heart confetti. Please note that HTC Hot Deals are restricted to the U.S.
View HTC's Hot Deals (opens in new tab)
Android Central Newsletter
Get instant access to breaking news, the hottest reviews, great deals and helpful tips
Why hasn't the Nexus 9 been permanently discounted by now? It's a year and a half, almost two years, old.. Posted via the Android Central App

That and it was already overpriced on Day one. I like mine, I got a 32gb for $279 on one of those other steep discount sales last year... Great for that price. For $470? No way not even on its release day.

seriously. when I initially saw the price I got excited that it might be competitive with iPad ... not even close!

$289 plus a keyboard. Nice deal. Just purchased. The $100 extra for LTE at this point is a joke. Should be $50, I can tether all day. Posted via the Android Central App

You only get the keyboard with the LTE version, not the Wifi. So $359 to get the combo deal.
It is automatically added to the cart when you add the LTE version.

My daily driver tablet remains my Nexus 7 (2013), which is 2-1/2 years old, but runs well. I have a defective refurb Samsung Galaxy Tab Pro 10.1 that I bought for $250 only to have the SD card slot fail a couple weeks after the short warranty period. Had to put CM12 on it to make it run to its potential, unburdened by the sludgy UI (Samsung abandoned it for updates in less than a year, leaving it on KitKat FFS), but it's still a better deal than the Nexus 9.

$239 should be the regular price at this point. Is this tablet even good? Posted via the Android Central App

I was wondering the same thing.. when you look at the Forum category for it, there seems to be all sorts of issues with it from light leaking right on down..Like the others said this device is dated.. I might bite at the $239 if the keyboard was included.. have no need for LTE since WiFi is pretty much everywhere in the SF Bay area

To be fair all forums are full of complaints. Main purpose of them Posted via the Android Central App

I had it about a year ago. Didn't like it. Had to reboot once a day due to sluggish performance. This may have been fixed as it came with 5.0 (one of the first devices to do so). It was very buggy.

It got better with Marshmallow however it's still not a good tablet ... Constant issues with Chrome redrawing home screen, sluggish swapping apps, lags in playback of audio over Bluetooth and cracky sound ... I find it crazy the regular price for this tablet rivals the Pixel C which is far superior now. It also took HTC almost 14mo to fix some of the major issues with the tablet, the Pixel C had some launch issues, were fixed 2mo later. It's a good tablet for $279 ... The size is perfect, the soft touch back and magic cover give it a more utility feel and design, but the keyboard is a joke. Posted via the Android Central App

I hated mine, and thought it was simply passable from the day I bought it. Even updating to Marshmallow didn't make it any better. And the I bit the bullet and performed a factory reset. It's a completely different device now; fast, and buttery smooth. Posted via the Android Central App

Nexus 6P, 5X, 6, 5, 7, 9 and more are now on sale only on NexusPhoneDeals:com

16gb already sold out Posted via the Android Central App

Thanks for the heads up. Picked up an LTE & orange Magic Cover for Heart Day. Samsung 8 in LTE been going strong for 3.5+ yrs, only negative is ATT locked & replaced the battery 10 mos after new. Posted via the Android Central App

i got one several months ago for $247--the 32G model. HTC periodically puts this on sale at that price--I think they run a weekly special on Tuesdays? Regardless it's a very slick tablet, especially if you can get one at a lower price....

I am looking on the HTC website and I am not seeing the discounted price of $239 .. Am I looking in the right place..? Where are yall finding it at the discounted price ? Thanks
Android Central Newsletter
Get instant access to breaking news, the hottest reviews, great deals and helpful tips
Thank you for signing up to Android Central. You will receive a verification email shortly.
There was a problem. Please refresh the page and try again.