This is how you update a Moto Mod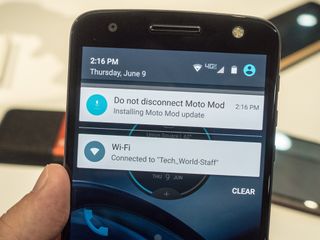 A dumb accessory on a very smart phone doesn't make a whole lot of sense. Motorola's Moto Mods for the Moto Z aren't dumb in the slightest. And perhaps more important is that they can become smarter.
We caught one of the Moto Mods in need of an update. And since we're the sort who just can't let an update go unupdated, we updated it.
The long and the short of it is you'll get a notification that the Mod has an update available, just as you would an app update. A couple taps and a few seconds later, and all is right in the world. No separate apps to install for new software. (Unlike LG's CAM 360 module.) Just simple, intuitive updating.
Will Verizon let me update it? /S

People are going to hate on the concept, but there's no denying Motorola seems to be doing them better than anyone else. Posted via the Android Central App on the Moto X Pure Edition

Yeah, just weird to worry about moto mod updates, security updates, and system updates. Posted from my cracked Nexus 6/Nexus 7 2013/Surface Pro 3

After the debacle over the carrier X's and how they have not updated the '15 XPE from Feb security and 6.0, I have very little faith in their prolonged support. I hope I'm proven wrong. Opinion expressed from a Moto X Pure

This Posted from outer space on my Moto X Style

Presuming one would 'worry' about any of those updates... You and I and one other person (Ry) and no none else cares

I still don't like the idea of keeping features out of the phone and offering them as add-ons. But Moto is doing it better (for the user) than LG is, based solely on first impressions. I have a feeling LG's implementation is better on the nerd level, where a software layer that interfaces with the kernel can be updated in the system, but ease-of-use is important.

I could agree with you depending on pricing. If the base phone is priced to a point to where I pick the mods (features) I want and still come in total cost at or less than the fully featured phone I think this approach has promise. If the base phone has a HTC or Samsung price, no way this works. Posted via the Android Central App

Not too many phones have built in projectors or speaker systems. Posted via the Android Central App

Then they should have not bent over back to useless carriers. Love Apple for treating the carriers like they deserve. Posted via the Android Central App

Yes sir, they're doing it better than lg , so far, it doesn't seem bad at all, my opinion for this phone is getting more positive. Posted via the Android Central App

I would consider this phone but no headphone jack so that's why I will no buy it Posted from my Moto X 2nd gen and my Nexus 9 both on Android Marshmallow

I won't be buying one either, but not for that reason. As long as they include an adapter in the box I couldn't care less, I'd just plug my headphones into it and never unplug them. Plus it means the "headphone jack" is at the bottom, as it should be. It's best to assume I'm being sarcastic. if I'm ever serious I'll type "/s" to make it clear.

Exactly. They have included an adapter in the box. I too couldn't care less about it.

I will make a headphone mod and win the $1000000 reward Posted via the Android Central App

For me it all comes down to how well the review on the camera is. I absolutely love everything about my Droid turbo but the camera is below average. If the Moto Z is in the same conversation as S7, HTC LG and iPhone then I will be sticking with Motorola when my two year Droid turbo contract expires in October. I am willing to bet that a big time DAC with headphone jack will be an available moto mod before Thanksgiving. Posted via the Android Central App

Good call on the DAC mod. Betting that the 13mp sensor is the same as HTC 10 and 6P. Good sensor and can produce nice images.

It's not. HTC 10 and 6P both use a 12 MP sensor with 1.55 micron pixels. Moto Z uses a 13 MP sensor with 1.12 micron pixels. Posted via HTC 10

This is such a better setup than LGs janky crap. I played with one in the store and it was awful. Motorola did it right, now they need follow through. Posted via the Android Central App

Everyone who hated on this phone at launch was just looking for something to hate on. It really isn't too bad, save for battery Posted via the Android Central App

Yup. Posted via the Android Central App on the Moto X Pure Edition

Yeah the headphone thing was very nitpicky /s Posted via the Android Central App

No it is that bad. It also looks ugly with those hideous bezels #TeamFrosty Nexus 6P

Oh yeah no reason to hate when in the entire world the only place to buy is at Verizon at launch. By fall we will still be thinking about this phone when the new Nexus, Note 7, iPhone 7 and others would have been released. Posted via the Android Central App

Based on when the phone is actually available to purchase and when you can get it everywhere else I bet Verizons exclusive doesn't reach an entire three months... Most people like me who are very interested are going to hold off purchasing until they see the new Nexus anyways...... So the short Verizon exclusive window is a non issue in my mind. Posted via the Android Central App

Nah bro, there are a few things not to like about this phone. Just because they aren't important issues to you doesn't mean they aren't to others.

They should do a module that allows users to use their standard headphones! Posted via the Android Central App

They will include one... Posted via Nexus 5X

Instead of a module with a single speaker, how about two 2-way stereo speakers? Maybe even a woofer thrown in. Posted via the Android Central App

AGREED BRAH! Why not just throw some tens or twelves on there too!! Heck just include a whole car, like, the car has a stereo and is a Moto Mod. Then you can really get your jam on!!!

I've said this before, and I'll say it again. From what I have seen, Motorola is doing a much better job than LG when it comes to modules.

Doesn't take much to do that

I figured the article would just say "You don't".
Android Central Newsletter
Get the best of Android Central in in your inbox, every day!
Thank you for signing up to Android Central. You will receive a verification email shortly.
There was a problem. Please refresh the page and try again.