This is how you Bring an Outdoor Movie Theater to your Backyard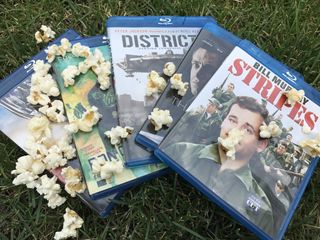 I've hosted movie night in my backyard a couple of times for a few friends, and while it can take a lot of planning and effort to get set up, usually the results are worth the hassle. You can pull off your backyard movies without spending a lot by renting a lot of the equipment you need (such as a projector and screen); however, if you plan on throwing backyard movie nights on a regular basis, there are a few items you can pick up to help you out!
Media Device
There are plenty of media devices that can work with projectors and personally, I find the easiest method to use for outdoor movies is a laptop.
Your biggest concern is to make sure that your media device can hook up to the projector you plan on using and connect to the audio source you have. Be sure to check what outputs/inputs all your devices have and that you have the appropriate dongles, adapters, and cables for everything before you start.
Projector
Projectors can be very pricey, but it's important to remember when you're projecting a movie in your backyard that you won't need the latest and greatest video projector to get the job done. You don't need a projector that has a giant throw distance because your backyard is likely smaller than your average movie theater. Plus, your screen size probably won't be too much bigger than 120 inches, so you won't need to worry about grabbing a projector that can project an image on a massive screen.
Crenova XPE470 mini LED Projector
The Crenova XPE470 mini LED Projector is perfect for backyard movies. It's small, HDMI-compatible, and has a max throw distance of about 12 feet, which should be more than enough space to project a movie in such a small space.
On top of an HDMI input, you can also use USB and VGA connections to project images with the XPE470. It has a max resolution of 1080p, and it's more than bright enough for the confined space you have to work with.
Crenova XPE470 mini LED Projector produces about 1200 lumens, meaning you are going to have to wait until it's quite dark out to start the movie, but you shouldn't need pitch black darkness.
You can pick up the XPE470 for about $199 on Amazon; however, I have seen it go on sale for around $90 in the past, so watch out for discounts if you want to spend even less.
See at Amazon (opens in new tab)
Screens
Due to the confined space of your backyard and depending on the capabilities of your projector, you're not going to need an insanely large screen to pull of a successful outdoor movie night.
JaeilPLM 80-inch portable outdoor projection screen
Being able to quickly set up and take down your projector screen is crucial to making your backyard movies go off without a hitch, and the JaeilPLM 80-inch portable outdoor projection screen comes apart and folds into a convenient size.
Not only is it easy to lug around, the 80-inch screen comes mounted on a stand, meaning you can set it up anywhere! The triangle base to the screen makes it much more stable, so slight breezes shouldn't send your screen toppling over; however, if you want to be extra safe I would suggest putting a couple of sandbags (or similarly heavy items) on the base to improve stability even more.
You can pick up the JaeilPLM 80-inch portable outdoor projection screen for $90, and if you want something a little bigger, you can get the 100-inch version for about $20 more.
See at Amazon (opens in new tab)
Excelvan projector screen
If you want an even cheaper option that requires just a tiny bit more work to set up, you can always check out the Excelvan projector screen.
Just a simple 84-inch PVC screen, the Excelvan comes with 20 pairs of velcro strips to help you secure it to a surface. Keep in mind, depending on what you have outside, you may need to buy some additional items to hang or place the screen in an optimal location.
The perks of having a simple screen like this is the price. You can pick up the 84-inch Excelvan projector screen for only $30. If you want to go bigger, they also sell a 100-inch and 120-inch version.
See at Amazon (opens in new tab)
Speakers
Obviously, you're going to need some sound amplification to be able to hear the movie you're watching, and there are tons of options for you out there.
If your media device supports Bluetooth, you could always grab a great Bluetooth speaker to use for sound. Or if you have a good pair of computer speakers lying around that would connect to your media device of choice, those would also be a reliable option. Remember, you're outside, and you have neighbors; you don't need the loudest sound system in the world to be able to hear your movie.
If you don't feel like using your nice speakers outside and are looking for a budget-friendly option to use for your backyard movie adventures here's suggestion.
Logitech Z313 speaker system
Although not overly powerful, the Logitech Z313 speaker system has everything you need to pull off a backyard movie night successfully.
It's a 2.1-channel system with a dedicated subwoofer, meaning you should have warm bass tones throughout your movie. Plus, it connects through the standard 3.5mm audio jack, meaning most media devices should be able to connect to the Logitech Z313 just fine.
You can pick up the Logitech Z313 speaker system for just about $34.
See at Amazon (opens in new tab)
A couple of last considerations
Be careful what movie you choose and remember you're in public. Keep the sound to a dull roar and respect your neighbors. You don't need to have a showing of The Revenant while blasting your 3000W speaker system at full volume. Make friends, not enemies!
Have you ever set up a backyard movie theater?
Are you an outdoor movie fanatic who already has a sweet setup? Let us know what you use to host the perfect backyard movie night in the comments below?
I see nothing about how to keep the bugs away.

I've been doing this since 2007. It's a lot of fun and I highly recommend doing it.

Amazon has the projector for $85 right now.

Do your research on the projectors. There's a ton of these little LED type projectors with varying specs. If you're going to look into doing this, take the time to get a PJ that will best suit your needs.

I'm using the elite screen 100" from Amazon and mini projector GP70 from Amazon as well. My JBL charge 2 Bluetooth speaker for sounds and a Android TV box for media. This setup is compact and simple to setup. I use it allot for camping too.

Great fun to do this. Years ago we did this for my son's birthday. Painted the screen right onto our house. Ran Field of Dreams on a laptop connected to a Proxima I "borrowed" from work and a set of speakers plugged into the computer. Awesome event! Nice to see more modern methods of doing this.

Never gonna happen in Texas.

I use a Moto Z with InstaShare Projector mod for this. Paired with decent BT speakers, it's great! Might not be as bright as some other projectors, but it works great and is simple.

I've been doing this for years. Regarding the projector -- 1200 Lumens would never work in my suburban, lighted street, near a major shopping district. 2000 is minimum for my location. 2400 is better. Look at Projector Central for advice on projectors The Facebook group BYT - Backyard Theater has lots of friendly people ready to share their experience and expertise. Huh., Android Central thinks it's spam if I give links. :-(
Android Central Newsletter
Get the best of Android Central in in your inbox, every day!
Thank you for signing up to Android Central. You will receive a verification email shortly.
There was a problem. Please refresh the page and try again.