How to watch the Super Bowl in VR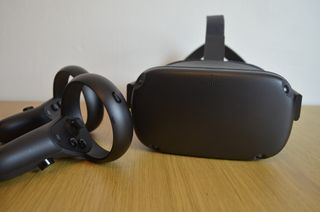 (Image credit: Android Central)
The Super Bowl is one of the biggest events of the year, and virtual reality is one of the biggest trends in tech right now, so they should pair perfectly together, right? Watching the Super Bowl in VR has improved over previous years, but it's still not quite where it needs to be. Depending on where you live and what services you subscribe to, you'll need to use either a dedicated app or your VR browser to watch the big game this weekend. Some areas might not have a way to stream the Fox broadcast of the game, but here are the options you should look at.
Straight from the source
Fox will broadcast Super Bowl LIV. That means that Fox's apps and website, which allow you to stream live TV, will let you watch the big game. If you're on an Oculus Quest, you can use the FOX NOW app to watch. You can also watch the game on Fox's website if you're in a supported area.
FOX NOW
Since Fox is broadcasting Super Bowl LIV, you can watch its broadcast in the FOX NOW app. You'll need to sign in with a supported account, but you'll be able to enjoy the big game on your VR headset.
Sling TV
Sling TV is another one of the only dedicated apps available in VR that can stream live television. Sling's app is available on the Oculus Go and Oculus Quest. The channels you can view will depend on your area and the package you purchase, but you should be able to watch the Super Bowl live from many areas in the U.S. Fox will broadcast Super Bowl LIV, and Fox is included in the Sling Blue package in select areas and costs $30 per month. Sling Blue also gets you access to NFL Network so you can watch the coverage leading up to and following the big game.
Super Bowl 2020 live stream: Start time, what channel, & how to watch free
Live TV in VR

Sling TV is a great service to catch your favorite live shows. In addition, the free VR app allows you to extend this service to the comfort of your headset.
Use your browser
Just because a service you subscribe to doesn't have a VR app doesn't mean you can't watch it through your headset. Many services can be viewed through a browser. If you subscribe to YouTube TV or Hulu Live TV, you should be able to pop open the VR browser of choice and watch the big game.
VR headsets come with a built-in browser that will allow you to watch videos and streams, but you can always grab a third-party browser like Firefox Reality, which is available on the Oculus Go, Oculus Quest, HTC Viveport, and the Google Play Store.
Firefox Reality
Mozilla built this browser with VR in mind. It can switch seamlessly between 2-D and 3-D content, supports 360 videos, and works with voice commands. You can view video content in full screen, focus view, or theater mode.
Get to streaming
While the NFL isn't as VR-friendly as leagues like the NBA, there are options to watch the biggest game of the year in VR. Even if your VR platform of choice doesn't have a dedicated app that streams the game, you can open Fox's website and check out the Super Bowl in your browser.
Be an expert in 5 minutes
Get the latest news from Android Central, your trusted companion in the world of Android