How to use S Note on the Samsung Galaxy S5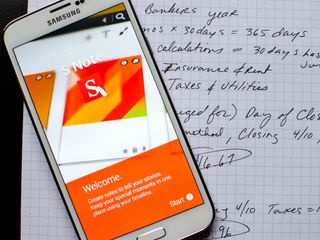 The S Note app will come pre-installed on your Samsung Galaxy S5 and is a quick and convenient way to take both typed and handwritten notes on the go. You can even sync them with Evernote if you choose so they're available everywhere.
How to type or draw notes in S Note on the Galaxy S5
When you go to create a new note in S Note, you'll see a pen tool in the upper left hand corner. To toggle between free hand writing and typed notes, just tap either the T next to the pen tool or expand the pen tool menu and select the type of writing utensil yo'd like, color, and more. Some writing utilities have thicker tips than others.
Also notice that you have a decent formatting bar along the top too which lets you undo and redo actions. Tap on the menu button in the upper right hand corner — it looks like three dots. From this menu you can perform even more actions. This is where you'll go when you want to add a page to your note. You can also share your notes from this menu.
How to change templates and access more options in S Note on the Galaxy S5
S Note comes complete with lots of different templates including checklists, meeting agenda notes, blank sheets, and more. When you launch S Note for the first time you'll be asked to choose a default template. You can always change it later and on a case by case basis but this is the template S Note will default to for new notes.
Inside any page of a note, tap the menu button to access even more options. You can even record a sketch, magnify notes, and more.
Do you use S Note or something else?
If you have a Samsung Galaxy S5 or another Samsung device, do you ever use S Note or S Memo? Why or why not? I personally prefer just using Evernote but I can see why some of the templates and options in S Note may be more convenient to some folks. Let me know what you use in the comments!
I use it everyday on both my Note 3 and Note 10.1 2014 and the Evernote feature ties is beautifully with my home and work computers. Multitasking to the Max!

I don't have s note, only a memo app The panda has spoken

I don't have s Note either. I don't even seem to be able to get it from an app store. Does it still exist?

Thanks for posting this story. I just gave it a try and I like it. Evernote sync is a must, so that's good to see. Might even get an S Pen now. Posted via Android Central App

Natefish, SPen will NOT work with S5, SPen requires a different digitizer than the Note devices have and the Galaxy S devices do not. Get a regular Stylus or increase Touch Sensitivity and use anything else....

so tell me why, because you are wrong, both have a rubber tip, both allow for pencil input. Yes the menu on the N3 will not pop up, but that is to be expected. Why will the N3 stylus not work on the S5? Mind you, I have both sitting here, and have tried it. THe N3 stylus works fine on the S5

Then I might be wrong. I have not used it personally, however, I have a S5 and S4 and the wife has the N3. Had tried it on the S4 and it had not worked. Will give it a try and update. My apologies if my initial post was incorrect information. I went with information on this post: http://forums.androidcentral.com/samsung-galaxy-s5/388338-stylus-s-pen.html

You will not get the Menu (like you would on the N3) because it does not have the software, but if you use snote it works fine for basic writing.

Kudos to that then. Like i said, I will give it a try once the wife gets home and if it works, will be picking a few up...Thanks. Might be good to update that thread on the Forums with the info too then. Honestly, I prefer the slickness of the tip of the spen unlike other styluses. Dont really care for the menu.

The S Pen on a Note 3 does not have a rubber tip. You must have something else?

My daily driver is a Note 3, and it is a rubber, replaceable tip

Maybe this information would have been good to share up front. Rather than the "because you're wrong" comment, it should have been "true, however you can get this really great rubber replacement tip that works great" and a link to this rubber tip would be a nice added little bonus. Posted via Android Central App

He is pulling your leg. I have N3 and S5. Even with high sensitivity spen doesn't work. But my surface pro 3 ntrig works on the s5 fine...with hi-sensitive.

I use S note on my Note 3 EVERY day. I'm in construction and find it perfect to keep track of my daily hours and tasks/completions. I've even convinced the company payroll dept to accept the exported pdf's (via email) as my official hour tally.
They love it! (except for my Horrible hand writing)
Increasingly useful app and device! Posted via Android Central App

why not write to text? tne note will recognize bad handwriting hehe oops sorry i forgot it's for S note my bad haha

I use S Memo on my GS4 quite a bit. Galaxy S4

I personally use Google Keep Posted via Android Central App

The only thing I use that is similar to this is any.do, and I will continue using that because the only thing I need is a task organizer. Posted via Android Central App

I use S note on my Note 3 every day as well. I'm still wishing One Note would update to allow pen input. So I use S notes with the pen and then import into One Note. I also thought the S Pen would only work with the digitizer on the Note series devices. I'll be testing on my wife's S5 soon as she gets home. I know I can set the S Note to not allow finger input, which then only allows pen input. This is very helpful in keeping stray marks off the page. Posted via Android Central App

We just tried my S pen on the wife's S5. She doesn't have s note to try and is not real keen on installing it. So we attempted to scroll down a page but no luck. Tried selecting a few apps from the home screen with no success. So, I'm wondering if the commits above are related to the S Pen working in s note only or maybe a setting in the S5 changing the touch sensitivity? Posted via Android Central App

As someone who's had a note 2 for a year and a half I've had very little use for SNote and I'm an engineer. I tried to use it to take notes in meetings when I first got it but I've found that using color note and typing is far faster for me as I'm much more accurate typing with my thumbs, I was constantly correcting my notes with SNote. The device is just to small to take notes longer than a couple words effectively IMHO. Not saying it's impossible, it just doesn't work for me. With that said I love the screen size of my Note 2 and don't want to give it up. However running a stable AOSP built rom on Samsung devices is far more satisfying and it is a far better performing device than having to live with TouchWiz for a note app. Again, this is just my opinion but with the S5 being smaller I wouldn't want to write on it. I can see snote being very useful on the 8" or bigger note tablets.
Posted via Android Central App

I use S Note on my Note 8, but it's a completely different app because god forbid Samsung update or support a device that's barely a year old. Posted via Android Central App

I use SNOTE for meeting notes. Very easy and neat. Export as a pdf and it's super easy to share with coworkers. For quick note taking and task reminders though I use Keep. Any.do was my go to until Keep came along. Wish there was a way to integrate Keep and Cal! Posted via Android Central App

The new S Note works great. I had the original Galaxy Note and found the writing to be not all that useful. I sat out the Note II and waited for the Note 3. There has been a huge improvement in the usability between the first generation to the the third. I use mine all the time now in meetings, which is way better than using a pen and pad. I usually would leave the notes in my office which would do me no good at home or on the road. Now I have all my notes with me. It would be hard to go away from the Note series of phones just for this feature alone. From what I understand the Note 4 will be a even better phone, so I'm looking forward to it.

I use S Note on my Galaxy S5 mainly because I can create a widget on my phone. It makes it extremely convenient to see my notes by looking at the widget without even opening up the app. If I do want to open the app, I just click on the widget. I am not aware of any other note taking app that his this function. Posted via Android Central App

I just got a Galaxy S5 but it does not have S Note installed. Do you know where I can find it?

I asked the same question in a different post. I found it under Galaxy Essentials. ..the three vertical dots at the top of the applications list. Posted via Android Central App

Hi....I see you're using Snote on your S5....I have been trying time and time again and it just doesn't work....have tried several pens and the closest I get is a bunch of "dots" instead of words...very frustrating :-(....can you think of something I'm doing wrong? Thanks for any help you can give :-)

I tried Snote, Evernote is lot better. Currently I'm using Google Notes but I'm probally going back to Evernote. It's my main storage for notes so I have a lot in it, it's hard to find a note book in Evernote but it's doable. Posted via Android Central App

Newbie in search of a solution to fix an issue i have with S Note.
I just purchased the S5 and took advantage of the S Note app. I thought i would like using it. I transferred all my notes and important information into an S Note folder. I deleted the original folder.
THEN I accidentally pressed delete while my S Note folder was chosen
There was no question ARE YOU SURE... Every app usually asks. ARE YOU SURE YOU WANT TO DELETE. in the flash of a wink all my most important data is gone.
That folder must be somewhere. Anyone have any idea how i can retrieve my most precious information from a deleted S Note Folder.

I can understand why " I cant get a straight answer on a simple question------------------
How do I turn on a S Note on a S5?
And all I get is a runaround and no Answer !
---------- What is going on?

Trying to make a checklist in S Note on Galaxy S5, but the text goes into weird places.Is there a better checklist I can sync with Evernote?

Hi , since a long time I had galaxy note 2 so I used to work with s note file . Now I have bought a G8 Huawei but I can't read my s note files that i transferred from galaxy note to Huawei.

I tried to install the s note app for my Huawei Android but it didn't
Android Central Newsletter
Get the best of Android Central in in your inbox, every day!
Thank you for signing up to Android Central. You will receive a verification email shortly.
There was a problem. Please refresh the page and try again.