How to use multiple accounts in Instagram for Android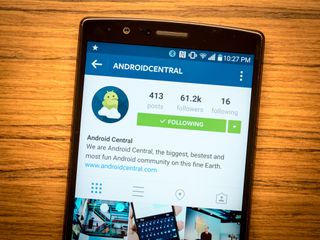 Instagram finally has added the ability to easily switch from one account to another without logging out, making life — or at least our social media life — easier for those of us who run Android blogs, have personable pets or suffer from alter egos.
And it's a pretty simple measure. Here's how to set things up to use multiple accounts on Android.
How to add another account in Instagram for Android
First, you're actually going to need this feature to have been turned on. It appears that the multiple account feature is being pushed server-side, but we've also been receiving a few app updates of late, so it's a little hard to tell. But it appears that Instagram actually has to flip the switch on your account first.
Once that's been done, here's how to add a second account:
Tap the little profile tab. It's the silhouette icon in the bottom right of your Instagram app. That takes you to your profile.
Tap the three-dot overflow button in the top right corner. That gets you to the settings menu.
Scroll all the way down and then tap on Add Account.
You'll now see the same sign-in screen as when you first logged in to Instagram. Use it. You should now be logged into a second account.
How to switch between multiple accounts on Instagram for Android
Switching between the two Instagram accounts — or more, actually — also is pretty simple.
Note: That the little head-and-shoulders silhouette now shows which account you're currently logged into. That's handy.
Tap the profile thumbnail to go back to your profile screen. You'll now see a little arrow at the bottom right of your name, indicating that it's a button, and you can tap it for more.
Tap your name to flip between your accounts — or to add another account.
Or to switch even faster, just long-press on the account thumbnail in the bottom right.
Any push notifications that are set on on any accounts you're logged in to will still push. So mind your settings wisely — you can turn off settings as you like per account. When notifications arrive, Instagram will note which account they're related to in the notification shade.
And that's that. You're now able to use multiple accounts on Instagram without logging out and logging back in. Or, worse, carrying around a second phone.
Got it sorted on my devices, it's a really nice little addition. Makes things a lot easier to handle.

Finally. FYI, if you're not seeing this option, I got it by FCing the app and clearing the cache.

Finally! I've been trying to get set up all week; this finally did the trick.

Very nice feature. Maxed out at 5 accounts!

Sweet, now all three of our cats can more easily have their own accounts. /mostlysarcasm

Just realised if you hold the icon on bottom left you can easily switch between accounts Posted via the Android Central App

I checked and you're right. That seems a lot easier. Thanks for sharing!
And it's the bottom right icon not the bottom left BTW Posted via the Android Central App

Noooo... I can barely keep up with the only one I have... jejeje...

So can anyone run me through how to actually set up multiple accounts? I have tried and it says "that email is already used by another account". Any idea what I'm doing wrong? Posted via the Android Central App

you can't use the same email for more than one account.. I just created a second email address that I only use for that account

So lame. Posted via the Android Central App

i cant find still add account option on my mobile, cleared cache also, uninstalled and reinstalled but nothing is working.. what should i do

Just wait possibly the update patch hasn't reached you. It's a progressive rollout. Posted via the Android Central App

@Phil Nickinson I a seeing this same weird bug on my phone and business partner, she gets notified of my personal account and vice versa ,Privacy issue that hopefully IG will fix. Any news on it?

This is not working on Vzw note 5 on version 7.16.0

I'm having the same problem on my Note 3! also on version 7.16.0

there is a new feature I noticed in this version. Now u can view an image by just holding your finger on the picture and the picture will pop up just like our what's profile picture appears and u can comment like or share by swapping ur finger

Anybody else having issues getting add account on s5? I've seen it work on a moto-x and iPhone but not an s4 or s5.

I set this up on my S5 no problem. Until today. Now all pictures are uploaded to my first account, even if I take them while in the other account. Also connects to my personal Facebook instead of my work Facebook. It was working great until this week, I am not sure what changed--I haven't had a system update, or anything. I was just ramping up my work instagram account and now it just won't work right, which is a real shame. can't find any help on the instagram site either.

Sorry forgot to mention I have. 17 installed. And done all the FC, clear cache and reinstalled ideas.

Using a one plus one (updated), 7.17 version instagram. Tried reinstalling, clearing cache, and restarted phone, still cant see the add account feature on the settings. Why am I and so many other not have the add account feature??

So 7.18.2 rolled out and drill no multiple acct option in my s5.. What is going on? My friends with Motorola or iPhone have the functionality but not mine or my wife's s5.

Feature not available on the new S7's either. I had it on LG Stylo but lost it when upgrading to the new S7.

NOT WORKING ON TABLETS
At least not on Galaxy S2. One account only. If i'm wrong *please* someone set me straight with instructions. My phone was no prob. Tablet--can't find this *anywhere*!

By the way I boost both mine with zen-promo.com , it finds real followers for me in the city I entered.
Android Central Newsletter
Get the best of Android Central in in your inbox, every day!
Thank you for signing up to Android Central. You will receive a verification email shortly.
There was a problem. Please refresh the page and try again.