How to use Google Pay on your Wear OS smartwatch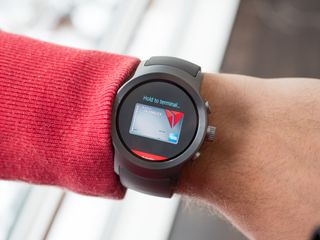 (Image credit: Android Central)
The biggest perk about having access to parts of your smartphone from your watch is convenience. Whether that means checking the weather while you are getting dressed, or being able to easily glance down for a moment to check your notifications. Google Pay is now available for use right from your wrist, provided that your watch is running Wear OS and has NFC.
How to set up Google Pay on your watch
Using Google Pay is thankfully an uncomplicated affair once you've got everything set up. It will take a few minutes to get yourself situated, so it's something you're going to want to do before you roll out of the house to run your errands.
First you'll want to install Google Pay on your phone, and add the card that you want to use. Next make sure that your watch is connected to your phone via Bluetooth. From here you can open up Google Pay on your watch, and tap add card to choose from your previously-added cards. If you want to add a different card all you need to do is tap add card once again and switch back to your phone to verify details. Once it has been verified it will be added to the cards available with the Google Pay app on your watch.
Download: Google Pay (free) (opens in new tab)
Step by step instructions to set up Google Pay
Install Google Pay on your phone.
Add the card you want to use, verifying with your bank.
Make sure your watch is connected to your phone via Bluetooth.
Open Google Pay on your watch, tap add card to choose from cards on your phone.
And that's it!
How to use Google Pay on your watch
In a fast-paced world, there are times when convenience is definitely key. Sometimes you only have a few minutes to dart into the corner store for that caffeine rush first thing in the morning, or you're already distracted. That's where having access to Google Pay right from your wrist comes in. With just a tap, you'll be able to pay for your purchases and continue about your day. For anyone who has accidentally left their wallet (or even their phone) at home, this is a serious boon.
First thing's first, you'll want to launch the Google Pay app on your watch. You can program one of your hardware buttons to launch Google Pay, and even better, it doesn't need to be connected to your phone in order to make a payment. If you're ready to pay with your default card, just place the top edge of your watch to the payment terminal. When the payment is accepted you'll feel a long vibration on your watch, and the payment terminal will likely also beep.
Now, if you want to switch to one of your alternate cards, that's also easy to do. If you swipe up on your watch screen, it will reveal additional cards that you can choose from. These are the cards that have been entered and verified in the Google Pay app on your phone. If you want to switch to a new default card, tap on the card it view it, swipe up on the card, and then tap the blue bar with a check mark at the bottom. When it's time to delete a card follow the same steps, but instead of tapping the blue bar, swipe up one more time and then tap the trash can to delete that card.
Step by step instructions to use Google Pay
To get ready to pay, launch the Google Pay app on your watch.
The payment terminal will also likely beep to confirm.
To change a new card to default, tap on the card to view its details, swipe up on the card and then tap the blue bar with a check mark at the bottom
To delete a card, follow the same steps but give the bar an extra swipe up and tap the trash can to remove
You're now ready to pay like a pro with just your smartwatch!
Jen is a staff writer who spends her time researching the products you didn't know you needed. She's also a fantasy novelist and has a serious Civ VI addiction. You can follow her on Twitter.
What an awesome feature. Although Samsung pay works almost anywhere, there is a delay while the mst chip sends the signal. With android pay, once you have entered your security code or fingerprint, it's just a hover over terminal, and done. I just wish more stores would activate nfc terminal.

What about security? Can anyone just use your watch to pay?

If they do it the way samsung did it. Once you take the watch off you have to enter pin to unlock it

Yeah, they left that part out of the article, but that's exactly how it works. You have to enter a PIN or Pattern to unlock the watch. As long as it stays on your wrist, it will stay unlocked. Once you take it off, even for a very short time, it will lock again. Another thing they left out is that the bootloader on your phone must be locked, or AP won't work on AW.

Left a few things out. Like "You have to have a card from a bank or credit provider that supports Android Pay, of which at the moment there aren't many." and "You have to be in the US or UK." Also, I believe the LG Watch Sport is not the only Android Wear watch to have NFC, although there certainly aren't many that do.

Thank you The Werewolf! Spot on. Jen Karner needs to update the piece with this.

There are quite a few credit cards on Google Pay. All the majors anyway. All the big banks.

As long as "You have to be in the US or UK." Apparently it's been retracted in markets where it already had launched. A Google Mess.

I am wondering if you need a phone connected for AP.. Hoping this is a solution on getting me AP, since my phone is rooted thus no AP on my phone.

Samsung Pay Mini app is now available for Android Wear 2.0. ( Only NFC capable. No MST)

After using Google Pay on a watch, does the phone display a Google Pay notification with the details of the transaction (as it does when using Google Pay directly on the phone)?

Seems like Samsung Pay on the S3 is champ here works via mst or NFC terminals. So almost anywhere

Well that simply depends where you are. Google Pay is better for me in the UK because it works everywhere. We got rid of MST a long time ago so NFC is king. I'm guessing you're in the US with the old technology still in use?

We barely have MST working here in the states. But their are a number if retailer's that use NFC.

I remember when tap and go type was available on your phone was just introduced many years ago from my bank, can't remember how many times, I was either asked or security would come visit me at the self service checkouts asking a whole heap of questions. In my scenario, I couldn't get the tap and go to work on my Note 2, I would literally stand there and try and tap my phone in every way possible, so that kinda brought attention to my self :) Then I gave up and used the old fashion card tab, then later finding out that, tab and go doesn't work if your device is been rooted, so that explain why I never got it to work.

I have a KEYone and Movado Connect smartwatch. Google Pay works great on the watch. You can turn NFC on or off on the watch without touching your phone after initial setup. I get a notification on my watch of the transaction that gives the name of store and the amount. I have been very happy with the KEYone and it's integration with my watch.
Android Central Newsletter
Get the best of Android Central in in your inbox, every day!
Thank you for signing up to Android Central. You will receive a verification email shortly.
There was a problem. Please refresh the page and try again.