How to turn photos into Android wallpapers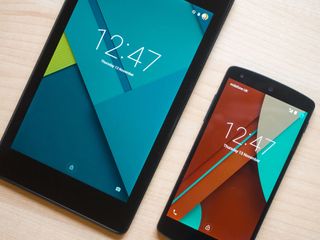 (Image credit: Android Central)
Be it a battery-efficient black wallpaper or one of the millions of pictures of your kids that has consumed every byte of free-space on your phone, a wallpaper says a lot about its user. Even if they're still using the bland, boring wallpaper that came with it. It says: my phone isn't here to look pretty, it's here to make calls and answer texts. But maybe that's not true. Maybe you just didn't like the wallpapers included on your phone and you didn't think about adding one of your own. Well, setting a new wallpaper is easy to do and something you really should do, as a good wallpaper can help give you a nice little pick me up every time you see it.
If you need some images to use as your wallpaper, check out our lovely wallpaper gallery!
Let's personalize!
From the gallery
If you're browsing through your gallery and find a picture you'd like to see every time you open your phone, you can easily set it as your wallpaper by opening said image and then clicking Set image as in the options drop-down menu. From there, you'll select Wallpaper — don't be alarmed if you see more than one. There will be one for every gallery and likely one for each launcher you have; select the one for the launcher you're using. If you're not a fan of your launcher's wallpaper setting method, you can simply click the wallpaper option for your gallery.
Once you've clicked wallpaper, you'll be greeted with a window where you can resize and position your wallpaper yo your liking. Unfortunately, most wallpaper setting windows will just show the dimensions of your home screen, not what's on it, so if you're trying to line up an image exactly with your icons or widgets, you may have to set and reset the wallpaper to get it just right.
After you get your placement just right, they'll be a Done button or a check mark icon. This will set the wallpaper and then take you back to the gallery. Simply hit the home button and witness your pretty new wallpaper.
From the launcher
If you've looked at your old, bland wallpaper for the last time, you can switch wallpapers right then and there. Most stock launchers — and almost all third-party launchers — allow you to change the wallpaper by long-pressing on any blank space on your homescreen. In some cases a menu will pop up asking if you want to add various items like widgets, shortcuts, and wallpapers to your homescreen; if this happens to you, click wallpaper.
You'll then be asked where you want to pick your new wallpaper from. The gallery of pre-loaded wallpapers and the gallery of live wallpapers — pre-loaded or ones you downloaded — will appear, alongside links to each of your gallery apps and any apps that include wallpaper pickers, like many themes and icon packs. Pick your gallery app in order to set one of your photos as the wallpaper.
Once you're in the gallery, you can browse through your Camera roll or any other folder till you find the photo you want to set as your wallpaper. Tap that picture and then zoom/position it as you want before clicking Done or the check mark. You'll be taken back out to your homescreen to see that new wallpaper in action.
And remember, it's not like you're just limited to the photos you take and the wallpapers that came with your phone, there are millions of wallpapers out there just waiting for you to set them as your own! So, what lovely pic are your apps and widgets resting on right now?
Android Central Newsletter
Get instant access to breaking news, the hottest reviews, great deals and helpful tips
Ara Wagoner was a staff writer at Android Central. She themes phones and pokes YouTube Music with a stick. When she's not writing about cases, Chromebooks, or customization, she's wandering around Walt Disney World. If you see her without headphones, RUN. You can follow her on Twitter at @arawagco.
I have (literally) thousands of photos on my phone/SD card, mostly of my kids. I use the app "Wallpaper Changer" to switch photos every 30 minutes. Love the variety it gives my phone Posted via Android Central App

This is a very basic reference article for people who are brand new to Android and possibly to computers as a whole. I wanted to keep this as simple as possible. That said, I can't imagine changing wallpapers that often. Heck, my wallpaper maybe changes once a season. Maybe.

Chances are if they are new to computers on a whole they probably wouldn't know how to use the internet much less find this blog post. in my opinion this post is a bit too basic(no offense intend and is just my opinion)

I somewhat agree. I honestly do this its self explanatory. If they don't know the simplest function of a device, they shouldn't be operating a computer let alone a mobile device that is basically a miniature computer. Posted via the Android Central App

What an asinine comment. Posted via the Android Central App

Great article Ara. It's a shame the trolls and the Einstein wannabes on these sections try to make themselves feel smart by ridiculing the work of others. Looks like Google+ is the only place to have intelligent mature conversations. Posted via the Android Central App

It's worth mentioning the Muzei app to newbies. It's a great way to effortlessly get a new wallpaper every day. Pick a source (APOD for me, artworks for a friend of mine, etc.), tweak the blur setting to taste, and then let it do its thing automatically. Couldn't be simpler. I love finding a new APOD picture as my wallpaper each morning. Posted via the Android Central App

Samsung's Live Wallpaper gives you that type of option. Can randomly pick from your gallery or from a specified folder. It also provides the option as to how these changes happen with fades and slides and cascades etc. My wife uses this on her Galaxy Express i437p. Posted via the Android Central App using my Samsung Galaxy S5

I have some wallpapers that I've made for my phone. This normally gets changed as my mood does or if there's a special event going on that day. Posted via the Android Central App

I use the red version of the "ink in water" wallpaper you unlock when you buy the special Montblanc stylus for your Note 4, and no, I did not buy that overpriced stylus (thanks Google images). Sent from my Phabulous Note 4

I use the dark one for my lockscreen and use a picture of my son that I edited myself for the homescreen... and ditto on the stylus we have our ways ;) Posted via the Android Central App

Print the photo, carefully cut it out, then carefully tape it to your screen. You now have a wallpaper... Posted via the Android Central App

Now that's self explanatory lol Posted via the Android Central App

I thought wallpaper was glued on..... Posted via the Android Central App using my Samsung Galaxy S5

You have to tape it? Dang. I spent a 1/2 hour trying to staple it on.

Hammered mine in with a nail, now I got to Spackle up the hole and do it the right way

I use Muzei to change my wallpaper from different subreddits every few hours. You can change the amount of time and what subreddits you want to use. Earthporn is probably my favorite. Posted via Android Central App

When are you going to publish a "How to press the home button" tutorial? My phone is useless until someone teaches me how to do that.

That's not very nice. This article is for those who are new to Android and it's useful. My dad didn't know how to change the wallpaper on his Nexus 7 until I showed him how to do it last week.

Yet those new to Android probably wouldn't be frequenting a site like this to learn how to change the wallpaper ... And let's face the facts, you'd have to be legitimately retarded to not be able to figure out how to change the wallpaper on your own. This article is a joke. Posted via the Android Central App

No they probably wouldn't frequent the site. But you see there's this thing called a "search engine." If someone didn't know how to add a photo as a wallpaper they could go to this little site called "Google" & search "how to use a photo as wallpaper on android" and this page could come up in the results. That's why AC posted this article. If you don't like it, then don't read it.

But I did read it, because I can do whatever the fuck I want... And I did comment on it, because I can do whatever the fuck I want. If someone needs to use Google to figure out how to change their wallpaper, they should be using an iPhone instead of Android. My opinion, deal with it you pansy. Don't like my opinion, don't read it. Peace. Posted via the Android Central App

That's odd, because when I was new to android this was one of the first sites I visited and continue to visit. It was also a site that was very much about helping people new to android not being a demeaning jack ass because I'm on the internet and I'm anonymous. It's not like this site is a high level developers site like XDA. The only thing I have found to be a disappointment with this site lately is the rising level of immaturity from the comments sections. Posted via the Android Central App

Well, see there are 3 buttons in a phone. The two that are close and are up and down of each other are the volume up and volume down keys, for more information on what they do, look for my next helpful tutorial on what the volume buttons are used for. The poor loner button usually found on the right side of the device or sometimes on the top right items the power button. You press that to turn on and off the device. You can press it with anything, including your finger, and even your tongue! Shocker I know, mass hysteria commencing is 3 seconds. 2.. 1... The US and Russia just went MAD Posted via the Android Central App

Thank you so much! Wow, the screen lights up and everything now. I'm glad my phone doesn't say "Swipe" on the home screen, though. It's not nice for phones to teach people to steal.

12 year old kids tell 12 year old type of stories!!! Note 4

Does it matter? They still got your click, didn't they? ;) Posted via Android Central App

I suppose for as revenue but not exactly helpful if you have adblock or using the mobile application which doesn't have ads from what I'm aware of since I use adblock also on my phone. (hope I didn't give them any ideas)! Posted via the Android Central App

I use Muzei. I have set up an auto rotation of about 20 of my favorite pics in a dim and grey tone so the pic doesn't over power the screen. A quick double tap on the screen brings it into a full color view. Love it. Posted via the Android Central App

The problem I'm faced with is the requirement of zooming and cropping /re-framing the gallery picture before you even set it as a wallpaper. In this day and age the whole issue with having to crop a picture due to size compatibility is unacceptable and the only main thing I have against android. These wallpaper resizing apps I find don't really work that we'll either. Posted via the Android Central App

Yup. Depending on the resolution, you either have to manually resize it yourself or crop it to hell. There's gotta be something better Posted via Android Central App

You should add "3rd party apps" section for apps like Muzei, MaterialWalls and Tapet Posted via the Android Central App

Different wallpapers everyday using IFTTT recipe to change my wallpaper based on NASA's picture of the day Posted via the Android Central App

Thanks for the info. PS. To all the complainers on these type of article's, don't read them. Note 4

Or we can read them and make fun of them for how stupid, pointless, and borderline insulting they are! I chose that route :-D.... Free country, after all Posted via the Android Central App

Exactly! You can act stupid or type ridiculous stuff if you want. Remember the Internet has their own bill of rights lol Posted via the Android Central App

I absolutely love the new wallpapers in various wallpaper and icon pack apps that are inspired by the new material design standards Google has created. I've always used abstract colorful wallpapers ever since I've had an android. I highly suggest apps like Wallx, Behang, Papuh and so on. Posted via the Android Central App

Mine is one that I made. The default ones are cool, but I like having it be more personal.

I like tapet. It generates different patterns and automatically changes throughout the day. You can also save the image if you want Posted via Android Central App

Material Walls and Material Walls 2 have some great wallpapers. Posted via the Android Central App

I do exactly as the first poster Audemars02, except every 15 minutes. I do my cropping and size reduction on desktop. Posted via the Android Central App

Zedge is always my source for wallpapers and ringtones Posted via Android Central App

I change my background weekly or every other week. Posted via the Android Central App

I been using action launcher 3 with tapet to rotate wallpapers.

Nova + Material Walls. Awesome. Posted via the Android Central App

I almost never change my wallpaper. I got the android l wallpaper app and installed the brown/white/cyan material wallpaper and have had that on my phone for months. I finally found this app called Tapet and I FINALLY switched wallpapers! I still am extremely picky so I disabled the background feature. I think when I had an iphone I had less than 10 wallpapers I mainly used from 2009- 2014

Ever since Android came out with live wallpaper feature back in 2009 I only use them for my home and lock screen. When my phone is charging I have the Dayframe app set to show slideshows.

That Bwahahaha character is a bit of an asshole. Happy Sunday, folks. Posted with my Nexus 6!

A bit is an understatement! ! Note 4

I'm using one of the wallpapers that the phone came with. I really like the wallpaper that is shown on a lot of ads for phones but I don't know where to find it. It's mainly purple, which is my favorite color, and has either square or diamond shapes of different colors on it.

Like that https://www.androidcentral.com/e?link=https2F2F...

Thank You for this great post, visit this for nice wallpapers http://bestgamestrick.com/

Thank You for this great post is good nice wallpapers http://photowallpaperandroid.blogspot.co.id/ end http://photowallpaperandroid.blogspot.co.id/2016/04/wallpaper-hd-untuk-v...
Android Central Newsletter
Get instant access to breaking news, the hottest reviews, great deals and helpful tips
Thank you for signing up to Android Central. You will receive a verification email shortly.
There was a problem. Please refresh the page and try again.