How to try out a Nexus 4 (and GSM) with no commitment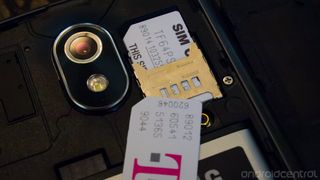 The Nexus 4 has a whole lot of features to be excited about -- that is, unless you're on Verizon or Sprint here in the states. For reasons you can probably figure out on your own, Google has decided to only launch an unlocked GSM model of the Nexus 4, and offer it around the world. This means no LTE -- fear not, it has DC-HSPA+ 42mbps -- but it also keeps the price insanely low. At $299 (8GB) and $349 (16GB) without a contract, it's an extremely tempting proposition.
But as we noted earlier, what if you're on a CDMA carrier? Well there are actually some compelling options if you'd like to "test drive" a Nexus 4 -- and GSM -- before you commit to making it your primary device.
As we've discussed before on the site, there are tons of great prepaid carrier options available to users in the U.S. market. Not only can these save you money every month if you use them as a primary carrier, they can also sub in as a secondary carrier for just a month at a time. The two leading prepaid offerings, Straight Talk and T-Mobile Monthly 4G, can both be had for a great price and without a commitment. A month with each will only set you back $45 and $30, respectively.
Step 1: Buy the phone
Starting Nov. 13, the Nexus 4 will go on sale in the Google Play Store (as well as T-Mobile retail locations). Pick one up, be it the 8GB or 16GB version.
Step 2: Choose a carrier
If you're interested in trying out the AT&T network in your area, Straight Talk can be a good choice. A SIM and activation kit can be bought from their site for $14.99 (often on sale at $9.99) and filled with a month of unlimited service for just $45.
If instead you're anxious to try out T-Mobile's 42 Mbps network offerings, the price is even cheaper. A SIM activation kit can be bought from T-Mobile for just $0.99, and filled with 100 minutes and 5GB of data for another $30. (Straight Talk is available for T-Mobile as well.)
Step 3: See if it's right for you
For either option, just activate the SIM and you're good for 30 days of testing. Carry it around with you next to your current device, and see how it performs. Use it how you would normally. Download apps, make calls, tether, everything -- just put it through its' paces. If at the end of the 30 days you decide that the network -- be it AT&T or T-Mobile -- hasn't performed to your liking, then just let the SIM expire and toss it out. At that point you can easily sell the Nexus 4 for about what you paid (less sales tax), or at that point even get a premium tossing it on eBay. Experiment over!
But let's say that you come away surprised by the HSPA+ offerings of the GSM networks and you'd like to stay with them. Why not toss auto-refill onto that prepaid account and stick with it? Keep getting great service at a great price, and cancel your line(s) with the other carriers. Everyone will have a different experience (we don't all live and work in the same neighborhood), so don't let someone else tell you what carrier to use. What really matters when choosing a carrier is how the service works for you.
More: Google Nexus 4 Forums
Get the Android Central Newsletter
Instant access to breaking news, the hottest reviews, great deals and helpful tips.
Andrew was an Executive Editor, U.S. at Android Central between 2012 and 2020.