How to take, edit and share a screenshot on the OnePlus 5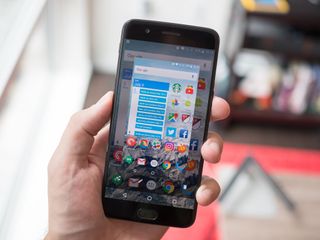 Every company does its screenshot interface a little different, and this is one area where OnePlus deviates from the stock Android experience. Instead of simply giving you a screenshot that you can share, it now includes options to do a scrolling screenshot, edit your screenshot before sharing and more.
Here are all the tricks you need to know to take, edit and share screenshots on your OnePlus 5.
How to take a screenshot on the OnePlus 5
Alternatively, you can turn on "three-finger screenshot" in the Gestures settings of your phone.
When the screenshot is captured, you'll see a toolbar at the bottom of the screen with additional options.
To instantly share the full screenshot, press the leftmost button that looks like three dots connected by two lines. Choose the app you want to share to, and it will be shared as an attachment.
Make your crops or other edits, then tap save in the top-right corner of the screen.
How to take a scrolling screenshot on the OnePlus 5
The OnePlus 5 also offers a "scrolling" style screenshot that can capture one long, continuous screenshot that shows more content than can fit on the screen at one time. Here's how to capture one.
You'll then see a toolbar at the bottom of the screen with additional options.
This will only work if the app you're screenshotting is capable of scrolling vertically.
If you don't stop it manually, the screenshot will eventually stop if it hits the "bottom" of the scrolling or hits a size limit.
Once captured, you can use the buttons at the bottom of the screen to share or edit the screenshot the same way as any other screenshot.
No matter how you do it or where you share it, screenshots are a super useful tool!
Andrew was an Executive Editor, U.S. at Android Central between 2012 and 2020.
Thanks for this info. I was just needing this last night!
People can complain about this phone all they want.
But compared to a 4 year old phone I had, my user
experience is on a much higher level now. While
people b i t c h about the phone being $50 or more
too high, I'll not b i t c h and just go make
an extra $50 and still be happy.
Peace!
Android Central Newsletter
Thank you for signing up to Android Central. You will receive a verification email shortly.
There was a problem. Please refresh the page and try again.