How to take and share pictures on the Galaxy S5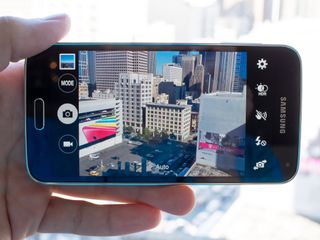 The Galaxy S5 has a pretty great camera, and the power of Android lets you share your pictures quickly with little effort
Samsung improves on the camera quality with each successive iteration of its Galaxy S lineup, and the S5 is no exception. The 16MP camera has ultra-fast focusing, fantastic detail in daylight and more shooting modes than you can shake a stick at. Pair that up with Android's native ability to share images to pretty much any app or service imaginable, and the Galaxy S5 is a fantastic every-day camera you can have with you to share the moments that matter most with the people you want.
Quickly capturing pictures
There are several ways to launch the camera on the Galaxy S5, but there are two ways you'll likely take advantage of regularly — the lock screen shortcut and the camera icon on your home screen. When you turn on your Galaxy S5 but it's locked, you can tap and hold on the camera icon in the bottom right hand corner of the screen and swipe in any direction to launch the camera. From your home screen, just tap the camera icon (if it isn't on your home screen, go into the app drawer and drag it out to your desired location for it).
Launch the camera and you'll be ready to take pictures with the shutter key on the right side of the interface. The left edge of the screen will give you options to toggle settings, choose between different shooting modes and various features, but which you choose will depend on your situation.
Save and share your favorite shots
Snap a few pictures in whatever mode you choose, and you'll notice previews of those pictures appear in the bottom-right corner of the screen (or bottom left in portrait mode) — tap the preview and you'll be taken into the picture viewer. You'll see a picture-by-picture timeline of every shot you've taken, which you can swipe through to find the frame you want to share.
Tap the image to bring up the interface, and look for the share button — it looks like three dots connected by two lines — in the top bar. Tap it and you'll see a standard Android share menu that shows every single app installed on your Galaxy S5 that can handle pictures. Select the app you want to share to — whether it's Google+, Facebook, Gmail or something else — and you'll be taken to that app with the picture attached automatically where you can share it out as you wish.
If you want to go back and share a picture that you took previously, you don't have to launch the camera to get to it. Go straight into your app drawer (or home screen) and open the "Gallery" app, then select the photo you wish to share. You'll see the same menu for sharing as you did previously, where you can share out one or more pictures to the app of your choice.
If you want to back up and save one or more pictures for future use, know that you have all of your pictures saved on your device and they won't expire. If you want further backup, consider using that same share option to put them up on Google Drive, Dropbox, OneDrive or your favorite cloud storage system of choice.
Get the Android Central Newsletter
Instant access to breaking news, the hottest reviews, great deals and helpful tips.
Andrew was an Executive Editor, U.S. at Android Central between 2012 and 2020.
What you don't mention is there is no feature to change the V+ and V- to zoom in stead of taking a pic

Really? What's next? How to turn your Galaxy S5 on? I know it's a guide for beginners - but it's getting ridiculous. Posted via Android Central App

Its only ridiculous for users that have been using android for as long as you seem to. This isn't just for beginners of the S5 its for beginners of Android. Where if you are coming from the iphone and an average user. It could be overwhelming

Maybe if you are new to smartphones entirely... But coming from ios, Windows, blackberry, ubuntu.. etc.. this is still dead simple.

better more info than less. Okay, some of this is obvious to you. We get it, you're smart.

Anyone else having focusing problems on the s4? Like I'll go to take a picture and I have to not move my phone away even AFTER I press the camera button. Basically, I'll be standing there for like 5 seconds after I aparently took the picture or it'll come out blurry as hell. Posted via Android Central App

I have had issues with mine as well with focusing. I have tried both the stock and Google camera, same thing. Focusing issues and a delay in taking the picture.
Posted via Android Central App

My GS5 was doing the same thing. Took seconds (felt like minutes) to take a pic. Try turning off Picture Stabilization in camera settings. Worked wonders for me.

why does the Galaxy S5 not have the facebook share icon, in the share as list when the user (Me) would like to share a photo via facebook, can I add the facebook icon to the share as list?

Right !!!! One thing i hate about these places is when they help u but dont help u ! There is no fb icon !!!!!!

HOW DO U SHARE PICS TO FB ? WHY CANT I SHARE PICS TO FB ?????????