How to sync your Android to Windows 10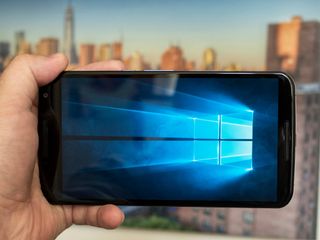 It's 2015, and you can actually get through life without ever physically connecting your phone to a computer. (We've done it. It's great. You should try it sometime.) But for some folks it's still the way to go. They just have to plug in every now and then. Others of us? We're all cloud, baby.
So this one's for you syncers out there. Following are the ways we'd recommend moving your files from Android to Windows 10. And back again. Heck, move 'em back and forth all day long. Doesn't matter to us. Sync, move, whatever floats your boat. Point is, it's as easy as ever in Windows 10. (And in some ways it's even better.)
Let's take a look.
READ: How to sync files with Android in Windows 10
File Explorer
OK. If you really do have to plug in your — whether it's for piece of mind or just to move some photos or videos or whatever — this is probably the easiest way to do it. Grab a microUSB cable — or if you're really lucky a USB Type C cable, perhaps — and plug on in. In Windows 10 you'll get to experience the relative joy that is the Windows 10 Phone Companion, which we've already detailed here. For the most part, it's just there to get you to install some of Microsoft's apps on your Android phone. (And to be fair it's not too spammy about it.)
But really all you need to do is hop over to the venerable File Explorer. This is going to be the easiest way to see the accessible storage on your phone. Hit up the "This PC" section, then look for your phone. You might need to change the USB connection on your phone to actually let Windows see inside it — look for "MTP" or "Computer transfer" or some other verbiage, it might vary a little depending on what you're using. After that you can click through the file structure as before
Point is, nothing's really changed here.
OneDrive
OneDrive is Microsoft's cloud storage service. (Think Dropbox or Google Drive.) And it's gotten really good over the years. So good, in fact, that some Android manufacturers are starting to include it on their phones by default, in addition to Google's office tools.
And OneDrive has become plenty simple to use. Just sign in and you'll have access to all of your stuff, anywhere.
And like other cloud-based file services you'll end up with a good bit of storage space for free. Fifteen gigabytes is standard, and there are promotions that can get you even more space. (Refer a friend and get another 500MB.) And there are paid plans, too, of course. A mere $1.99 a month gets you 100GB of space. If you pony up $6.99 a month you get a full terabyte of space, plus Office 365 thrown in for good measure.
More info at Microsoft OneDrive
Dropbox
Dropbox is that old favorite that's tough to quit. And the good news is it's got a gorgeous Windows 10 app that peeks into your cloud storage and lets you decide what to do with things from there. The Windows 10 component has auto camera-upload as well (which will really come in handy on the mobile front).
And of course it still works really well with Android.
Dropbox starts with just 2GB of storage space, and you get 1TB of space for $9.99 a month. So OneDrive definitely wins on pricing. But Dropbox also has lots of opportunities for free extra storage.
Cortana
Microsoft's voice assistant service isn't quite ready for public consumption yet, but if you're trying out Cortana Beta right now you'll find it operates with the same data sources as Windows 10 Cortana. This means you can do all of the one-off things like ask Cortana who won the game last night and what the weather is in Alaska, but you can also ask Cortana to save things to your calendar and have that information sync across devices via your Microsoft account.
Cortana Notebook is where sync between Windows 10 and Android is actually useful. Google Now can do everything Cortana can do when it comes to one-off commands, but Cortana's personalization means you get results to inquiries based on manually entered restrictions and guidelines. Everything you put into your Cortana Notebook on Windows 10 will be used in the Android version of the app, so if you have Cortana set up to deliver stock information or you've silenced messaged from everyone but your inner circle those options will be immediately available to you.
It's not clear yet exactly how similar Cortana on Android will be to Cortana on Windows Phone, but it's likely Microsoft will try to make the experience as similar as possible. Who knows, by the time the app is available to the public you might be able to say "Hey Cortana" from the homescreen and have the service actually respond.
More on Cortana at Windows Central
Google Drive
Microsoft and Google have had a bit of a one-sided relationship the past few years. Microsoft has been bringing the best of its apps and services to Android — OneDrive, OneNote, Office, and soon Cortana. But Google's all but ignored Microsoft.
There's still basic Google Drive functionality, though. A quick download will add Google Drive into your file structure and get things syncing, same as OneDrive. There's no fancy futuristic UI or anything. Just folders and files.
It ain't pretty, but it works.
Android Central Newsletter
Get instant access to breaking news, the hottest reviews, great deals and helpful tips
So... Just like how I'd sync with Windows 8.1, 8, and any other device, basically :P...

Or xp except more driver issues Posted via the Android Central App

I've been using Microsoft's remote desktop android app to access my windows 7 pc from my note 4, will it work with Windows 10 (either version)?

Yes the same as with the last decade worth of Windows Posted via the Android Central App

On the PC you want to remote into, you need to have at least Pro.

Chrome Remote Desktop works fine on Windows 10 Home so if Microsoft put a limit on their remote desktop app for Windows 10 Pro only, that's incredibly stupid on their part.

The requirement for "Pro" has been around since XP

Ha, Thought there was something new I didn't know about here. Wasted a whole two minutes of my life I'll never get back. Thanks a lot Mr. Writer guy.

well this was a completely pointless article; TL;DR: plug your phone into your comp. or, use cloud software. no need for an entire writeup on something that's exactly the same as it was since android was released.

Lol ya this actually could cause confusion Posted via the Android Central App

Ya, I was hoping that in 2015, there'd be a way to easily move 1gb+ video files from PC to Android without using the cloud. I guess that's not the case.

Transfer over LAN. setup a wireless ad-hoc network if needed, Posted via the Android Central App

FWIW, I use the Android app SyncMe. Works great with my home network (combination of Windows and Linux using SMB). However, if you don't need bells and whistles there is the great free Android app ES File Explorer. Just pick Network from the hamburger menu, then LAN, then Scan and when you see your Windows 10 machine (mine showed AMD6PC with its IP address beneath) tap it and after signing in you will see your shared folders. You can then select file(s) and long press to select one or more, then click Copy at the bottom, navigate to where you want them put on your phone, and click Paste. Or the other way around (from phone to PC). Works great for me at least.

"Microsoft and Google have had a bit of a one-sided relationship the past few years. Microsoft has been bringing the best of its apps and services to Android — OneDrive, OneNote, Office, and soon Cortana. But Google's all but ignored Microsoft."
This never makes sense to me. Why would google want less market share! They will put there apps on Ios but not on windows! Microsoft is putting there services on Google's platforms. Microsoft might take over Apple's and Google's services with their own one day. Apple only has their services with their own products (except itunes for windows and apple music for android).

Google and Apple have a majority of the market in mobiles. Why would Google spend time and resources on Windows Phone when it has so little market share. Windows 10 might change that as a lot of people will have upgraded to it on their PC. This same reason is why Microsoft is developing their apps for ios and android. It's trying to sway users to their platform. How is that so hard to understand?

Also if Google supported Microsoft devices then it might help increase Microsoft's share. Which would be bad for Google Posted via the Android Central App

Windows 10 desktop is great. I upgraded to Windows 10 at the weekend. But Windows Phone in its current state is lacking. Other than Continuum Windows 10 mobile won't topple Android. Posted via the Android Central App on my Moto G 4G 2nd Gen

Have you used windows 10 mobile? If not try it (Build 10240), you will be surprised.

I wish there was a solution where my SP3 could receive calls and text messages from my Nexus 6. Push bullet is nice and all, but it would be nice to have Windows 10 support it natively... Posted from the Nexus 6, Nexus 5, or Surface Pro 3

I guess if you port your number to Google Voice that would do it? Getting calls/messages in Hangout

BitTorrent Sync FTW! -- LG Access LTE

This is not syncing. This is backing up to the cloud - mostly one-way and mostly useless if you have no data connection! None of these options actually sync anything TO your phone from your PC. Streaming is different than syncing. Please do an article TRULY about SYNCING - i.e. wirelessly syncing my always expanding collection of music (MP3z, WAVs, etc.) from my computer to my Android phone. Please discuss the difficulties of accessing the SD card since KitKat. BitTorrent Sync gets around this by syncing to it's android app folder, but it's not the most reliable solution. I'm a DJ, so I need something that will reliably and constantly keep my phone in SYNC with my music collection on my computer. Dropbox and others of it's ilk work great for keeping computers in sync with each other, but no love for mobile devices with lots of memory! Thanks!

I use Goodsync on my PC, and the companion app Goodsync Server on my Android. You can choose which folders to sync, and whether you want it fully synced, or just always copied one way. I've got a sub folder of my music on the pc copied to my tablet. I'd read the title and bored for syncing things like contacts, calendar and tasks. Ah well, it was only clickbait.

If you don't mind rooting, you can use your SD card normally. I have Kit Kat on two devices, and BT Sync is able to write to any folder on my external SD cards. -- LG Access LTE

I have used Foldersync and QFile, but my phones are always rooted, so I don't know if you would face nonroot issues.
QFile is an app published by the maker of my NAS. I backup to my NAS (with raid) because I don't trust my backups to consumer-grade hardware. If your data is important, you shouldn't either.
Servers are expensive because they use good quality parts, but NASs are small, so the premium is not so high. The major contenders in this field are Synology and QNAP. You don't want to go with a small brand because only the big one have the resources for developing the ecosystem of apps, not only for the NAS, but also for your compound mobile phones. Hardware is critical, but well-designed software makes de difference.

Have you looked at DoubleTwist? I started out in the Microsoft ecosystem, so I have a pretty huge collection of WMA files because they're better quality than mp3 -- but they don't play natively on most Android phones. DoubleTwist syncs and converts my music files to files that'll play in whatever player I want to use. Wired sync is free but you can upgrade to sync over wifi (just like you could using Zune back in the day!) There are other options like Google Play music and OneDrive syncing, but those don't actually place the files on your phone/tablet, they keep them squirreled away, even if you download them. DoubleTwist is the only solution (I've found) that syncs *and* automatically converts music files.

This is easy with Google Music. Just point it at your music folder and it will always be synced seamlessly.

BlackBerry Blend is pretty impressive. Either wirelessly or via USB connect to your phones HUB, Email, Messaging, Calendar, Contacts, BBM, File Directory...etc.... I'm curious why Android is so far behind in this area? OH, btw - PC or MAC compatible..this write up is a bit of a yawner.

I was in Europe four weeks in May.
I was all worried about how To sync Windows phone pictures with pictures from my
Android phone.
The answer - hotel wifi and onedrive at the end of every day.
No wires.
All cloud!

I'd much rather use slow 30mbs SD cards than all this cloud based hokie pokie
that way if my phone gets stolen, I got nuthin! cloud back up pffft I got SD cardz.
/s

LoL I see what you did there........ Posted via the Android Central App

Or if he has a good camera he can take his UHS-3 microSD (which is faster than even the S6 internal memory BTW) and sync it to the cloud. acelucero75, did you see what I did there...

I came to do the 2indows 10 download. Where is it and why do you have to make it so difficult?

Easy. Just place your Android in the cradle and press the HotSync button!
What? Why not?

I think you are a little misguided, "OneDrive is Microsoft's cloud storage service. (Think Dropbox or Google Drive.) And it's gotten really good over the years. So good, in fact, that some Android manufacturers are starting to include it on their phones by default, in addition to Google's office tools." Let's be honest, manufacturers are using it because they are being paid to use it (or have made deals to lower or eliminate patent royalties). No company in their right mind would use Microsoft services over Google's unless being paid as the ecosystem is driven by Google apps. EG: All Android owners have a Google account whereas maybe a quarter of them have MSN/Hotmail/Live accounts. So maybe a little transparency would be nice in this article.

I never comment in these but, honestly, "plug it in" would have summed this one up.

y Cortana nor Edge is working?

I prefer an one-key backup app for Android device.

Using File Manager didn't work for me - my laptop didn't recognize my phone (Moto G 3rd Gen.). What am I doing wrong - please help! I want to download the files I have on the MicroSD card, onto an external hard drive. Do I have to download an extra driver?

To backup android phone data windows computer, Coolmuster Android Assistant also works great, it could transfer sms, contacts, photos, etc. to computer in few simple steps, have a try

useless bullshit just like all the other web pages. Thanks for nothing!!!
Android Central Newsletter
Get instant access to breaking news, the hottest reviews, great deals and helpful tips
Thank you for signing up to Android Central. You will receive a verification email shortly.
There was a problem. Please refresh the page and try again.