The Windows 10 Phone Companion and Android: Do you need it?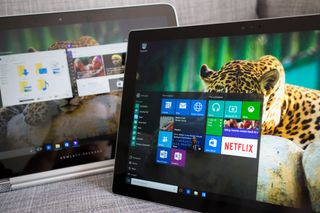 This is the Windows 10 Phone Companion app. It's what you'll see when you plug your phone into a Windows 10 box. And it's half-useful, half-plea to get you to install some of Microsoft's apps on your phone. (And these days, there's a decent chance that those apps will be on there in the first place.)
But it's not entirely without use. You'll notice how it recognizes the make and model of the phone — in this case the Samsung Galaxy S6 edge. It also notes the total charge, and whether it's currently charging. (Which it probably should be seeing as how it's plugged in, but we digress.)
You also get a nice glance at where you stand on storage. On this 128GB model, I've got 98.1GB available to me as a user, and 15.7GB of that has been used. (SD card storage is blank because there's no external storage on the GS6, of course.)
The apps Microsoft suggests you download here include OneDrive, OneNote, Skype, Office (OK, Word, Excel and PowerPoint) and Outlook. Absolutely nothing surprising there.
There is a handy link to the File Explorer app, if you want to go digging around the user-accessible file structure of your phone. (That is, what you can get to without root access.) But then again there's also a handy File Explorer link in the Windows 10 toolbar. The "Import photos and videos" link opens up the Windows 10 Photos app, but it didn't manage to automatically find the DCIM folder on our GS6 edge. (That's not overly surprising.)
All in all? Not that useful to us as an Android user. But that's what you'll find in the Windows 10 Phone Companion app.
I think it's useful to people that don't know technology that well. My parents would appreciate this. Posted via the Android Central App

So this only works when the phone is physically connected to the computer? There isn't an app for the phone that allows this all to work over Wifi? Because that would get me to install it.

Yeah I thought the same when I first looked at the phone companion, I'm sure I could emulate a wired connection, but I don't think it's worth the effort. Maybe it'll work if it's paired via Bluetooth... Maybe I'll see if I can find my adapter. Wubba lubba dub dub!

If you upload your picture from your smartphone,
Onedrive gives you 15GB storage more for free!

Besides the 15gb they give to OneDrive users if they activate automatic upload on their phones? Maybe that's the 15gb you are referring to.

did you literally make an account named Windows 10? LG G2
Nexus 5

Did Microsoft ask one of its PR people to post on Mobile Nations comments the perks of Windows 10? I am loving W10 so far....but dude....cmon Posted via the Android Central App

Sticking with 7. Upgraded, computer wouldn't successfully boot. Rolled back to 7 which works great, thank you very much..... Posted from my Nexus 7 2013 via Android Central App

You should upgrade to 8 then.

Or 8.1 with Classic Shell (including boot to desktop instead of start screen enabled). :) Posted via my HTC One M8

And have the Windows key show all apps when pressed instead of the start screen. And sorted by category, with the selection "list desktop apps first" Posted via the Android Central App

Oops forgot about that setting lol. Thanks! Posted via my HTC One M8

That's only an upgrade on paper. Windows 8 is the worst Windows since Vista. In terms of software badness, the only thing close to it lately is 5.0 Lollipop. Posted via the Android Central App

5.1.1 is overall great for me on my Nexus 5 Posted via the Android Central App

W8 is nothing like as bad as Vista. There are some UI shockers that can easily be remedied by installing a 3rd party start menu and disabling hot corners, but the core is solid and in a number of ways superior to 7.

Do a backup and then a clean install if you can. Or, there was a day 1 patch, and it's possible that would have fixed your issue. Posted via the Android Central App

Also, you need go to " c drive, windows, softwatedevelopment" and delete that last folder. And try and upgrade using the media tool from Microsoft's site. That seems to work best for people not using the "OTA" (can we even call it that? The automatic one. Y'all know what I mean.) Posted via the Android Central App

I got a "bad pool error" when 10 tried to boot the first time. It got to the point where I chose defaults, rebooted and gave me the error. Unfortunately I don't have time to troubleshoot as life isn't cooperating....happy that it rolled back successfully. I've got a year to figure it out once things settle a bit. Posted from my Nexus 7 2013 via Android Central App

You must have done something during the install Posted via the "None-Ya" app

Not necessarily, sometimes things just don't go smoothly. User error is the most common cause of computer issues, but it's far from the sole one. Wubba lubba dub dub!

Mine didn't work the first time, nor did a friend's. It's not all the smooth as of right now. Second time did it. Posted via the Android Central App

Yeah my desktop upgrade went fine, but my laptop won't let me sign into my MS account, and I definitely know what I'm doing. Wubba lubba dub dub!

You could try using the media creation tool to make bootable media and do an upgrade that way, seems a bit more dependable. Wubba lubba dub dub!

Would rather stick to Windows XP, even though they quit updating it. Delivered by my Shamu

Oh I thought I was the only one having that issue. Posted via the Android Central App

Lulz windows 7 Posted via the Android Central App and Note 4

I just plugged in my Note 3 to my Win10 computer and I don't see this.
Edit: Oh OK, I found the app and opened it manually.

It's useless to anyone that visits this site. Like mentioned above if It would allow me to use over WiFi I should install. I also find myself bit using any of the Microsoft apps on Windows 10. Everything I use is Google and I like it. I have Microsoft mail synced with Google, but it never notified me of new mail (yes I have the instant notify setup). Same with most the other stuff. The calendar all looks cluttered to me. Have to scroll a lot on day view. Photos doesn't work with anything besides one drive, (Google photos, Dropbox, box, drive). I expected it to at least work with Dropbox... I want to use the Microsoft built in apps, but they are making it very hard.

That was one of the first things I uninstalled on Windows 10. Posted via the Android Central App

What i really hope for is that when the messaging app comes later this year is that we Android users can use it too to text and call contacts right trough our Windows 10 machine. I hope they won't only make it available to Windows Phone/Windows 10 Mobile users. That would be an awesome feature. Posted via the Android Central App.

"That's not overly surprisingly." Unfortunately, basic grammatical errors aren't overly surprising. Posted via the Android Central App

I noticed most of the apps are listed as "coming soon". I know software development ain't easy, but I think it would have seriously helped MS to have things like Cortana available at launch. Wubba lubba dub dub!

Well Cortana is done, I have it on the phone. But it's still Beta and non widely available yet for some weird reason (specially as it was supposed to come out in July) Posted via the Android Central App

I've actually used the beta a little and quite like it, but it has a hell of a long way to go and will probably never be as good as Google now on android. Wubba lubba dub dub!

Dat empty & lonely SD storage indicator, lol.

The app is useful for those of us who mainly use Microsoft's services instead of Google's to have them all there at hand instead of going through the Play Store. But that's it. For other people though, it may actually help pushing them to Microsoft services. Posted via the Android Central App

I might try this since I've got Windows 10 for a few days already.

absolutely...android is allways needed..no matter what other system you have including the one from the vEgetable company which makes the handicap 0s...

It's technically a fruit. But I see where you are going with vegetable and handicap.

Yep Windows 8 wasn't great. But Windows Phone is lame compared to the might of Android. Posted via the Android Central App on my Moto G 4G 2nd Gen

Not really. It all depends on how you use your phone. Given their plans it has great potential, but if they don't follow through it won't go far. Posted from my Samsung S6 Active

What's the advantage of this in comparison to Samsung Sidesync? At least Sidesync let's you pair wirelessly.

How can you turn this off

It looks more like clutter than of anything useful.

I like to just drag and drop etc from/to computer and my Note 3 using USB but Windows 10 is not very good at seeing my phone. It recognizes my phone about 50% of the time regardless of the methodology I use. It also just craps out part way through most of the time. It's pretty frustrating but I have just gotten into the habit of setting aside more time than should be necessary for this simple task I used to do on other OSes.

On the surface of it, looks like it could handle anything. In actual real life tho, it falls short, as usual I'd say. Every time I try and sync my photos or basically anything else with this companion I get a "Something went wrong - Please try again or restart the app" < I get that every single time. I've a Samsung 5S, probably waaay too old to deal with Win10 Apps. Anywho, It's good to see how much space I have yet to fill.

We are Deals On The GOGO and we use an app and web based solution that is wifi called mobizen. Very easy to install and use for anybody it is free.
https://www.mobizen.com/, and by the way we are a startup, download our Deals On The GOGO App, we will be in your city soon, Thanks
Android Central Newsletter
Thank you for signing up to Android Central. You will receive a verification email shortly.
There was a problem. Please refresh the page and try again.