How to shop on Amazon with Alexa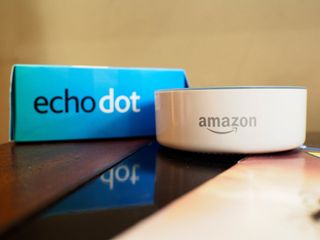 Everything Amazon ever does has some form of hook into buying things from its retail store. On its tablets, that extends to adverts on your lock screen, but on the Amazon Echo, it's pretty much the opposite.
You can use it to buy things from Amazon, but only if you want to. There're no ads, no up-sell. But instead of reaching for your phone or going on the computer, just ask Alexa to order things for you. Here's how.
How to enable purchase by voice
The first thing you need to do is turn on the feature in the Alexa app on your phone, tablet, or in a web browser.
Open the Amazon Alexa application.
Tap the menu button. It's the three-line icon in the top left corner.
Select settings from the menu.
Scroll almost to the bottom and select voice purchasing.
Turn the purchase by voice button to on.
Below this, add a four-digit confirmation code to stop unauthorized purchases.
Hit save changes.
That's all you need to do in the app for now. Before you can buy things from Amazon with your Echo, you need to follow the below criteria with regards your Amazon account. You need to have:
An annual or 30-day free trial Amazon Prime membership.
A U.S. shipping address (50 United States and the District of Columbia).
A payment method issued by a U.S. bank with a U.S. billing address in your 1-Click settings.
Voice purchasing enabled in the Alexa app.
A device with access to the Alexa Voice Service (such as Echo).
The same applies outside of the U.S., where you'll need to have the necessary payment, address and Prime subscription for your location.
To order a product through the Echo simply say:
You then get the option to respond yes or no when Alexa asks you to confirm your order. You can also use a few other voice commands while shopping on the Echo such as re-ordering a previously purchased product.
In both cases, when ordering a product, you'll be asked for your four-digit code if you set it up as part of the confirmation process. It's worth making sure this is on and you keep it secret from anyone you don't want placing orders on your Amazon account.
You can also use Alexa to put items in your shopping cart for purchasing later online or in the Amazon app on your phone or tablet. To do this simply say:
Your chosen items will then be waiting for you in your cart to checkout at a later date.
But what about cancellations? If you have a sudden change of heart, you can also cancel your order by asking Alexa to do it for you:
Your last order will now be canceled for you. If for any reason it can't, you'll have to go into the Amazon app or your account on the Amazon website to try and put the cancellation through.
And that's all there is to it. If you shop a lot on Amazon, which if you're an Echo owner is pretty likely, Alexa can help you order things with ease throughout the course of your day.
Download Amazon Alexa from the Google Play Store
Questions?
Let us know in the comments below.
Get the Android Central Newsletter
Instant access to breaking news, the hottest reviews, great deals and helpful tips.