How to set up Samsung's Secure Folder on the Galaxy S8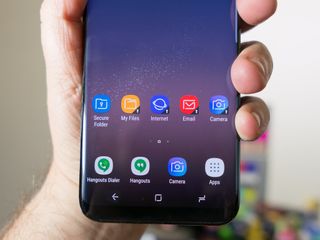 Secure Folder is a component of Samsung Knox that gives you a "compartment" to hold apps and files that is separate from the rest of the phone. You don't need to create a new user or go through any hoops to get it up and running, and once you're all set up you can not only keep private files private but you can also use apps with a separate user login, or add apps that you only use through your secured profile.
Secure Folder is one of those awesome things Samsung offers on every Galaxy S8 or (Galaxy S7 with Android 7.0) so you don't have to go looking for an app that tries to do the same thing.
As mentioned, it's easy to get started.
Set up Secure Folder
Secure Folder uses your Samsung account, so you'll need to have that setup and running. If you downloaded anything from Samsung Apps you're already set up. If not, the easiest way to do it is to open Samsung Apps and check out some icon themes. You'll be walked through the setup process. Don't worry, it's easy. Once that's done, here's how to set up Secure Folder.
Open the device settings by tapping the gear icon in the upper right corner of your notification shade.
Scroll down until you see the Lock screen and security section. Tap to open it.
Scroll down until you see the Secure Folder entry and tap it to open the setup process.
Log in with your Samsung account.
You'll see a short tutorial about what Secure Folder is and what it can do that you should look at. The setup process itself is simple. You sign in, agree to the terms and conditions, and set an unlocking method. you can use the same options you use to unlock your phone: Pattern, PIN, Password, Fingerprint or Iris. This sets up Secure Folder with a few apps already there (Gallery, Calendar, Contacts, Email, Camera, Internet and My Files) ready for use. You can also add more, and any app you have installed on your phone can be copied to Secure Folder. You can also copy any file to Secure Folder's storage.
This adds a Secure Folder icon in your apps list. To get inside, you tap the icon and you're prompted to sign in with whatever method you used during the setup. You can customize the icon and name of the Secure Folder app, and if you go back to the Secure Folder section in your device settings you'll now find other options. Be sure to take a look at them and set things up the way you like them.
Using Secure Folder
This is the cool part. When an app is copied to Secure Folder, it's a completely separate installation. That means it doesn't share any data with the "regular" version of the app and you can log in with a different username. Things you download or save while using an app from Secure Folder aren't available through the regular version of an app, and you can even manually move files like photos or documents to Secure Folder to keep them private.
To install an app to Secure Folder
Open the Secure Folder app from your app drawer by tapping the icon.
Log in with the method you chose when you set things up.
Look for the Add apps button and tap it.
Choose an app from your phone or download an app through Google Play or Samsung Apps.
Now your new app will be inside the Secure Folder app, ready to use and completely private. You use the apps the same way you would have before, but remember that you can't share data between the secure version and the regular version. That means if you do something like add a calendar appointment through Secure Folder it won't show in the normal calendar.
You can also edit the apps you have put in Secure Folder by tapping the Edit apps button instead of the Add apps button. Choose any apps you want to remove from Secure Folder or apps you want to place a direct shortcut to the secure version of on your home screen and make the corresponding choice.
To manually move files to Secure Folder
Open the Secure Folder app from your app drawer by tapping the icon.
Log in with the method you chose when you set things up.
Look for the Add files button and tap it.
Choose the file you want to be placed in the Secure Folder storage area.
You can add any file to Secure Folder by choosing the My Files button when you add a file. This opens the file browser, and from there you just choose it like you normally would. You can also filter for just pictures, music, documents and videos by using the shortcuts when you tap the Add files button.
You have a choice to move or copy files from the regular storage to the Secure Folder. If you choose to copy them you'll still have the original that is available through any app. If you choose to move them, you'll only be able to access them through Secure Folder.
This is awesome
Privacy is pretty important. Secure Folder gives us an option to hide files and apps from view even if we lose or phones without having to encrypt the entire SD card. The concept isn't exactly new, but Samsung native implementation is great and it's something you should have a look at!
Get the Android Central Newsletter
Instant access to breaking news, the hottest reviews, great deals and helpful tips.
Senior Editor — Google Ecosystem
Jerry is an amateur woodworker and struggling shade tree mechanic. There's nothing he can't take apart, but many things he can't reassemble. You'll find him writing and speaking his loud opinion on Android Central and occasionally on Twitter.
Nice article - I recently upgraded to the Galaxy S8+ a few days ago (and I'm beyond impressed) from my Galaxy S6. I transferred all of my data from my S6 to my S8+ using Smart Switch, however I can't find my files that I stored in 'private mode'. Any ideas where I can find them guys? Found nothing in 'My Files' and in the Secure Folder app so I have no clue where they could be.

Maybe the files did not transfer to your new phone because of the private mode. You would probably have to remove the files from private and then transfer them. That's my guess.

Oh man, I hope not. That sounds possible though, I'll keep looking for other possibilities thank you.

On my s7, if i unlocked my private mode and plugged the phone into the computer when I clicked on my phone in the file explorer the was a folder called private, you can then just copy that to where ever. Hope that helps.
Also I seem to remember that if i used smart switch when the private mode was unlocked it backed that up too in a folder called private which you can then access off the computer by going to the store location for smart switch ( my documents on win 10 if my memory is right )

The only issue I ran into, that isn't mentioned in this article, is that secure folder also can cause issues with third party launchers. This only becomes apparent when you reboot, but I struggled with trying to figure out why all my apps were missing and finally found that secure folder restricted the Google Now launcher from seeing any of them.

I love the secure folder omg its like having a second phone. I have a separate instagram account and clash of clans there. so convenient no need to switch accounts

I keep my "fun" photos/videos in the secured folder, which is great!

Can we do anything like this on the LG G6?

You can use Content Lock to hide media and quick notes on the V20, so I assume it's on the G6 as well. (I forgot to steal Daniel's G6 last week and had every intention of doing it lol). For an app locker thing, there are apps in google play that claim to do it. I've never tried any of them so i can;t recommend one over the other. Here's a good place to start https://www.androidcentral.com/e?link=https2F2Flinks2Ftype2Fsid2Fhttps2F2Fstore3Fq2Blocker3Dapps&token=HdkVTc9K

This has been one of my favorite S8 features so far, which is surprising since I didn't even realize that the feature existed until after I purchased the phone. It is very useful for those of us who use their personal phones for work. With secure folder, I am able to keep my corporate email, photos, files, and cloud storage walled off from my personal data. Very useful indeed.

I shouldn't blame you guys for catering to the largest Android user base. $$$ Well conceived management decision. Strategery Does anyone at Android Central think the HTC U11 is the best smartphone including build quality, User Interface & functionality, camera, and sound selling for less than $700? Actually $599. Plus unlocked with timely updates. Not according to coverage and accolades. Makes one go hmmm. Oh, I recall one article about a month ago about the best forgotten HTC 10. No shame!

http://www.androidcentral.com/ode-htc-10s-sim-card-tray I think we do a great job on device reviews. But most times, someone sends me a phone and tells me to write dope shit. I always fulfill at least 50% of that requirement :) I think Secure Folder is pretty dope shit.

S6 also got it after Nougat update. Nice!

When I'm inside the secure folder (on my Galaxy S8), I have a problem. I click on any of the Samsung apps there and I'm blocked from using them because I can't enable permissions. For example, if I try to start the secure version of Samsung Gallery, after I tap the icon, I am greeted by a permissions pop-up window that says "Allow Gallery to access photos, media, and files on your device? DENY or ALLOW". Normally I would just tap ALLOW, but tapping it does nothing. The only button that responds to input is DENY. When I tap DENY, then it just kicks me out of Gallery and back to the Security Folder home screen. This happens with any app that requests permissions. Maybe the problem is that I'm using a third-party launcher: Nova Launcher. I'd hate to go back to the stock S8 launcher because the app-icon stacking folders have bad ergonomics. Anybody had a similar error? Any solutions known?