How to set up the fingerprint sensor on the Galaxy S8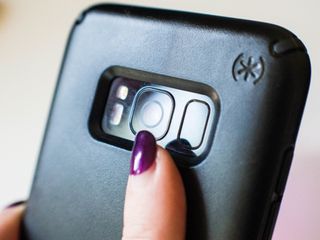 So what if the iris scanning and facial recognition unlocking capabilities on the Galaxy S8 are too futuristic for you? It's okay to do things the old fashioned way — or rather, to stick to a way of doing things that have just become routine for you. Like scanning in your fingerprint to unlock your smartphone.
The Galaxy S8 has a fingerprint sensor, too, though this time it's located on the back of the device, right next to the main rear-facing camera lens. One you register your fingerprint, you can use it to unlock the phone, unlock the Secure folder, pay with Samsung Pay, and unlock the vault to your online banking account (provided your bank app supports this feature). Here's how to set up the fingerprint sensor to unlock a world of unlocking.
How to set up the fingerprint sensor on the Galaxy S8
Swipe down from the top of the screen to reveal the notification shade.
Tap the Settings icon in the upper right corner.
Tap Lock screen and security.
Tap Fingerprint Scanner.
Tap Add fingerprint.
Scan your fingerprint.
When you're finished, you can choose to add another fingerprint or exit out of the screen by tapping Done.
Once you're back at the Fingerprint Scanner settings menu, you can choose whether to enable Samsung Pass, which uses your fingerprints to verify your identity within any app that supports this functionality. From here, you can also choose whether to use your fingerprints to verify your identity on your Samsung account, as well as with Samsung Pay.
Questions?
We're standing by to answer any questions you may have. Just leave a comment!
Be an expert in 5 minutes
Get the latest news from Android Central, your trusted companion in the world of Android
Florence Ion was formerly an editor and columnist at Android Central. She writes about Android-powered devices of all types and explores their usefulness in her everyday life. You can follow her on Twitter or watch her Tuesday nights on All About Android.