How to set up the fingerprint sensor on the Galaxy S8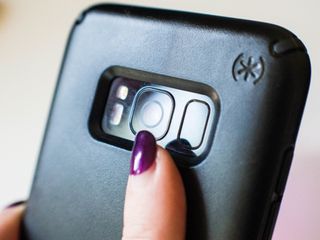 So what if the iris scanning and facial recognition unlocking capabilities on the Galaxy S8 are too futuristic for you? It's okay to do things the old fashioned way — or rather, to stick to a way of doing things that have just become routine for you. Like scanning in your fingerprint to unlock your smartphone.
The Galaxy S8 has a fingerprint sensor, too, though this time it's located on the back of the device, right next to the main rear-facing camera lens. One you register your fingerprint, you can use it to unlock the phone, unlock the Secure folder, pay with Samsung Pay, and unlock the vault to your online banking account (provided your bank app supports this feature). Here's how to set up the fingerprint sensor to unlock a world of unlocking.
How to set up the fingerprint sensor on the Galaxy S8
Swipe down from the top of the screen to reveal the notification shade.
Tap the Settings icon in the upper right corner.
Tap Lock screen and security.
Tap Fingerprint Scanner.
Tap Add fingerprint.
Scan your fingerprint.
When you're finished, you can choose to add another fingerprint or exit out of the screen by tapping Done.
Once you're back at the Fingerprint Scanner settings menu, you can choose whether to enable Samsung Pass, which uses your fingerprints to verify your identity within any app that supports this functionality. From here, you can also choose whether to use your fingerprints to verify your identity on your Samsung account, as well as with Samsung Pay.
Questions?
We're standing by to answer any questions you may have. Just leave a comment!
Android Central Newsletter
Get instant access to breaking news, the hottest reviews, great deals and helpful tips
Florence Ion was formerly an editor and columnist at Android Central. She writes about Android-powered devices of all types and explores their usefulness in her everyday life. You can follow her on Twitter or watch her Tuesday nights on All About Android.
Remains to be seen how awkward it is to reach I guess..

If face recognition works fast enough, I would use that. Yeah, it's not as secure, but I'm not worried about people taking a picture of my face and stealing my phone.

How can it possibly be fast enough ?? you pick up phone, turn on and look at !!!

Horrible.. I received my s8 plus today.. I've been using s7 edge.. I prefer s7 edge.. Only good thing about the s8 would be the beautiful screen.. But that finger prints sensor and the face/iris scanner suck's rarely unlocks

why come on here and Lie ????

Rarely unlocks... Okay...

Tbh it's one of those things that makes me not that excited about this device.
I have the s7 edge now but after the "new phone" feel wares off from the gs8 you'd end up being frustrated that you switched from a phone with an easy-to-reach fingerprint sensor to this. We all know Samsung is working on an embedded fingerprint sensor. Wait 6-12 months and it'll be worth it to have a more complete phone.

No. You personally might get frustrated that you switched(because of a fingerprint scanner). You cant speak for everyone else. And even if you wait 6,12 years..there will always be a new phone on the horizon so people might as well just get the phone they want.

"you can't speak for everyone else". Relax m8.

i recently got the S7 Edge because my V10 finally fell to the bootloop issue. i hate the location of the fingerprint scanner and it isn't that great. my V10 picked up instantly with rarely a misread on my finger. this S7 Edge is a constant 3 or 4 time attempt at getting a clean read.

Well.. considering that you can see fingerprint smudges on the camera lens in the main title pic... quite awkward.

I didn't notice that (I'm in my phone) until you pointed it out. That's pretty funny. The placement might be a bonus if you're a lefty!

It's worse if you're a lefty. Hold your phone and see where your index finger rests.

Yes, much worse if you're left handed, trying to awkwardly hyperextend your index finger, and dropping your damn phone.

Just not using it. I'm right handed so I have to reach over the camera to get to it inevitably hitting the camera 1st. I'll use my Zenwatch 2 as a trusted device to unlock the phone and I'll use the fingerprint sensor or iris scanner only to log into banking apps, make purchases or Android pay.

So I thought you were going to be able to use the iris scanner for certain app's, samsung account....don't remember hearing about it for samsung pay though

Definitely should be able to use it with Samsung Pay. This was even a feature available on the Note 7 before it's final recall.

Never thought about when using Samsung pay. Wondering if it will still work well because your hand would be blocking the whole back of the phone when it's trying to send the signal

Why? You don't need to keep your finger on the fps when paying

Looks almost impossible to get to with a case

Looks easier to get to with a case, to me. Feel for the edge of the opening, and that's where the scanner is.

Easier to find, harder to touch

Maybe. I hope I never have to find out. In other words, I hope the Note 8 has a better solution.

I think finger scanner at the back is a bit tough getting used to, but once you get used to it, there will be no problem at all using it.
Anyway there are other options to securely lock and unlock the phone.
NB: I don't use finger print scanner at all, regardless of where it is placed, it is not a very secured way of locking/unlocking your phone, except you don't have real private stuff in the phone. Phones locked with fingerprint scanner can easily be unlocked while you're asleep.
I prefer iris scanner any day over fingerprint scanner.

Wow, a combination of excuse making and paranoia. Cool.

lol.... sprinkled in with little fibs....

If the fingerprint sensor on the S8 is where the flash is located on the S7 I'm fine with it. I can easily tap the camera flash based on how I naturally hold the phone in my right hand.

The location of the scanner is not just stupid but oddly shaped. The worst part is that the camera should be flash to the back of the phone and leave the fingerprint scanner with the physical bezel. Posted via the Android Central App

Still probably the least ergonomic position for all hand sizes.

S8 and s8+ already having display defects... Now hope Samsung can fix that quickly... Or there gonna be lot of returns

It appears to be a color calibration issue that is fixable by the adjusting red in the color balance. We'll see in a couple of days. Reportedly, Sammy might throw out a software update to correct this. Should have never been released like that though.
Android Central Newsletter
Get instant access to breaking news, the hottest reviews, great deals and helpful tips
Thank you for signing up to Android Central. You will receive a verification email shortly.
There was a problem. Please refresh the page and try again.