How to mirror your Android screen with Chromecast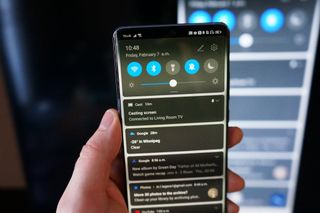 (Image credit: Android Central)
Google makes it easy to mirror the screen of any Android phone to a TV connected to a Chromecast. With Pixel phones, you'll actually find the option to cast your screen right in the notification shade, but for any other phone you can cast your screen from right in the Google Home app.
How to mirror your Android screen with Chromecast
Make sure your phone and Chromecast are connected to the same Wi-Fi network.
Open the Google Home app on your phone.
Tap the Chromecast you want to mirror your phone to.
Tap Cast my screen.
Tap Cast screen.
Google will warn you not to show any passwords or other sensitive data while screen recording or casting your screen. Tap Start now to cast your screen to your Chromecast.
You can control the volume in the Home app and also tap the Stop mirroring button when you're done.
And that's it! When you're done casting your phone to your TV, you can find the controls for turning off screen casting in the Google Home app or in the notification shade.
It's worth mentioning that screen mirroring works the same with Google smart displays you may have set up in your home. As long as everything is set up in the Google Home app and running on the same Wi-Fi network, you can cast your phone's screen to a Nest Home Hub (opens in new tab) or Nest Home Hub Max (opens in new tab) by following the same steps.
The easiest way to mirror your phone to your TV
Most media apps offer Chromecast support these days, but it's always nice to have screen mirroring available for situations that call for it.
4K HDR power
(opens in new tab)
The best Chromecast you can get
It's double the price of the standard Chromecast, but you can stream in 4K HDR and get an Ethernet adapter in the box. At this price, your options for 4K HDR streaming are limited, so the Chromecast Ultra is a great choice.
Great value
(opens in new tab)
The cheapest way to get into Chromecast
If you're looking for the cheapest possible way to start streaming to your TV, the 3rd-gen Chromecast fits the bill. It's half the price of the Ultra, making it appealing for anyone who doesn't stream 4K or wants to connect a secondary TV.
Marc Lagace was an Apps and Games Editor at Android Central between 2016 and 2020. You can reach out to him on Twitter [@spacelagace.
Can't wait to try it out when I get home on my nexus 5

You can also use the cast screen toggle in the notification pane, with a two finger swipe down or a press of the tile icon in the top right n5

Only if you have a Nexus device right? Posted from my Nexus 7 2013 running Android L or Samsung galaxy S5

nope, other devices like Samsung, HTC are also equipped with Chromecast function, but devices under 5.0 may need to download Google Cast from google play store for connection. more information can be found here.
http://showmore.com/cast-android-screen-to-pc.html

"Once everything is set up, you'll also have the option of connecting and disconnecting your phone and Chromecast through the "Cast screen" button in the quick settings area of your notification pane."

The Moto X has cast screen in the settings. I have not tested it as I am still at work.

It's works fine on my nexus 7 (2013) A little latency at times. Tried some Gabe's and they worked for a little bit. Internet is slow today anyways. But now I can use my tab app with my TV. It's working perfect :) Posted via Android Central App

Audio not working for me I'm afraid. Using Nexus 5. Tried a few apps, including Google Music, but no luck. Any suggestions? Posted via Android Central App

Same, casting from under the Display option on my Nexus 7. Video is cast to the chromecast but no audio comes from the tablet or tv.

I had the same issue. After restarting Chromecast audio works fine.

Thanks! Posted via Android Central App

Thanks, Oliver. I had the same issue. Restarting did the trick!

How did you "restart" the Chromecast audio - I've got same issue - no audio.....

I used the Chromecast Android app, an option in it is to connect to a device, tap the menu button, then tap reboot Chromecast. This fixed the audio on mine too. Or, you know, just unplug the micro USB power connection from the Chromecast device itself for a minute or so.

One of my favorite parts of this is that even while doing screen mirroring, your security is protected. What I mean is that if your screen goes off and you press the power button and get to your lock screen which requires a pin, you'll only see it on the device. On the Chromecast mirroring, it'll be a generic clock with a picture of a lock.

Actually, I just tried this and it showed my lock pattern on the TV.

What device are you using? Maybe that's a feature that's exclusive to Nexus devices? I haven't tested it with others.

M7? But no M8? Posted via Android Central App

Thisssss Posted via Android Central App

What I'm thinking as well. It's like wtf Google. What were you thinking? Posted HTC One M8 via Android Central App

Damn i hit the comments button to say the same things!!! Posted via Android Central App

There's little latency on my home network i have a dual band ac Asus rout er and it works on our 2 chrome casts Posted from my Nexus 7 2013 running Android L or Samsung galaxy S5

Okay the M7 Sense and GPE editions have screen casting but not the M8? Wtf Google. Posted HTC One M8 via Android Central App

Sense blows >I'm the kind of guy who stops a microwave at one second to feel like a bomb defuser.

Actually Sense is really awesome.

Its working just fine on my nexus 5. Sound and all. Try turning up the volume on your phone. Rotation is a Lil choppy at times Posted via Android Central App

I have the lg g2 but still no update.... Posted via Android Central App

App on my Nexus 10 and S4 still doesn't show "Cast Screen" as an option when you swipe from the left.

Make sure you're on the latest version of the Chromecast app. Version 1.7.

Try going into Settings>display settings> cast screen on your nexus 10

What about the HTC One M8? Posted via Android Central App

My thoughts exactly. Posted HTC One M8 via Android Central App

Probably what anyone who payed 75 bucks or more for a miracast adapter thinks right now I presume that includes you? Posted from my Nexus 7 2013 running Android L or Samsung galaxy S5

Meh, I bought a Netgear Miscast device for like $50 and I'm still glad I got it... Easier to set up when you don't have any Wi-Fi or your own network. It's in my travel bag, haven't really used it at home, if I wanted to mirror at home I'd pull out the Displayport cable but that'll probably go in the bag too now that Chromecast can mirror.

I had the Netgear Push2TV PTV3000 which I gave to my son in law a few weeks back. The chromecast is much better. It is way less laggy and connects very quickly. Chromecast will make Miracast obsolete. Way more useful now! Best $29.99 I have ever spent.

He has a device that is not supported, uses Miracast, or uses an Apple TV and iPhone. Sent from my Nexus 5

Just connected with my 2013 nexus 7, it isn't done at all. Colors are off, laggy and the screen doesn't fit correctly. It is cool but I can't wait to see the bugs worked out.

The colors and overscan aren't your phone's fault, much less Google's, that's down to your TV's settings. You'd be surprised how wildly inaccurate TV color calibration often is out of the box, and many many TVs have different calibration for each input type. Many also don't let your adjust for overscan which is a pain...