How to manually update your GSM Galaxy Nexus with the Android 4.0.2 OTA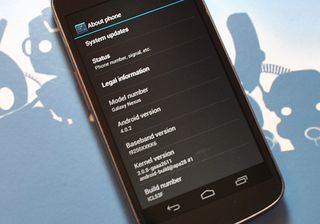 So Android 4.0.2's starting to roll out to the GSM version of the Samsung Galaxy Nexus. But maybe you don't want to wait? (We sure don't.) Here's how to easily flash the update to your phone, same as we did for the volume bug update. Note that this won't erase anything, and it's really no different than if you sat back and waited.
Note that this is for stock phones, and for people who want to update without really doing any real hackery but don't mind a little command line work. Nothing we do here is permanent, other than the update itself. If you've already flashed CWM, then you probably already know what you're doing anyway. And with that ...
Thanks, Scott, for the OTA location
The prerequisites:
Now, the instructions:
Copy the OTA package above to the /sdcard folder on your Galaxy Nexus
Drop the ClockworkMod file in the same folder you have fastboot in on your computer in the SDK folder (either /tools or /platform-tools). Rename it to cwm.img to make things easy.
Reboot your Galaxy Nexus to bootloader mode (hold volume-up and volume-down, then press power).
Plug your phone into your computer, and open a command prompt or terminal. Navigate to the folder with fastboot and the cwm.img inside it.
At the command line, type the following: fastboot-windows.exe boot cwm.img (or just fastboot.exe if that's what you've got)
Use the ClockWorkMod recovery menu to flash a zip file from the SD card, and choose the OTA zip file you downloaded earlier.
Let things run their course.
Presto, you've now got Android 4.0.2 on your GSM Galaxy Nexus. It seems like a lot of steps. But once you get the hang of it and understand what's going on (you're booting into ClockworkMod recovery instead of flashing it to your phone first, you're good to go.
Now, Google, bring on Android 4.0.3.
I am blushing, just like the email I sent earlier :) Note: If you have a locked bootloader, this process WILL wipe your phone.

No, unlocking the bootloader wipes your phone, which is why you should do it when you first get your phone. This process doesn't wipe anything. :)

True, just something for people to be aware of :) And, the above process would wipe your phone, if you currently have a locked bootloader, then follow http://forums.androidcentral.com/samsung-galaxy-nexus/136580-how-oem-unl... It wipes it. Not being pedantic (Or maybe I am, it is 2:45am here), just saving you from the "ZOMG I LOST EVERYTHING" comments.

Is it possible to just rename it to update.zip, boot into stock recovery, and update?

i encountered errors and operation is aborted. any workaround this?
and how i can have an sdcard folder on my GN? thanks!

I'm also getting errors: Installing update...
assert failed: file_getprop("/system/build.prop", "ro.build.fingerprint")
...
E:Error in /sdcard/.zip
(Status 7)
Installation aborted. I guess I should just wait for the OTA.

There are different builds in some Galaxy Nexus phones. Check the /system/build.prop file from your phone (Need a root file explorer to see it) It should say the build name yakju if it is an official Google build. You may need to flash the full factory image found here
http://code.google.com/android/nexus/images.html The instructions on how to flash the factory images are here:
http://forums.androidcentral.com/samsung-galaxy-nexus/141751-howto-manua...

You can rename and use stock recovery, as long as you have root access ( to place the file in /cache)

need help sir, i did find the zip file on the cwm menu but when i start to install, it encounter errors and aborts the process.

getting an error while its flashing:
assert failed: apply_patch_check("/system/app/NfcGoogle.apk")
E:Error in /sdcard/'the file of the update' I have rooted and installed google wallet.
not sure what the actual cause here is. any ideas?

I'd like to add that I'm having the same problem. I have this latest version of Clockwork flashed onto my device, and I've already used it to gain root. I've also made sure I have a yakju build, which was necessary when I installed the unofficial Google Wallet .apk. It seems like everything should work out just fine for me, but using Clockwork to update via the .zip has resulted in the same error.

I followed the directions and at the command prompt it said "cannot load cwm.img"

I was also getting an error trying to apply the update. turns out my phone was still on ITL41D and the update zip is for "ICL53F-from-ITL41F". This link has the zip to get you from ITL41D to ITL41F first: http://android.clients.google.com/packages/ota/google_maguro/11bbbccb08d... I applied this update first, rebooted and made sure my phone still worked. Then repeated the process with the update listed here. I'm now running 4.0.2.

Gentleman + Scholar = You I'm surprised no one else (including myself, obviously) read the file name long enough to figure that out...
Android Central Newsletter
Get the best of Android Central in in your inbox, every day!
Thank you for signing up to Android Central. You will receive a verification email shortly.
There was a problem. Please refresh the page and try again.