How to fix slow internet problems with Charter Spectrum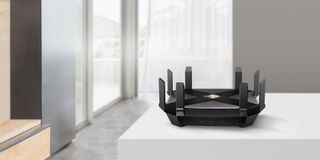 (Image credit: TP-Link)
Spectrum from Charter Communications is a cable internet provider that offers speeds up to 940Mbps in supported areas. While most people will be happy with one of Spectrum's smaller 100Mbps or 300Mbps packages, these speeds are still fast enough for most people. If you are a big downloader or a heavy streamer, Spectrum is uniquely one of your best options thanks to a lack of data caps. Now you just need to make sure you are set up correctly and have the right equipment to take advantage of your connection.
Products used in this guide
Charter Spectrum: Find your bottleneck
There are a few components between your connected device and the internet connection, including your wireless router, a modem, and Spectrum's own infrastructure. To get the most out of your connection, you need to find the slowest part of your network, called your bottleneck, and speed it up.
Start by doing a little investigation.
Find out how much internet speed you pay for. This information can usually be found on your bill.
A speed test will help you see how fast your connection currently is. You can google "speed test" or use a website like speedtest.net.
Run a few speed tests in your home starting in the same room as your router. Move around your home where you might use your internet and keep track of the areas with the worst speeds.
Compare your results to what you pay for
In a perfect world, you would get the full speed you pay for in all parts of your home but thanks to signal obstructions in your home as well as interference from other sources such as a neighbor's router, speeds can drop off.
If you find out you are getting the speeds you pay for but it's not enough, it may be time for an upgrade. You can check out your options online or call customer support at 833-267-6094 to get your package upgraded. For a couple of people, the 100Mbps connection will likely be enough but as you add more people, you may find it doesn't hold up, especially with streamers. For most people, Spectrum's 300Mbps package is going to be the sweet spot.
You can go all the way up to 940Mbps download with Spectrum as long as your area has support. The faster your base connection, the faster the rest of your network will need to be to keep up.
Keep in mind, if you are trying to become the next big Twitch streamer, you'll need a faster upload speed. Spectrum, in general, is weak for upload speeds so if you're looking to stream at 1080p 60FPS or higher, consider getting the fastest Gig Internet package to access it's 35Mbps upload speeds.
Charter Spectrum: Restart your modem
If your internet isn't hitting the speeds you expect even right next to your router, you may just need to restart your modem to make sure the settings are correct. Sometimes Spectrum will need to provide new configuration information to your modem and normally these settings will be automatic, but sometimes the modem needs a manual restart to complete the update.
You can restart your modem simply by unplugging it for a minute before plugging it back in. You can also do it through Spectrum's Internet Troubleshooting Tool as well as the My Spectrum app.
You may also need to restart your Wi-Fi router at the same time but most of the time the router will be able to reacquire the information it needs without a restart.
Charter Spectrum: Upgrade your equipment
If you've found a weak link in your home network and need to upgrade some equipment there are some great options no matter what you need to get going. If you aren't getting your internet speeds, even wired, you may be ready for a new modem. If you are renting your modem from Spectrum, contact customer support to make sure your modem is fast enough for your service.
If you own your own modem, you can check out the Arris SURFboard SB8200 for full Gig Internet support thanks to DOCSIS 3.1 support and 32 downstream channels. If you have one of the slower packages and don't want to spend so much on a modem, the Netgear CM700 is a great option with DOCSIS3.0 support working great for Spectrum's 100Mbps and 300Mbps packages.
Routers are a bit more complicated since there is a system that will fit nearly every home. If you care mostly about speed, you can choose something like the TP-Link Archer AX6000. This router can deliver AX6000 Wi-Fi 6 speeds to new devices and will be able to deliver great speeds to older generation devices as well. There are eight Ethernet ports on the back making it an easy fit for an existing wired home network. There are plenty of other Wi-Fi 6 options as well.
If your home has a layout that's hard to cover with wireless signals such as having concrete walls or simply being really big, a mesh system might be a perfect choice. Mesh systems use multiple smaller routers to cover more area and dodge elements that block signals. Meshes systems are great for getting around concrete walls.
The Eero system is a great choice for someone that doesn't have much experience setting up a network. The Eero app is easy to use and helps you get set up quickly. This Eero system is really only good for internet speed under 500Mbps so you might want to look at other mesh options or even a Wi-Fi 6 mesh system for faster speeds.
Our top equipment picks
If it's time to upgrade your equipment or you're just looking to get rid of some modem rental fees, these are some great options to get started.
A faster modem
Get a modem that can keep up
The Arris SURFboard SB8200 is a great companion for Spectrum's fastest internet thanks to DOCSIS 3.1 and 32 downstream channels.
No dead zones
Add coverage wherever you need it
Eero delivers enough speed for most Spectrum customers with simple and quick coverage expansion with any other Eero product.
Fine tune your equipment
Let's face it, you probably don't need the fastest internet package. If you are using anything less than Spectrum's top internet package, you can save a little money with a slower modem like Netgear's CM700, which can deliver up to 500Mbps. You can also opt for a fast, non-mesh router like the TP-Link Archer AX6000.
Netgear CM700 ($120 at Dell)
Save money on rental fees with a modem that's fast enough for most of Spectrum's plans with DOCSIS 3.0 and 32 downstream channels.
TP-Link Archer AX6000 ($350 at Microsoft)
Wi-Fi 6 speeds and compatibility with older devices and 8-gigabit ethernet ports make the Archer AX6000 a great Wi-Fi upgrade.
Be an expert in 5 minutes
Get the latest news from Android Central, your trusted companion in the world of Android
When Samuel is not writing about networking or 5G at Android Central, he spends most of his time researching computer components and obsessing over what CPU goes into the ultimate Windows 98 computer. It's the Pentium 3.