How to enable family sharing on YouTube TV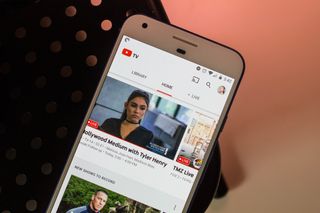 Did you know that a $35-a-month subscription to YouTube TV gets you access for your friends and family, too? Google lets you share your membership with up to five people at no additional cost. You can easily create a family group and manage it as you need, though you can only do so from the web. Here's how.
Under Account, click Set Up to get to your Family sharing settings.
You'll be taken to the Family sharing page where you can start inviting people to your group.
When your friends or family members open the invitation in their inbox, they'll be asked to sign in with their Google account to complete the setup. Afterward, they'll be able to access YouTube TV through a desktop browser at tv.youtube.com, or through the mobile app on Android or iPhone with their login credentials.
What is YouTube TV, anyway?
Confused as to what YouTube TV is, anyway? Be sure to read up on our primer and then follow up where we compare two streaming apps that bring live television straight to your smartphone.
Get the Android Central Newsletter
Instant access to breaking news, the hottest reviews, great deals and helpful tips.
Florence Ion was formerly an editor and columnist at Android Central. She writes about Android-powered devices of all types and explores their usefulness in her everyday life. You can follow her on Twitter or watch her Tuesday nights on All About Android.