YouTube TV FAQ: Everything you need to know!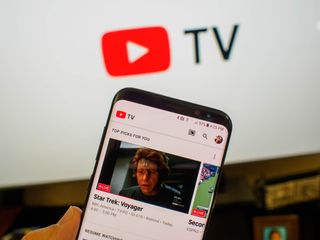 (Image credit: Android Central)
It's always exciting to see a company like Google offer something new, but YouTube TV is not the first time this company has tried to do something innovative with streaming video. Here's what you need to know about Google's latest efforts to shake up television as we know it.
What is YouTube TV?
Think of YouTube TV as an internet-based cable television subscription. For a monthly fee, you can stream live television directly to your phone without needing an account through your local cable company. You can use this as a way to watch live television when you aren't at home, or you can completely replace your home cable service with YouTube TV.
Aren't there other apps that do this right already?
As a matter of fact, there are three rather popular services offering similar services. Sony's PlayStation Vue lets you watch and record live TV across many different screens, DirecTV Now is a satellite-free alternative to cable companies, and SlingTV exists as an alternative to watching your favorite shows with a cable box.
YouTube TV is looking to compete with these services by offering a price point in the middle of these services, with expanded features a promise of more consistent streaming video quality.
What channels do I get with YouTube TV?
Currently, YouTube TV is offering:
ABC
CBS
FOX
NBC
NBCSN
USA
FX
FreeForm
Oxygen
Bravo
MSNBC
Fox News
CNBC
FXX
FXM
SyFy
Fox Business
Local Now
Disney
Disney Junior
Disney XD
The CW
E!
Universo
Universal
Sprout
National Geographic
Nat Geo Wild
Chiller
ESPN
ESPN 2
ESPN 3
ESPN News
ESPN U
SEC ESPN
CSN
Fox Sports
BTN
NBC Golf
Telemundo
FS1
FS2
YouTube TV also includes YouTube Originals, which are shows and movies previously available only to YouTube Red subscribers.
There will also be the ability to add networks to your subscription for an additional fee. Currently, Fox Soccer Plus and Showtime are on the list of add-on networks to be available at launch.
Can I record shows with YouTube TV?
You can! YouTube TV includes a "Cloud DVR" service that allows you to record multiple shows simultaneously so you can watch them later. This feature includes a commercial skipping feature if you're watching a recorded show, available with a simple tap in the YouTube TV app.
This Cloud DVR service comes with unlimited storage, and videos you have recorded can only live on your account for nine months before they need to be erased.
How many people can use my account at the same time?
Each YouTube TV account allows you to connect up to six accounts in a family plan for no additional fee. Currently, no other live TV streaming service supports six simultaneous users as part of the base price, and each of these connected accounts will get separate recommendations and offers based on their viewing habits. This means you kids can watch all the Pokemon they want and it won't interfere with reminders about Game of Thrones or Football.
So far, Google has not mentioned any need to prove those six people live in the same house or share any other Google services.
What do I need to use YouTube TV?
As it stands YouTube TV works on just about everything with a screen. Android and iOS apps are available, as well as a website for watching and controlling your account.
If you have a TV with a Chromecast dongle or Google Cast service embedded, you are able to stream anything from YouTube to your television easily.
How much does YouTube TV cost?
Right now Google is offering a flat rate of $35 per month for YouTube TV. Each add-on network will run you an additional $10 per month.
This monthly plan does not include any contracts or commitments, so you can quickly cancel the service if you decide you are unhappy with it.
Can I get YouTube TV now?
You can get YouTube TV right now, provided you live in an area with service. Google's plan is to make the service available first in the largest U.S. markets and expand rapidly after the launch. In case you are curious, the currently supported media markets in the U.S. are:
Atlanta
Baltimore
Boston
Charlotte
Chicago
Cincinnati
Cleveland
Columbus
Dallas-Fort Worth
Denver
Detroit
Greensboro
Harrisburg
Hartford
Houston
Indianapolis
Jacksonville
Kansas City
Las Vegas
Los Angeles
Louisville
Memphis
Miami-Fort Lauderdale
Milwaukee
Minneapolis-Saint Paul
Nashville
New York City
Oklahoma City
Orlando-Daytona Beach-Melbourne
Philadelphia
Phoenix
Pittsburgh
Salt Lake City
San Antonio
San Diego
San Francisco Bay Area
Seattle
St. Louis
Tampa
Washington DC
West Palm Beach
To sign up so you can be notified of when this service is available in your area, head here and let Google know you're eager to try YouTube TV.
What about people outside of the U.S.?
As is often the case with Google products and streaming TV services, YouTube TV is currently U.S. only and will likely remain U.S. only for quite a while.
In order to launch in other countries, Google needs to secure streaming rights in each country. That kind of thing takes a lot of time, so the current focus is delivering in the U.S. for now.
We'll be sure to update this FAQ as more information becomes available!
Updated August 31, 2017: This article has been updated with YouTube TV's 12 new cities.
Android Central Newsletter
Get instant access to breaking news, the hottest reviews, great deals and helpful tips
Thanks for this! It helps. I'm so glad to be in one of the largest markets so that means it is coming soon to me.

Hijacking top comment to correct misinformation in the article. "How many people can use my account at the same time? Each YouTube TV account allows you to connect up to six accounts in a family plan for no additional fee. Currently no other live TV streaming service supports six simultaneous users as part of the base price, and each of these connected accounts will get separate recommendations and offers based on their viewing habits." This is wrong/misleading. You can have six accounts, but only three simultaneous streams. From Google https://youtube.googleblog.com/2017/02/finally-live-tv-made-for-you.html
"Six accounts, one price. Every YouTube TV membership comes with six accounts, each with its own unique recommendations and personal DVR with no storage limits. You can watch up to three concurrent streams at a time."

The funny thing is there are sorting options for comments so for a lot of people it's not the top comment that you hijacked so you look like a complete fool.

I provided valuable information about the service that was incorrectly published in the article. You, on the other hand, provided nothing of value other than to tell me I look like a complete fool. Your contribution has been noted. Have a good day.

I'm glad you agree that telling you that you look like a complete fool added value. You have a good day as well :)

your comment was beneath the very fist comment on my screen. don't awknowledge the trolls and they just feel stupid

That's right. I forgot that Ikeman90 is the entire internet.
I'm guessing you'll feel pretty stupid when you realize that my comment said "for a lot of people" not "for every single person"
Or maybe you have reading comprehension problems. Who knows.

Relax tdizzle, you're coming off as quite the ****.

I'm completely relaxed. But I am really concerned about the way I look to a bunch of people on the internet that I have no idea who they really are and I'll never actually meet, so thanks for the advice.

sorted by rating, sorted by date. its first still. you lose buddy. i have never seen someone so passionate about something so meaningless.

Thanks for the helpful information!

Has anyone successfully signed up as a family member? I have 5 people on my plan. 2 have tried to access it using their Family email, but both say they need to subscribe at $35 a month themselves (which cannot be correct)

One of the other major issues that isn't mentioned at all in the article is how the DVR works. It WILL keep unlimited shows in your DVR for nine months. However, if the episode you are trying to watch is available on-demand, you are forced to watch that version and thus are forced to watch ads. Once it falls off of on-demand, you can watch the recorded version again and skip through commercials. Additionally, the implementation is pretty bad right now as well. If you were watching your recorded version but don't finish and come back later after the on-demand version is out, it switches you to that version. You also lose your place in the show and have to watch all the ads to get back to where you left off. Apparently, this was the only way Google could secure deals and the industry wants to try and make this the norm going forward. For me personally, there's no way I could use a service like this. I just can't support that model.

Channel lineup is wrong. AMC is now included.

Wish Google would ramp up Fiber, could make for a great bundle. I would much rather give Google my money each month than Verizon.

The alphabet restructure requires each of the divisions to become profitable. Hence Waymo backing away from a complete self driving car and putting parts on a Chrysler pacifica van (idea is to sell the tech to interested companies) and with Fiber well laying fiber optic cable was highly unprofitable for the division, so alphabet called off the expansion and fiber decided to research and invest in long range wireless (think WiMAX without the sucky reception). Currently this tech still doesn't work really well indoors and requires mounting outside or in a window. Works even worse in a congested city full of tall buildings, but is much cheaper than fiber optic cable.

Yup. Fiber as people know it is dead.

My parents live in Northwest Indiana, so they get the Chicago news and TV stations. Even though they're not physically in Chicago, would they be able to sign up for that location?

It uses your phone location to determine if you can sign up. You will lose live local channels when you are outside your home market.

You have to reset account and put in correct zip code.

I'm curious. The article mentioned Chromecast as the only way to get it, but what about smart TVs with YouTube apps? The reason I ask is because I had to remove my Chromecast to fit my Firestick and don't have enough room for another HDMI dongle.

Just assuming here it would depend on an app being created for that particular TV "OS." YouTube TV will be a separate app from YouTube and not an "add on" to it like YouTube Red is...

Get an HDMI switch. They start at like $15.

Very interested as sling tv is just garbage. Every platform I have tried to use it on (wifi or hardline) is very inconsistent.

That doesn't answer all my questions. Your headline is false

Is this channel list final for launch? Obviously there might be more added after launch but at launch is this list set in stone pretty much? Because there's still at least 3 specific channels missing for me to sign up and cord cut. Although I will say they got the pricing perfect! If they add the other 3-4 channels I want then I'm on board 100%. Direct TV has all the channels I want but they have no Android TV app (weird) and the Google casting of their app has been really buggy recently.

If they add History Channel by the time it hits Pittsburgh area, I will be all over it. Sling doesn't have Fox Sports, so no Pens games! I thought FS1 and FS2 were the same thing. They are not. Of course, I'm sure I'll get as clear of an answer from them as I did from Sling TV on whether or not I could watch the games: Mud.

Oh wow just noticed that. No History, no buy.

What? Are you addicted to the Curse of Oak Island too?? Or Ancient Aliens? lol

Agreed. I would need History, Discovery, and Science channel to subscribe..

Have you tried the Fox Sports Go standalone app? That's how I watched the Super Bowl this year, and I was pretty impressed by how well it worked.

No, I'll have to look into it, thanks!

Will this include google play music as well ?

Not sure if that's what people want, at least not me. I've cut the cord five years ago and have not look back. The funny thing is I have not missed live tv at all, outside of sports. All those services are so set on keeping their business model in place they refuse to leverage what the internet is bests at. I don't plan my life around any live programs or tv shows, its the opposite, netflix ruined it for me and I am not going back. Youtube tv is basically trying to duplicate the cable model here (in a worst way to) and that's the last thing I want.

No AMC? Then no deal. I'll stay with Sling TV.

Wondering if all channels are 'live' or VOD only.

I'm wondering how you can read the first two paragraphs and still wonder what you're wondering.

I hope they add a few more stations. They almost have me completely covered in what I want/need to cut Time Warner (Spectrum which is worse than TWC ever was) out except for internet.

This is very nice and all, but anyone has experience running multiple streaming services on the single wireless network and were there any issues?
If misses is watching Bravo on youtubeTV (streaming), mom watching Netflix on tablet (streaming), son listening to Google Play Music (streaming) and me playing online shoot'emups on PS4 (also wireless) - will one of those be laggy as hell? Let's assume this is 100mbps Verizon FiOS.
At least with cable, you could still watch TV even if Internet is down.

Firstly, I'd recommend switching your PS4 to a hardline. Always best for online gaming, especially FPS games. That will take some of the load off of your router's wireless spectrum, which is probably your limiting factor. We regularly have 2 Roku's and an Xbox One running, rarely have an issue, and we live in BFE with Cable Internet (Second Tier plan, Armstrong Zoom II), I'm literally the second to last house on the line.

What about a discount for YouTube Red customers ?

I'm sure there's going to be some sort of discount

I think that's the question most people want to know, yet it's somehow missing in an article that claims to answer all our questions. tsk tsk tsk.

PS. you get a good number of HD channels from OTA and they broadcast in uncompressed format 5.1 sound.

Google, we need your internet service in NJ!

I live in NJ and use it almost daily.

Quick correction on the simultaneous streams, all six accounts cannot stream at the same time. It is limit to three concurrent streams. From the YouTube Blog:
"Six accounts, one price. Every YouTube TV membership comes with six accounts, each with its own unique recommendations and personal DVR with no storage limits. You can watch up to three concurrent streams at a time."

HGTV will need to be added if I stand any chance of convincing my wife to cut the cord.

What resolution will the channels be available in? Playstation Vue and others only offer up to 720p. What about support for surround sound? Love me some more Nvidia shield worthy content.

Almost all broadcast content is produced at 720p. It's upscaled to 1080 for digital broadcast over the air because that's what's mandated by the FCC. When it's being delivered over the web, there's no reason to upscale it before transmission and a ton of good reasons to not upscale it. You don't want a 720 signal upscaled to 1080 and then delivered to your TV where it gets upscaled to 4k. You'll have a much better image if your TV just upscales the native 720 signal straight to 4k. Even if your TV is 1080, your image will still be better if the upscaling is done by your TV using algorithms specific to the display panel in your TV rather than having it upscaled to 1080 using a generic algorithm.

So is the answer that they will be available in 720p?

Is there any limit on how many things can be recording at once? What about local channels for things like the local news?

Everything you set to record will record at once. You only get live local channels if they are available in your market.

Their channel lineup sucks. NEXT! Seriously will any of these services actually step up and offer something worthwhile. PS Vue is missing at least 10 channels that we watch and their prices are right up there with traditional Cable TV. Sling TV is also missing content plus after you start adding all their smaller packages the price gets outrageous. I am still locked into DirecTV Now's Go Big package at $35/mo (an actual decent selection of channels much better than the competition) but DirecTV Now still hasn't added a cloud DVR, their ON-Demand library is too small & they still haven't made an app for Android TV. Here comes Google with their Youtube TV service offering a single dinky package with 75% of the channels being ones I couldn't care less about while missing most of the channels that we do watch. Please Hulu step up to the plate and hit one out of the park with a real solution.

Do you think the broadcast channels will include the digital channels? Like Channels 7, 7.1, 7.2 and 7.3 for example.

There's a list, in the article, of exactly which channels are included. How can that be confusing?

Only includes the main ABC, CBS channels and not .2, .3 channels. I have to use a tuner for those.

so how do they get away with this when Aereo was shut down? is it like cable with no box? just need a chromecast and internet?

Google gives money to the networks so they allow it. Aereo didn't give money to the networks so they shut them down.

You need to post a correction to the article due to factually inaccurate information. "Currently no other live TV streaming service supports six simultaneous users as part of the base price" and neither does YouTube TV. YouTube TV only supports up to 3 streams at one time. You can have six users, but not six simultaneous users.

Will this service provide Sports programming and if so will it support alternate channels like directv does for baseball etc... if so thus may be an awesome alternative. Or at least create new competition and an awesome price war. This benefits all of us.

Disappointing that they have an existing model in YouTube for a la carte channel subscription and caved to whoever they're negotiating with for rights to stick with the package/bundle approach. It's the channel bundling that's what's wrong with cable/satellite TV subscription services. Well, that, and the rate ratcheting every year or so--we'll have to see how Google deals with that, the could afford to absorb rising costs for a few years to build a base. Google could have just provided the consolidated platform for each of those channels to deliver a subscription, and let me pay a buck or two a month for just the ones I want, with Google taking a few cents of that.

No Discovery Channel, TNT, or NFL Network.

Agree. How can you not offer TNT?

How can you not have PBS?

Live outside the US. One of the few things that makes this a bummer. I'm happy with Kodi anyway.

No Science Channel or Animal Planet makes this a tough sell in my household. I guess I'll stick with Playstation Vue.

For me the glaring omissions from the base channel lineup are AMC, TLC, Discovery and Food network. I would switch in a heartbeat if these 4 were included.

Seems to be to be too little, too late. I think my Playstation Vue has way more stations and I am very happy with it. I would switch, if given a good reason, however, this does not appear to be it.

I am very interested in YouTube TV. I have been thinking about Playstation Vue but it lacks CW which has 4 shows that I <3. I really hope they are able to expand this service to my area quickly since I am close to one of the major cities (about 100 miles).

One thing you need to know.. ain't no wait you'll every see this service in Canada. Youtube Red, i'm talking to you.

the app does not work with a tablet. There are no PBS feeds, or any local channels such as ME tv.

Works great with my Galaxy Tab3. It was not in the Play Store; sent the APK from my phone to my tablet and it works great. Use it daily; in fact I never use the phone app

When will the android app allow landscape mode (and being able to see whats coming on next) like the iOS app can?

The service finally came to Boston. I subscribed today. Does anyone know how Google plans to address using your subscription outside of your home market? But so far I am really liking the service.And the streaming quality is terrific.

YouTube TV will work outside your home market except you will not get your live local channels. You will have access to your DVR.

Not in Eastern Connecticut yet...

Can't stream NFL games. Not good...

You can but not to your phone. Has to be a Chromecast type device. I use an Android TX box.

I really want it. I tried it and liked it, but still waiting for the Turner Channels (TNT, TBS, and CNN).

Yeah, Turner was the major network that was conspicuously missing here. I need my Adult Swim

The fact that there is no android tv app is ridiculus!

Needs an app on Android TV, needs more channels and more locations.

I tried the trial, still missing too many channels for me to consider it, and the lack of an app for roku or android tv is simply not going to work. I use chromecast for directv now and its not fun. Sling tv is much easier in comparison. But I got the $35 a month deal on direct tv that is now worth $60, so I will deal with the issues. And at least directv did finally get a roku app.

Direct TV now is cheaper at 10 dollars a month with more channels to boot. You would thing Google would see this before launching this service. I enjoy the direct TV service plus it doesn't go against your data if you are a AT&T customer.

This is not helpful. You don't give any of the negatives like being unable to FF or skip commercials depending on the show, limited to 720p, none of the important things. This is like a PR for youtube TV!!! Some of us are actually considering this and I want more than a PR, I want an honest look

I have tried YouTube TV and it is nice but for me Hulu TV offers a lot more in the way of back catalog for most shows, no commercial option and more channels. Just my .02

Also if you combine Hulu with NFL Game pass you get all the sports channels. I had with DirecTV. NFL Game pass also offers full games in 30 minutes. No timeouts or commercials, just every play that matters.

Got it last month, and it works for me but this definitely isn't a one size fits all thing. Does feel a bit amateur hour for them to launch without Roku or XBox One apps though. Only complaint is having to use the clunky Chromecast process to get it on a real TV.

No CNN + No AMC = NO Go for me! I do wonder if I can use this downstate if I'm not in Chicago...

They do have AMC. It was left out of the channel list above but I can confirm they do have AMC. I am watching Rock IV on it right now. When it was orginally did not release with AMC with the first 5 markets but was "coming soon." It was added by the time Atlanta's zip codes were allowed. No CNN but i would imagine it is only a matter of time, same with HBO.

So excited that this is now in my area. I plan on signing up for the free trial next month when my Fall shows start. If I like it I will continue the second month then possibly cancel my cable through Comcast 3 to 4 months after initially signing up. To give me enough time to put it through its paces.

I'll stick with PSVue for now. I'll reconsider when they add a guide, An app for Roku/Fire TV etc.. and MLB/NFL Networks.

Lemme know when they get HBO and CNN and I'll consider signing up.

Been using it since it was released in Atlanta. I am liking it overall but that does not mean it is perfect. I also have DirecTV and that costs $185 a month for 3 TVs the channel packet and some movie package. The price of $35 a month is wonderful it comparison. Yeah I will lose channels and some features but man is hard to complain for an 80% discount. I am going to be canceling my DirecTV at the end of the billing cycle.
Some of the highlights:
1) Price
2) The cloud DVR is great. Way less clunky than the other major providers. I watched a collage football game from a hotel room and instead a baseball stadium during pre-game. Worked very well.
3) ABC, NBC and CBS which are not always included in some of the streaming packages. Some of the annoyances:
1) Very limited devices. There is no app for Android TV which just doesn't make sense. I side-loaded it on my TV but they purposely made the app so remotes could not control it and it is stuck in Portrait mode. Basically phones, tablets and chromecasts. It makes it hard with families with little kids that might not be able to cast from a tablet to a TV all the time.
2) The DVR does not appear to be shared. I added a show for my wife and when we got home she could not see it in the library but I could see it under my account. I had to cast it from my phone so she could watch it on the TV.
3) The Guide is little weird. It is just called Live and it more like a long list of thumbnails showing the current show. It is very visual. I would like something smaller and more of a text based list. It would be faster and more efficient for scrolling through it. It probably works for some people but i would like the ability to go back to something more traditional. Like a list with a live preview in a window at the top.
4) I was expecting more on demand content for shows that have previously aired. More similar to what Hulu offers. I think that i will give Hulu a go again since their LiveTV plus their on-demand content appears to far more established.
5) Search needs a little help. Tried searching for Harry Potter for example and it could only find some of the listings. THis is problem if you want to record some of the movies since it doesn't have the AI to identify all shows with Harry Potter in them and it can't find shows that haven't aired since it started and aren't in the immediately future. ABC was doing a HP marathon and I couldn't get all of them recorded because the search wouldn't even find all of the movies even if i typed in the exact name.
Android Central Newsletter
Get instant access to breaking news, the hottest reviews, great deals and helpful tips
Thank you for signing up to Android Central. You will receive a verification email shortly.
There was a problem. Please refresh the page and try again.