How to turn off My Magazine on the Samsung Galaxy S5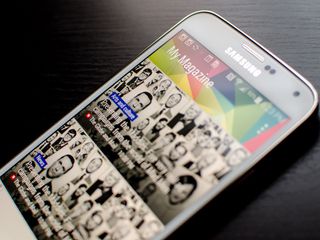 Samsung's My Magazine feature on the Galaxy S5 is similar to HTC's BlinkFeed feature. It can filter in news stories and social updates from various networks for easy access in just a swipe. However, if you don't like My Magazine you can easily disable it altogether. Here's how:
How to disable 'My Magazine' the simple way
On any home screen page, long-press the task-switching button (to the left of the home key), or long-press on any blank space
Click the Home Screen Settings button in the menu that appears.
From the Home Screen Settings menu, uncheck *My Magazine**.
Press the home key to go back and enjoy the TouchWiz home screen launcher without Samsung's magazine add-on!
How to kill 'My Magazine' entirely
Launch the Settings app on your Galaxy S5.
Scroll all the way down and under the Applications section, tap on Application Manager.
Swipe over to the All section and then scroll down to the M's and tap on My Magazine.
Now tap on Turn Off or Disable.
Confirm you'd really like to turn the feature off in the warning popup by tapping OK.
That's it. My Magazine now won't be accessible from the Home screen of your Galaxy S5. If you ever decide you want it back again, just follow the same steps over again.
How do you feel about add-ons like My Magazine and BlinkFeed? Are they services you use or just another stock service you end up disabling right away? Let me know in the comments!
Allyson, I always enjoy the way you layout your how-tos. Specifically your graphics. ಠ益ಠ

Thanks! Good to know they're helpful that way.

The best thing about this post is it reminds us to pay attention to the features of your perspective device and gain knowledge into disabling unwanted features in advance. Posted via my SPARK enabled Sprint LG G2, K00949438Yd FRAMILY!

I learned my lesson the hard way. I have got a Galaxy Tab Pro that Samsung will not allow us to remove the app/widget on it. They say it is not removable and you are stuck with it. Next device I buy I will sit down with the retailer and ask them to show me all the unwanted apps that are not removable. It will not be a Samsung device for sure!!!!!!!!!!!!!!!!!!!!!!!!!!!!!!!!!!!

This information is out of date and is incorrect. The Turn Off button is disabled on S5. You can however remove it from the desktop - use these instructions:
http://galaxys5guide.com/samsung-galaxy-s5-how-to-guides/turn-off-my-mag...

On the link you provided there is a similar procedure as the one on this article, both are not helping me to get rid of the app on my S5 because the "turn off" button" is gray (not clickable)

Try this to get rid of it:
1. Make sure you are on the Home Screen
2. Press and hold your finger on an empty space
3. Tap the Home screen settings button on the bottom right
4. Unmark the "My Magazine" option to get rid of its updates on the home screen Not my tip, had to look it up.

This was super useful, thanks. Yes, the button is grayed out but as S5 Abuser says, there are instructions in the link to remove it from the desktop, which is what I wanted to do. Thanks!!!

YOU ROCKED IT! I WAS loooooosing my "Kill My Magazine" battle. I don't think I killed it completely yet..but it is off the Main wallpaper sections now! So Thank You! If you have "killing instructions for the while my magazine thing" please send them to a very grateful Mamma :)

Or, to just turn off that page in your home screens: From any home screen page tap and hold the soft key to the left of the home button.
Press Home Screen Settings.
Uncheck My Magazine.

Was just about to say this.
Can also long press on any home screen page to bring up the home screen settings option.

Exactly! This guy went all over the world to turn off this feature. .when it was just maybe 3 clicks away lol Posted via Android Central App

Doesn't this just hide it though? Doesn't actually stop it from running? Like many pre-installed apps.

Just checked, even rebooted and it was still shown in the running apps, so you are correct, it is still running just not shown.

Ugh yeah, but that doesn't stop it from running - TRY READING THE ARTICLE TURD.

Okay KrautMcMoron but you're 3 months late to the party, turd.

I thought this just hid it. Mine still showed in running apps, that's why I went with disabling it altogether. If I'm mistaken though let me know and I'll add it!

No pinching the home screen, home screen settings and disabling my magazine from there is enough to turn it off completely. Posted via Android Central App

Nice job providing a clear and detailed procedure for disabling My Magazine on the S5. More important to me, since I'm evaluating the pros and cons of the S5 vs. the M8, is that I now know that it can be disabled. Earlier tonight, I watched a review of the S5 by one of my favorite tech reviewers, in which he stated that it couldn't be disabled, so I had put that item on my Con list for the S5. With your help, I can now disregard it.

Are you referring to the review by MKBHD? Posted via Android Central App

Yes. I watched it while walking my dog tonight, so I might have been distracted. If you think I misunderstood his comment, please let me know, and I'll go back and listen to it again. He does a great job, and I didn't mean it as a criticism. I figure he might have just missed the ability to disable the feature.

No, I heard/watched him say the same as you. I also realized that was a mistake. Posted via Android Central App

He did put an annotation later on saying that he knows that you can disable My Magazine Posted on my 2012 Nexus 7 via the AWESOME Android Central App

Is there any way to select an app to swipe to? I like how the sideswipe to magazine is gone but it would be super useful if we were able to select something to replace it.

That's the first thing I'll do when I get my S5, turn off that obnoxious laggy my magazine and hope for HTC to release blinkfeed for the other phones.
Posted via Android Central App

Soon enough you'll be able to get it on your other devices. Only time to wait now.
Article on it:
http://www.engadget.com/2014/03/26/blinkfeed-coming-to-non-htc-android-d...
Google Play link:
https://www.androidcentral.com/e?link=https2F2F...

Blinkfeed is nice. I enjoyed it back when I had the M7 (She specifically asked about blinkfeed)
Posted via Android Central App

Soon enough you'll be able to get it on your other devices.
Article on it:
http://www.engadget.com/2014/03/26/blinkfeed-coming-to-non-htc-android-d...
Google Play link:
https://www.androidcentral.com/e?link=https2F2F...

Damn, I wish this option was available on the Note 3. Posted via Android Central App

Ditto Posted via Android Central App

You can have my magazine disabled on the Note 3. Since I already had the Flipboard app, I had it disabled. _______________________________________________
This message was brought to you by the numbers 0 and 1

Have you tried the app greenify? it force closes apps automatically never to be reopened until you click on it.
Or as SEGROUKIN says: you can disable Flipboard as this Magazine is a licensed version of it.

And the tab pro 8.4 I am so frustarted by swiping to the left screen and getting a turned off app that can not be removed from a page. I started a page on Facebook to let them know how many people want this turned off on their devices. https://www.facebook.com/removemymagazine

I disabled it 2 mins after I tried it on my gs5 and went back to flip board magazine .which is a lot better!
Posted via Android Central App

I'm running nova prime so no need for me to disable it.... Posted via Android Central App

Even though you have a replacement launcher MyMagazine can be running in the background. This method frees up some ram, as and most important battery life. Posted via Android Central App

This is the most important thing you can do to the S5 Galaxy S 5 T-Mobile
Posted via Android Central App

I wouldn't exactly say it's the MOST important thing, Turning off those damned blip noises I think or logging into a Google account or setting up Samsung account to claim some of that free stuff like Google Play $credit, but if you really hate this magazine thing then its a good first part setup process.

How do I do this on my note 3? Just tried to turn it off this way and after Uninstaller updates the "turn off" button was grayed out. Posted via Android Central App

Although I understand manufacturers putting skins on Android, I really hare the touchwiz implementation. I think it really ruins the Android experience for some people and discourages then from using it again, which means they'll probably switch to iPhones. If also manufacturers had a similar skin (I mean no added S apps or stupid additions that vanilla Android doesn't have) then the experience would be more consistent throughout the ecosystem. Posted via Android Central App

I am glad you showed me this because I just got a transfer to the cellphone department in my store. It will be great information to pass on to my co workers.

I know this is completly off topic... but, I waited a few months for the s5 but wasnt impressed. Ended up getting note 3 , what im very happy with. What I want to know is anyone whos had a note 3 then chsnged to a s5? How do they compare? Im not intrested in fingerprint scanner or heartbeat senser, just not my kind of thing. Posted via Android Central App

The Note 3 is still better only that the S5's camera is more solid and maybe the revamped TW. Other than that the Note 3 rocks. _______________________________________________
This message was brought to you by the numbers 0 and 1

Im happy with the note 3 camera :) and tbh I think ill stick to the note range now. Great phone havent seen one to match my need any better than this. Iv also converted several iphone user to the note lol
Posted via Android Central App

Thank you!!! I cringe every time that i accidentally scroll over to it.

lol the mag is really annoying. Everyone I know, who just got the S5 has disabled it. Good riddance.

My Magazine is ok, but lets not get crazy and think its anything close to blinkfeed! lol Blink feed is awesome, i miss it now that i have an s5 adn my magazine just doesnt cut it. Thanks for the tips!!

Soon enough you'll be able to get it on your other devices.
Article on it
http://www.engadget.com/2014/03/26/blinkfeed-coming-to-non-htc-android-d...
Google Play link
https://www.androidcentral.com/e?link=https2F2F...

Wish the note 3 could disable, the turn off its grayed out Posted via Android Central App

Thank you for this. I just got my S5 today and My Magazine seems pretty useless to me. I would much rather have a left swipe to a fresh screen for something a bit more useful (like my N7 Player widget).

Wow, everyone REALLY hates this magazine thing! I think it's a ok alternative but not enough for me to dislike it, then again I'm always trying new different things so I like the option that it's there.

Why my comments get deleted?! I was giving useful information to some people!! >:(

Ok. My magazine has been successfully removed :)
Tnx for that ...
Is there any chance to use empty page, that's been left behind?
I like to have few of them, to disperse my icons ...
Thank you in advance :)

Good question KW3. Better yet, I'd love to run another similar app in that space like News 360.

Great instructions. I have used My Magazine about a month, and after being forwarded to Flipboard a few times, installed Flipboard, and use it instead, like the customization much better. My Magazine seems like a diluted Flipboard and will turn it completely off.

Nice tip. Is there any way to reassign the swipe left feature to another app like Google Now?

Excellent column and easy-to-follow instructions. Thanks for the help!

I cannot believe Samsung did it again... They are the kings of trolling patents. "My Magazine" is a direct copy off of HTC Blinkfeed, patented by HTC.
They have already gotten in enough legal battles... Are they just asking for more?

Thank you, thank you, thank you!!!!! My Magazine has been completely annoying. I absolutely hate developers and programmers that think everyone want to see their junk and then throw it in your face. I use Pulse anyway. Has much more to choose from and I like the layout.

No joy. My 3.0.0 version of My Page on my new S5 has the "turn off" button grayed out. Is something I need to do to get it to function. BTW, the page removal did work, but I would like this data drain to stop totally.

Thanks so very much!! Can always count on Android Central for my answers. I recently received the S5 for my birthday and have been working on it for about 2 weeks to get it set up how I want it, I know, crazy, right? I used to use Go Launcher with my S3, I had for over 2 years, but this TouchWiz doesn't seem so bad, so I'll keep it for a while and see if I like it better.
I just wish these manufacturers wouldn't push all the bloat ware on us!

I can't shut off the app, because I have T-mobile and it's greyed out, BUT I have figured out how to add another home screen after you delete the my magazine page. If you press and hold the lower left of the phone below the screen it goes into home page management mode. If you then scroll right, past your existing home pages, it will show a new page with a plus. Hit the newly revealed "+" and it will add a new home page to your phone. You can delete it later by flicking it up to the trash. Yay!

Hi!
Is there a way to do the same thing on the Galaxy S3?

It worked perfect for me!! Left startrek button; hold it while looking at your home screen. This is my third webpost ever. And taking MY Magazine out of my life has made me happier. I may live longer now too. It took a lot of time to commend this authors facts. But it was worth it

My Magazine seemingly can't be deleted, turned off, or disabled, or hidden, or anything like that on my Verizon S5, like so many other crappy and intrusive apps. I'm beginning to think I caan make my life a lot better by ditching both Verizon and Android.

I finally figured it out after having my Galaxy S5 for months! and I also have Verizon (which, after having had AT&T I am totally satisfied with-don't ditch Verizon yet!)...pinch the home screen, then tap on "Home Screen Settings" down at the bottom of the screen. It will give you the option to check or uncheck the box that says "My Magazine - View all My Magazine updates in one place on the Home screen." Make sure the box is unchecked, and at least you won't have that irritating screen pop up. No, I don't think it removes the app, and I don't know if you can, but am still checking that out. I got rid of Flipboard, which I understand is a "cousin" of My Magazine. Contrary to the author's blog, on my device it does not have My Magazine listed under Application Manager so you don't HAVE the option to remove it. Hate all the added crap on the device, and some of the default apps I'm afraid to delete for fear of screwing up my device. It's like getting the stupid cable bundle of crap you're paying for each month, with just more junk that you don't watch on TV for more $$.

Thank you d01nina!!!! I just got my samsung s5 today and all the links I tried to remove my magazine were ineffective. YOURS, however, worked like magic. Cheers!!!

A Galaxy S5 with Sprint is different - you press your finger on a blank screen to bring up: Wallpaper, Widgets and Home Screen Settings. Select Home Screen Settings and you can turn off My Magazine.

The My Magazine screen is annoying, especially as it prevents prevents continuous scrolling. Is there a way to make an icon that would launch My Magazine rather than having it take up a full screen all the time?

I really hope the Samsung marketing team is taking notes here. DON'T shove your stupid apps down our throat. We the people want to choose what's on our home screen. Don't assume anything about your consumers. If you decide to do it then make it easy to opt out you big dummies.

Trying to get rid of useless "my magazine" on s5. Your instructions don't work. Uninstaller ? Button is greyed out.

OK - got it off by going to home page menu. Hope that keeps it from running, as well as making it invisible.

Unfortunately this just hides the app, not actually disabling it so it still runs in the background. I just got a Verizon flavored S5 and I also have the turn off button greyed out. Still looking for a solution. looking for an app to freeze this app and others in an off state without needing root.

This worked perfectly, THANK YOU!!!

This was perfect, just got my S5 yesterday. Thank you so much!!

This is crap! Mine doesn't even say "Turn off" I've tried everything and it is still there!

Thanks a lot! Flipboard was just very irritating and I wanted to remove it directly. On another forum people was trying to remove Flipboard but did not succeed. I will link this page.

DON'T KNOW IF THIS HAS ALREADY BEEN POSTED, but so far it's worked for me on my Galaxy Avant. DO WHAT THE ARTICLE SAYS, THEN IN APP MANAGER , CLEAR CACHE AND FORCE STOP , DONT CLEAR DATA. GL

Nm. It worked momentarily

I tried to turn off (or disable on my phone) My Magazine but the button is grayed out and does nothing. At least the instructions to remove it from the home screen were successful.

My GS5 wouldn't let me "disable" My Magazine. I was able to do the "easy way". Posted via the Android Central App

I have found most of the preloaded apps to be useless to me and it is more pain to disable them than it would be to load the ones I want.

Thanks for this. I find it, along with most of the preloaded apps, pretty much useless. I like your clear instructions (so different from the ones Verizone and Samsung provide!) I just found this site but will be back.

So pleased to find this thread. Thanks
Android Central Newsletter
Thank you for signing up to Android Central. You will receive a verification email shortly.
There was a problem. Please refresh the page and try again.