How to disable the Edge screen on Galaxy Note 8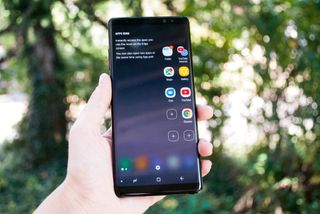 The Samsung Galaxy Note 8 gives you access to the Edge screen which can make it easier to access certain contacts and apps. However many people never take advantage of the Edge screen's capabilities. If it does of a better job of getting in your way than it does of making things easier, then you may want to disable it. We've got the details on how to do just that right here!
How to disable the Edge Screen
Disabling the Edge screen is just a matter of flipping a toggle from within the settings. This means that turning the Edge screen off, or back on, just only take a few moments.
Open Settings.
Tap Display.
Scroll down and tap Edge screen.
Tap the toggle next to Edge panels to turn off the edge screen.
Questions?
Do you have questions about disabling the Edge screen on Note 8? Have you turned off the Edge screen on your Note 8, or do you prefer to utilize it? Let us know in the comments below!
Android Central Newsletter
Get instant access to breaking news, the hottest reviews, great deals and helpful tips
Jen is a staff writer who spends her time researching the products you didn't know you needed. She's also a fantasy novelist and has a serious Civ VI addiction. You can follow her on Twitter.
One of the best features why would you not want to use it

On my S8+ it gets activated too easily when I don't want it thus slowing me down with things which are not useful for the way I use my phone so I disabled it. Same with the Bixby stuff. If this phone had a flat screen and a slight larger bezel the edge screen might actually be useful to me.

In my s7 edge still with lollipop i can decided how small and how high in the screen the activation area is located, is that not possible on "Samsung experience"?

My question exactly! It's not like the annoying Bixby button!

Wait, people *don't* like the edge panels? I'll admit some are pretty worthless, but some like the app drawer helps me keep my home screen incredibly clean while still having an app drawer of sorts that's always available.

But, swiping up opens your app drawer, so I don't see the usefulness of the app edge panel.

So? That only works on the home screen, Edge works all the time in most apps.

I'm using my edge screen to keep my home screen clean! I had to use an app like Swapps on old phones, nice that it's built-in in and more functional on the Note 8.

Since going to the Note 8, I no longer use the home screens for folders or shortcuts. I use Widgets only and use the edge screen for shortcuts and app folders. The only thing I wish it did was let you put Chrome shortcuts in the edge folders. UPDATE - You can add Chrome Shortcuts on the HOME Screen in the TASKS Edge Panel but it doesn't create folders. It's close though.

The edge screen is one of the best features of the phone.

Like others have said the edge screen to me is very useful and convenient. One of the best features.

How is the edge getting in the way? The whole notion of this article is weird. I assume it is written by someone who has played with a Note 8, but not used it as a daily driver.

Hah a Ikr how can something that's on the side on the screen be in the way

Easy, it is on the edge where it can get bumped when it isn't wanted. It is OK to like the feature and it is OK to not like the feature. It doesn't make either view wrong.

Fell in love with that feature on my Note7. When I switched to the Note5 (we all know why) I searched the Play Store far and wide to get an app that would give me the edge screen back. I found one and couldn't live without it anymore. Extremely convenient! Why would anybody get rid of it? 🤔

Also the app pair is awesome

I've got 4 app edge screens people, app, Utility, an music on both my note 8 an my s8 plus, what edge screen are you guys running

Apps Edge, People Edge, Music Edge, Device Maintenance and Data Usage Manager.

I know I'm in the minority but I'm not a fan and turned it off.

Don't worry! You have the constitutional right to turn off that feature! It is very unpatriotic, but, no matter what the president says, it is your right! 🤣

One of the the best features and often used options! I started with the S6 edge plus! Loved it worlds ahead of the game!

The edge screen is useful, you can even have device maintenance on it that makes it pretty convenient for your device to keep being optimized all the time...

All these "how to turn off" articles for the Note... Why don't you just do an article on how to trade in your Note for a V30...?

I like the app pairing split screen shortcut on the Edge Screen. Right now I am sad because I have only had the phone since launch, and yesterday I dropped my S-Pen through a boarded raised floor. Gone forever! What is worse is that it costs $49.99 to replace. #firstworldproblems

I use the edge screen every day on my S7. It's a very convenient way to get to your most commonly used apps from any screen.
Android Central Newsletter
Get instant access to breaking news, the hottest reviews, great deals and helpful tips
Thank you for signing up to Android Central. You will receive a verification email shortly.
There was a problem. Please refresh the page and try again.