How to decide which Galaxy to buy: S10, S10+ or S10e?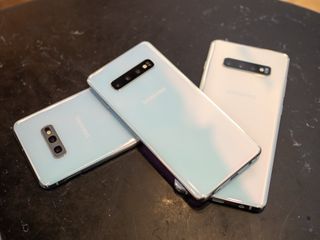 (Image credit: Android Central)
Best answer: The best choice is the largest and most expensive: the Galaxy S10+. It has excellent battery life and is the greatest example of how good Samsung phones can be. If you're turned off by the size or price of the S10+, the S10e is an excellent choice instead. Most people will skip over the standard S10 as it doesn't offer enough of a value proposition to justify itself either way over the other models.
How much do you want to spend?
With three distinct Galaxy S10 models, the range of you can spend varies widely — starting at $600 for the Galaxy S10e, and ranging up to over $1200 for an optioned-up Galaxy S10+. Officially, the retail prices for all three are $600 for the Galaxy S10e, $750 for the Galaxy S10 and $850 for the Galaxy S10+. Add $100-200 to each if you want to increase the internal storage, which in the case of the Galaxy S10+ can also add more RAM and an exclusive ceramic back option.
How big of a phone can you handle?
This is an important question you need to ask yourself when choosing a Galaxy S10 model. You may be willing to spend $850 on a Galaxy S10+, and love its excellent battery life, but if you can't actually use it because it's so large then nothing else really matters. At the same time, the Galaxy S10e's 5.8-inch display may actually feel restrictive to some people who have spent time with huge phones for the last few years.
If at all possible, go to a store (be it your carrier or any other retailer) and hold the phones together to get a feeling for how big they are. The difference between the Galaxy S10+ and S10e is considerable, and how the switch from a curved to flat screen affects the feel of the S10e is also worth keeping in mind. The differences aren't always something that comes across in spec sheets, so at a minimum do some research with photos online — and visit a store for some hands-on time if possible.
Understand spec and feature differences
Samsung has done a great job with keeping the core experience consistent across the three Galaxy S10 models. But there are a handful of differences that will play into your decision of which to buy, so let's focus on those differences and take everything else as a given.
Swipe to scroll horizontally
Category
Galaxy S10e
Galaxy S10
Galaxy S10+
Display
5.8-inch AMOLED, 2280x1080 (19:9)
6.1-inch AMOLED, 3040x1440 (19:9)
6.4-inch AMOLED, 3040x1440 (19:9
Storage
128/256GB
128/512GB
128GB/512GB/1TB
RAM
6/8GB
8GB
8/12GB
Rear camera 1
12MP, f/1.5 or f/2.4, OIS
12MP, f/1.5 or f/2.4, OIS
12MP, f/1.5 or f/2.4, OIS
Rear camera 2
n/a
12MP telephoto, f/2.4, OIS
12MP telephoto, f/2.4, OIS
Rear camera 3
16MP ultra-wide, f/2.2
fixed focus
16MP ultra-wide, f/2.2
fixed focus
16MP ultra-wide, f/2.2
fixed focus
Front camera 1
10MP, f/1.9, auto focus
10MP, f/1.9, auto focus
10MP, f/1.9, auto focus
Front camera 2
n/a
n/a
8MP, f/2.2, auto focus
Battery
3100mAh
3400mAh
4100mAh
Security
Side fingerprint sensor
Ultrasonic fingerprint sensor
Ultrasonic fingerprint sensor
Dimensions
142.2 x 69.9 x 7.9 mm
150 g
149.9 x 70.4 x 7.8 mm
157 g
157.6 x 74.1 x 7.4 mm
175 g (ceramic 198 g)
The best way to explain the differences between the three is to start with the top-end Galaxy S10+ as the baseline, and work backward from there. The Galaxy S10 steps down in screen size by 0.3-inches (diagonally), which isn't dramatic but is worth mentioning — particularly as it pertains to the phone's overall size, which drops a bit in height and width, but also weight. The S10's 3400mAh battery is only 83% the size of the S10+, and since everything else on the phones is identical that translates directly to noticeably shorter battery life. Finally, the S10 is missing a secondary front-facing camera — that would help a with Live Focus portrait mode effects, but isn't a major loss considering the main camera is identical and quite good as is.
Working a step further down from the S10 to the S10e, here's what you lose. Screen size drops another 0.3 inches, but is accompanied by a drop of resolution to 1080p — the panel is the same great quality, which is what matters. The screen is also flat, rather than curved on the sides, which is an improvement if you have problems with accidental palm touches on Galaxys. The display also no longer holds an ultrasonic fingerprint sensor, sticking with a regular capacitive sensor on the top-right side — it's more consistent, but not necessarily a massive improvement. The battery drops to 3100mAh, which isn't as big of a drop as from the S10+ to the S10, but does put the S10e to the point where battery life can be a concern for heavier users. Finally, you also lose the tertiary third rear camera, so you no longer get optical 2X zoom — not a huge loss, though, as the digital zoom works well enough and the two remaining cameras handle Live Focus portrait mode duty.
Once you analyze the relatively small set of differences, it'll be quite easy to pick which Galaxy S10 is right for you.
Our pick
The best Samsung had to offer in 2019
When money's no object and you just want the best phone of the bunch, the Galaxy S10+ is the easy choice. It has all of the features, paired with a huge battery and a large screen that lets you work or play in any way you want. Just be ready for some awkward moments trying to use it in one hand, and you'll be happy.
Compact and affordable
A proper experience in a smaller size with a lower price
The Galaxy S10e offers a near-complete S10 experience for $150-250 less than the other models. You miss out on an ultra-high-resolution screen, and the telephoto rear camera, but otherwise get every feature. The big trade-off of note is shorter battery life, but on the positive side you save a considerable amount of money and get a phone that's small enough for anyone to manage one-handed.
Awkward middle ground
A middle option that most people won't choose
With the Galaxy S10e taking up the price- and size-conscious buyers, and the Galaxy S10+ being such a great all-around phone for only $100 more, the "standard" Galaxy S10 is kind of left in a grey area. It's basically just a slightly worse Galaxy S10+ for only $100 less — most people will be happy to go all the way to the S10e for its size or price, or just go all the way for the big S10+.
Sign up for Black Friday email alerts!
Get the hottest deals available in your inbox plus news, reviews, opinion, analysis and more from the Android Central team.
Andrew was an Executive Editor, U.S. at Android Central between 2012 and 2020.