How to connect an accessory to Samsung Health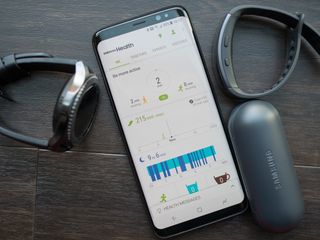 Samsung Health aims to be your one-stop-shop for tracking your health and exercise. While it contains plenty of features within the app to track things, you can also connect compatible accessories that will help you in this endeavor. Whether you're hoping to know what your fastest mile is or precisely how far you biked, you can do it all by connecting the right accessory. It's also an extremely easy process, and we have the details for you here.
Why connect an accessory to Samsung Health?
Connecting your Samsung Gear S3 Smartwatch, or Gear Icon X earbuds to Samsung Health can definitely enhance how well Samsung Health works. This is because the app is actually set up to connect to activity trackers, bike sensors, smartwatches, heart rate monitors, and plenty more.
Samsung Health really does aim to be an all-in-one place for you to build healthy habits, and then track them. To this end, they've included compatibility with a slew of different devices you may be using to aid you in a variety of ways. Whether these are smart scales to check your weight, glucose monitors to check your sugar levels, or just an activity tracker to get the stats from your morning run, this is a pretty big deal.
Being able to have all of your health information in one place, and to see the improvement day after day and week after week may be the motivation you need to get serious about your health. While the devices that you'll be able to connect are primarily Samsung's own, you can see a full list of supported devices within the accessory page inside of the app.
Now one thing to remember is that if you are connecting a Samsung Accessory, you'll need to go ahead and install Samsung Gear Manager (opens in new tab) first. Your phone won't connect to your smartwatch if the Gear Manager isn't on your phone.
Once you have an accessory connected then you'll be able to track specific information without having to manually enter it into the app. This makes tracking your progress easier than ever, especially if you tend to forget to input information after a workout.
How to connect an accessory within Samsung Health
Open Samsung Health.
Tap the overflow icon that looks like three vertical dots in the upper right corner.
Tap Accessories to open the accessories page.
Tap the Accessory you want to connect to Samsung Health.
Tap Register in the upper right hand corner of the screen.
Tap Connect to pair your accessory to your phone.
Have you connected an accessory to Samsung Health?
Connecting an accessory to Samsung Health lets you keep better track of information like your run, heart rate, weight, and plenty more. This makes it easier than ever to track your progress as you try to get healthier, without having to think about it or constantly input information. Have you made the jump and connected your smartwatch, or another accessory to Samsung Health? We want to know about it! Leave us a comment below!
Get the Android Central Newsletter
Instant access to breaking news, the hottest reviews, great deals and helpful tips.
Jen is a staff writer who spends her time researching the products you didn't know you needed. She's also a fantasy novelist and has a serious Civ VI addiction. You can follow her on Twitter.
What about a non-Samsung accessory? My wife has a Jawbone UP 24 and the UP app keeps losing connection to the device. I haven't spent much time trying to get it to work with Samsung Health, but the few times I tried, I don't believe I was able to get S Health to talk to the UP 24.

This was helpful. I just assumed that only Gear smart watches could connect. I'll have to download Gear Manager and get my Fossil connected now.

I was wrong. It still can't connect to non Samsung smartwatches. :(

Very limited set of non-Samsung devices supported. If they really want to make Samsung Health a device agnostic health platform, they need to open this right up and start with the most prolific devices (e.g. FitBit) or at least allow the platform to pull data from those other platforms. I have a Samsung Gear S3 watch and FitBit Aria scales (originally all FitBit house, then passed thru Microsoft Band..). Today, I use FitnessSync.com to pull my FitBit scale data into the Samsung Health platform. At the end of the day you have to pick a health platform that presents your data in the way you want, and preferably with real actionable insights, not just pretty graphs. Microsoft Health is by far the best but with their devices now dead and it being non-writable it is useless. Samsung Health looks to be the best platform today..