How to change your wallpaper on the Samsung Galaxy S5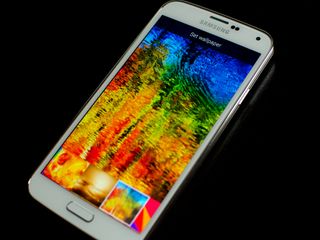 Here's one for you folks new to smartphones, and new to the Galaxy S5.
Part of the excitement of getting a new phone is being able to personalize it. Externally we have cases and accessories that make our devices an extension of our personality. When it comes to making the software our own, that's where things like downloading apps and customizing the look and feel come in. If you've got a new Galaxy S5, changing the wallpaper should be one of the first items on your personalization list. Here's how:
Either tap and hold or pinch your fingers together on any Home screen of your Galaxy S5 to access your Home screen settings menu.
Now tap on Wallpapers in the lower left hand corner.
Choose the wallpaper you'd like to change. You can choose between Home and Lock screen or you can choose a combined wallpaper that will be applied to both using the last option.
Now choose from one of the wallpapers Samsung has made readily available or tap on More images to the far left.
Choose the Gallery option or any other option you'd like that contains images you can use as wallpapers.
Once you find the wallpaper you'd like to use, tap on it and then choose Set Wallpaper at the top.
Do you use custom wallpapers on your Samsung Galaxy S5, or any other Android phone for that matter? If so, do you use Zedge or another service or do you just prefer using your own? I have a tendency to lean towards using stock wallpapers or ones I find online with services such as Zedge. Let me know in the comments what your wallpaper habits are!
Android Central What're you doing... Android Central!! STAAAAHHHHP!

Yeah, why a tutorial for that... It is the same exact method as any other Android phone.

Because Google knows the difference, and it's how people get to our site 99.9% of the time. It's also what drives traffic, normal users, that are new to Android.

"Here's one for you folks new to smartphones, and new to the Galaxy S5." herpaderp. Do you get it?

I don't know how to hold my GS5. Is the Samsung logo supposed to be on top at my ear? Posted via Android Central App on my Nexus 5

I can see what you're trying to do but no one that is so inept at controlling their phone would ever come to this site. They would almost certainly not even know what android is Posted via Android Central App

Sure they would, from a google search. Then AC will get the click traffic.

Ever heard of Google? It's how people solve most of their problems..

Very true Posted via Android Central App

100% dead wrong. Most people that get to our sites get there from Google, and because they're looking for something basic. Sure, we have advanced stuff too, but we write for what people search for.

Enough with these guides...people have a user guide from Samsung or any other phone and can use that to learn how to change their wallpaper, volume, sound profile, notification sounds...etc. Posted via Android Central App on Nexus 5 or LG G2

AC PLEASE KEEP DOING THESE TUTORIALS! I get a lot of enjoyment out of people who are irritated by something they don't have to read.

This. Posted via Android Central App

They also won't turn the channel, or turn the volume down if they don't like it! Freedom of choice is sooo over rated. Posted via Android Central App

I could be mistaken here since it has been awhile since I've seen it used. Isn't Zedge a really grimy app full of pop up ads etc? Just surprised you would recommend that. Best option is to find a picture on your mobile browser and press to set that as wallpaper.

Zedge isn't bad in recent updates. Posted via Android Central App

I love Zedge. It's always one of the first apps I install, that way I can use the same ringtone I've had the past few years.

Zedge doesn't have any intrusive ads.

I never have a problem with ads from Zedge. That being said, I don't usually keep the app on my phone for more than a few weeks at a time. I find what I want, then I usually delete it only to reinstall it whenever I need something new. But I've never had a problem with ads over the past 3+ years of using this app.

This can't be a serious post! What a stupid post lol

Seriously? How to change a wallpaper Posted via Android Central App

Its seems stupid to most people who understand these things but a lot of people are ignorant so they go to Google and boom this pops up Posted via Android Central App

Or they get so frustrated they go back to their Iphone..

But how would they know how to change its background? Posted via Android Central App

Actually it's more steps on an iPhone... but nice try.

Is there a dumbed down version of this article?! Its too complicated!! ......lol!! :)

Trolololol Posted via Android Central App

Pls AC I can't turn on my phone. Send halp.

I would have thought this would have been covered in the instruction manual or samsungs annoying help tips that pop up when you use their products. Android for Dummies 101 lmao!!!

No way! Are you serious? Thank you so much Android Central I can now finally change the wallpaper on my non-existent galaxy s5 thank you I don't know what I would do without you Posted via Android Central App

Ha Posted via Android Central App on my Nexus 5

Oh that's right..... EVERYBODY has had a smartphone for the past 6+ years! Sigh.... I should have known!
Don't be a troll dude!

Zedge rocks! It's THE premier one-app-shop for every ringtone/notification sound & wallpaper you could ever want.

Zedge use to be the #1 free app in the play store. I've got a host of ringtones and wallpapers downloaded from Zedge. Posted via Nexus 5 with SwiftKey

Wow. Slow day huh? Posted via Android Central App

And what do you guys and gals think of DroidPapers? Free app, no ads. Posted via Android Central App

Instructions not clear, somehow rooted my phone and installed Xposed Module!

Use Zedge for wallpapers and tones. Posted via Android Central App

Why is this an article... Posted via Android Central App

What's a wall paper? ... Posted via Android Central App

I have a DropBox folder that I have compiled of hundreds of wallpapers gathered around the internet. That's where I go for my wallpaper needs on all of my devices, including Linux and Windows. Posted from my Motorola Moto G

Now please do this many tutorials on every single high end phone. People need them. And you need the clicks too. Posted via Android Central App

I wonder if Samsung will update Touchwiz that's on the GS5 to the note 3? Posted via T-Mobile Note 3 using Android Central App

I keep trying to download a live wallpaper and it won't let me. Help!
Android Central Newsletter
Get the best of Android Central in in your inbox, every day!
Thank you for signing up to Android Central. You will receive a verification email shortly.
There was a problem. Please refresh the page and try again.