How to change regions on your PlayStation Classic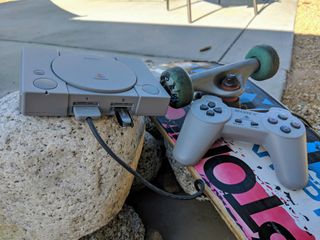 (Image credit: Android Central)
In this guide, we'll show you how to change the region on your PlayStation Classic from the slow, and jittery PAL to the slightly less slow and jittery NTSC. The difference between the 50Hz PAL and the 60Hz is quite pronounced when you see these old games on your 100hz HDTV.
How to change regions
Use our How-to to complete the "add games to the PlayStation Classic" mod. This will set you up to play your own custom games.
Use our next How-to to complete the "access the hidden menu" mod. This will give you access to the secret menu.
Navigate to your chosen custom game in your menu and press X.
Press both the Select and Triangle buttons to gain access to the hidden menu at any time during the game.
Select the PCSX Menu to enter the main menu settings.
Choose the options menu and scroll down to the regions option.
Use the left and right D-pad to change the region selection from auto to NTSC. This will give you the 60Hz refresh rate to get the most from your games.
Press the Square button four times to return to the game and enjoy your silky smooth graphics!
Once you've done this you'll see a marked increase in the smoothness of the games you play. When I changed this setting on Tony Hawks Pro Skater 3 the frame rate jumped from 45–50 frames per second (FPS) up to 58–60 FPS, which may not sound like much but can make games feel much smoother and easier on the eyes.
Other things you might like
AmazonBasics 10-foot HDMI ($9 at Amazon)
Linked with the 10-foot Micro-USB this HDMI will allow you to move the PlayStation Classic anywhere you want it. It's especially helpful if you want to use the original controllers.
Anker 10-foot Micro-USB cable ($12 at Amazon)
The leads are never long enough on these classic consoles. Use this braided cable by Anker to move your console closer to you so you can have some slack on the controller cables.
Younik carry case ($22 at Amazon)
One of the best things about the PlayStation Classic is playing games with your friends. This case will safely keep everything you need to play while you drag it around all of your friend's houses.
Get the Android Central Newsletter
Instant access to breaking news, the hottest reviews, great deals and helpful tips.
Since the days of the HTC Hero James has had two or three Android phones stuffed into pockets. James is always on hand to offer advice on phones, apps and most recently, PlayStation, especially VR, It's now something of an obsession. Find him @keridel wherever Media Socials itself.